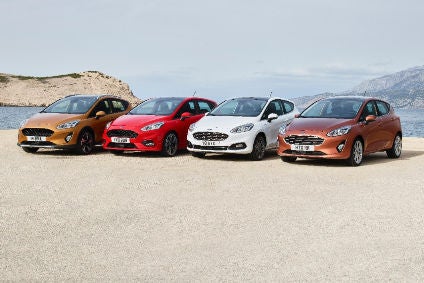 A busy week for the just-auto team, with editor Dave Leggett and business editor Simon Warburton both out at events while yours truly minded the shop. We heard, in fact, there were no fewer than eight new model launches for UK media this week, including an Audi event in New Mexico.
Closer to home, our highlight was Ford's latest 'Go Further; event in Cologne where the redesigned Fiesta was rolled out but, as we revealed, production actually don't start till next summer. As we also reported, a replacement for the Fiesta sedan (yes, Cynthia, there is one, but not in most of Europe where the hatch is a perennial top seller) was not part of the range of cars shown to media, nor was a successor for the ST. The four-door car might be presented at the New Delhi auto expo in January, while the ST may have its debut at either the NAIAS in Detroit or else a few months later at the Geneva show. Keep an eye on our PLDB Fiesta data for regular updates.
The new Fiesta shows just how much cutting-edge technology, that was once the preserve of premium, top-of-the-range models has trickled down to high, volume, top-selling models like the little Ford, which is just one segment up from the brand's (new) entry level Ka+. As we reported, though the next generation is essentially based on the same engineering architecture as the current model, Ford is loading the new car – due to go on sale in the second half of 2017 – with advanced driver assistance systems (ADAS) technologies to maintain its appeal as Europe's best selling B-segment car. The automaker is certainly throwing tech at its new models, as last month's announcement the multi-award-winning 1.0-litre EcoBoost petrol engine is to be offered with innovative cylinder deactivation technology for further reduced CO2 emissions and improved fuel efficiency shows. The tiddler EcoBoost will, in early 2018, become the first three-cylinder engine to feature cylinder deactivation.
Autonomous driving, as you'd expect, also got a mention in Cologne as Ford announced European testing of its autonomous cars would start on public roads in 2017. "We have already announced plans to use an autonomous vehicle for a ride-sharing service in the US in 2021 and it is important that we extend our testing to Europe," Thomas Lukaszewicz, manager, automated driving, Ford of Europe told us. "Rules of the road vary from country to country here, traffic signs and road layouts are different, and drivers are likely to share congested roads with cyclists." The automaker also maintains that drivers are seeing potential benefits for the transportation experience arising from the prospect of driverless cars. According to a survey of 5,000 adults, some 80% look forward to relaxing and enjoying the scenery, 72% will chat on the phone and 64% would have a bite to eat. Books and movies were close behind. And why not?
We also had a chance to chat, again, with Ford CEO Mark Fields about likely Trump administration plans. He told just-auto he expects the 'right policies' to be pursued in areas such as tariffs. The president-elect voiced protectionist sentiment during his election campaign and said he would impose 35% import tariffs on car imports from Mexico, targeting manufacturers such as Ford who have taken advantage of NAFTA to source low-cost imports to the US. Ford had said earlier it would move small car production in North America to Mexico while also adding investment in other models at its US plants. However, Fields said that he anticipates a change in direction from Trump when he is governing rather than campaigning. "Now that the election is over they are going to focus on governing," he said. "We believe that the right policies will be implemented because we all have the same objective in mind, which is to make sure that the US is strong and that the economy is strong. "We'll work together with the president-elect and his administration."
The UK's Brexit is never too far away from auto industry executives' minds at the moment and the SMMT's chief executive Mike Hawes told just-auto this week the possibility of WTO rules applying to UK trade with the EU following the UK's planned exit from the bloc would present a considerable competitive challenge for many UK manufacturers. Concerns are being raised within the UK automotive sector over uncertainties regarding possible trade arrangements following the UK's planned exit from the EU in 2019 (two years after the triggering of 'Article 50' in the spring of next year). "Arrangements for trading relations with our biggest export market are obviously a matter of some concern for many companies in the sector," Hawes said. "The industry has said it wants to remain within the EU single market. That may or may not be politically possible, but they certainly do not want a reduction of free trade." Hawes pointed out the UK cannot conclude a free trade deal with the EU until it is formally outside of the EU, which raises the possibility of an interim or transitional period while a trade deal is negotiated and agreed. "There is a spectrum of possibilities for that transitional arrangement," he says. "And one possibility is to go to WTO [World Trade Organisation] rules for international trade. In that scenario, a 10% tariff would apply to UK car exports to the EU and that would present a significant competitive challenge for UK car plants who export in volume to the rest of the EU." The ability to absorb such a tariff on the ex-works price of car is severely limited. "It would present a significant challenge. This is an industry that operates on wafer-thin margins. It's about volume and efficient scale on tight margins. Putting 10% on the [ex-works] price of vehicles coming out of a factory would be a big challenge to absorb from a competitive point of view. On top of that being outside of the customs union – in an industry that has built its reputation on lean manufacturing, taking out waste, and being just-in-time for delivery – would pose a challenge and could potentially lead to further additional cost on international trade." Hawes told a trade dinner this week that an imposition of tariffs resulting from Britain's exit from the EU could add GBP2.7bn (US$3.4bn) to the cost of vehicles, too.
There was good news for JLR this week as we learned the Chery JV, now making three Land Rover and Jaguar models locally, is getting a 50% capacity boost.
Finally, not so good news: Eight of Europe's largest carmakers reportedly will miss carbon dioxide emissions targets due to come into force in 2021, leaving them facing the prospect of billions of euros in fines.
Have a nice weekend.
Graeme Roberts, Deputy Editor, just-auto.com