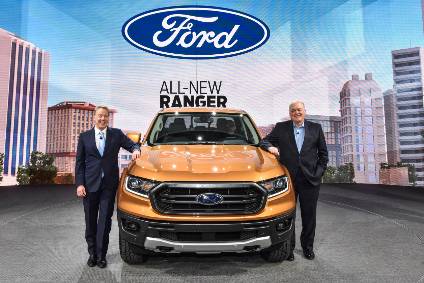 A slightly unusual change of plan this week – Ford Q4 results, eagerly awaited as always, were held back until after US markets closed, rather than coming out before the first ding of the NYSE bell on Wednesday. Which meant it would be well into UK beer o'clock before we could get them to you.
So we took a two-pronged approach: a preview (our most-read news article this week) suggesting an outlook dented by higher raw material costs, especially aluminium which is extensively used on Ford models such as the F-150. Ford, analysts said, was more exposed on aluminium costs than other carmakers while aluminium prices have risen by around 20% over the past year, with a steep rise towards the end of 2017. Ford had previously said higher costs for raw materials, combined with unfavourable currency movements, could cost the company US$1.6bn in 2018. Besides aluminium, it is also being hit by higher steel prices. Some analysts had also noted Ford would face additional competitive pressures in the pickup segment (GM showed its new Silverado at the Detroit Show earlier this month and Chrysler has a new Ram).
A few hours later, getting on for UK bedtime, came the official announcement and, as expected, pre-tax profit in the fourth quarter of 2017, at US$1.7bn, was some $0.4bn – or almost 20% – down year on year due, in part, to higher commodity costs and unfavourable currency exchange rates. But Ford also reported buoyant Q4 revenues (up $2.6bn to $41.3bn) on strong sales of the perennial F-150 and higher average transaction prices (read 'fewer incentives') in North America.
We also noted that CFO Bob Shanks admitted 2017 was a "challenging year" for Ford, adding the automaker has to be 'far fitter' than it is. That will likely lead to a renewed focus on Ford's cost base and, judging from this announcement today, even more emphasis on the transition to a 'mobility company'.
We published several analysis articles this week and our US economic forecasts reinforce car market 'soft landing' was particularly popular. As editor Dave Leggett noted: "Forecasts for economic growth in the US are being revised up following corporation tax cuts that are also boosting investment spending by US companies. The short-term boost to the domestic US economy will support car demand at a time when analysts say some cyclical downturn to vehicle sales in the US is to be expected." In its latest round, the International Monetary Fund (IMF) forecast for US real GDP is 1.2% higher by 2020 than in a projection without the latest tax policy changes. The US growth forecast has been raised from 2.3% to 2.7% in 2018, and from 1.9% to 2.5% in 2019. The IMF estimates US economic growth at 1.5% in 2016 and 2.3% in 2017. Just an hour ago, CNBC said the first reading on fourth quarter US GDP growth was 2.6% versus the 3% expected.
Another very popular analysis piece was Glenn Brooks' look at Alfa Romeo future products and, not unrelated, Maserati product plans.
Plant related news this week included Tata-owned Jaguar Land Rover (JLR) planning to reduce production at its Halewood plant in the second quarter. It said the reduction will be temporary designed "to rebalance the supply of Discovery Sport and Range Rover Evoque models" given market conditions and demand. Both models are past peak demand and uncertainty over future diesel taxation here in the UK, where both models are very popular, is also likely to be a factor.
Better news from France where Toyota Europe announced expansion beyond Yaris-only output , nervousness over the future of the former GM UK car plant now owned by PSA continued and Audi demonstrated the value of employee suggestions.
Have a good weekend.
Graeme Roberts, Deputy Editor, just-auto.com