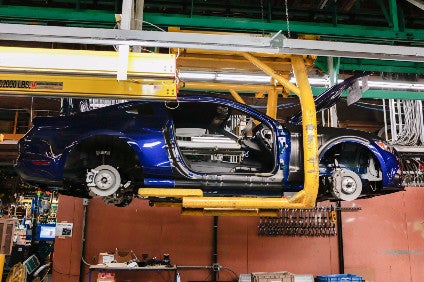 Restructuring announcements by two major automakers imperiled the job prospects of thousands and rather took the edge off all the clever techie developments revealed out west at the CES show in Las Vegas. Such was the just-auto week.
Both shoes dropped on Thursday as Jaguar Land Rover (JLR), having earlier announced the need to save GBP2.5bn, detailed plans to shed 4,500 mostly white collar jobs, most of those here in England, and Ford, having also hinted it was going to axe unprofitable car lines in Europe, said it had started the talks that, inevitably, could lead to thousands more roles being axed in Europe.
JLR described its cost-cutting measures as the 'next phase of a major transformation plan to lay foundations for long-term sustainable profitable growth'. The headcount reduction was in addition to the 1,500 who left the company during 2018 and the next phase of this plan would begin with a voluntary redundancy programme in the UK. The strategic review would 'create a leaner, more resilient organisation with a flatter management structure'.
That will sit well with the about-to-be-sacked workers who watched recently their employer hire 2,800 Slovakians for the new Discovery assembly line in Nitra – built with an EU subsidy – about which CEO Ralf Speth, unsurprisingly, has been rather quiet. The reality check is that JLR, which plays globally, simply can't supply the world from just a few English factories (decades ago its products were assembled in various countries around the Empire and beyond). It already has a Chinese factory to access that tariff walled-off market and a plant inside the Eurozone makes some sense given the still ongoing uncertainty over Brexit and its possible effect on seamless trans-channel components transit.
JLR, having set up to build a superb range of new diesel engines at a new plant in Wolverhampton, has also been hit by idiot politicians demonising the fuel, apparently unaware how clean are the latest Euro 6-compliant motors with their SCR emissions control technology. And superb fuel efficiency. To even try and compete with the deep-pocketed Germans, JLR also needs more new models – the revived Land Rover Defender is taking too many years to market – some of the Jaguar saloon line is getting on now and electrification was relatively late compared with some rivals though the all-EV i-Pace has been well received. The sales slump in China – December in particular was grim for many automakers – has not helped.
Over at Ford, the European Patient was back in the black – after years in the red – for a few recent consecutive years but has swung to loss again and more drastic action – following on from the Belgian plant closure a few years ago – is now needed. Hence the planned closing of a French automatic transmissions plant and exit stage left for the slow-selling C-Max MPV (minivan) lines and, I suspect, also the larger Galaxy and S-Max and maybe even the Mondeo (Fusion) which you hardly ever see new these days as buyers sniff at mainstream D segment models and head for 'premium' brand showrooms.
The plan, outlined largely earlier, is to offer more distinctive vehicles in Europe and reduce costs so the automaker will focus on higher volume, more profitable sectors while under-performing model lines will be axed. "We are taking decisive action to transform the business in Europe," said Ford's Europe, Middle East and Africa chief Steven Armstrong. "We will invest in the vehicles, services, segments and markets that best support a long-term sustainably profitable business."
That looks like being more SUVs, including an additional import to supplement the Canadian made Edge and European built Kuga, plus a "Mustang-inspired full-electric performance utility" in 2020, ongoing Mustang imports and pretty much range-wide electrification. The mainstream Fiesta and Focus will continue, both having been recently renewed, and the entry level is covered by the cheap-to-make Romanian built Ka+, and there will also be even more focus on profitable light commercials (the vast Transit line) and whatever the recent alliance with Volkswagen serves up – I am picking it will not be a redux of the Taro/Toyota Hilux pickup from a previous VW JV but you never know. But it's clear loads more European jobs will go whatever the pick-me-up product plan.
We, but not me this year, were out at CES and Honda's Dream Drive prototype attracted a lot of reader interest. The automaker claims it's the auto industry's "first integrated driver and passenger infotainment, commerce, services and rewards dashboards within the vehicle environment". First shown as a concept at CES 2017, the system has evolved to offer a broad range of services and entertainment while minimising driver distraction. It was developed in collaboration with Connected Travel, a connected vehicle platform and application services company. The new prototype mobile-based dashboards provide services and experiences specifically for both drivers and passengers.
One of our hosts – thank you ZF – unveiled the latest iteration of its automotive supercomputer, maintaining it's the most powerful AI-capable processing system in the automotive field. The German supplier's ProAI RoboThink is the first system to run NVIDIA's Drive AutoPilot L2+ starting in 2020. ZF's ProAI product family can be configured for any application – from a basic ADAS function to fully autonomous cars, commercial vehicles and industrial applications. Customers can also specify their software architecture – especially for Mobility-as-a-Service applications. In the wake of services such as ride hailing, ZF also premiered its own software stack for new mobility concept.
There was a lot more for exhibitors to show 'n' tell and for us to see and report – we've bundled our coverage here.
Today we learned of an interesting new twist in the Carlos Ghosn saga and the closure of a barely-got-started Ford ride-sharing venture.
Have a nice weekend.
Graeme Roberts, Deputy Editor, just-auto.com