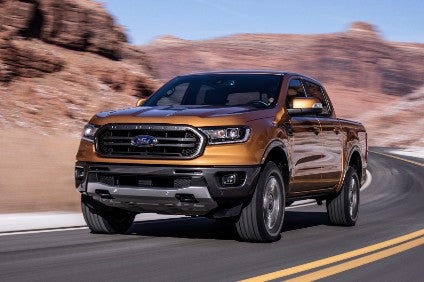 Our analysis of future Fiat and Abarth models was the most popular article on just-auto this week, followed closely by the Detroit revelation of Ford's long awaited, revived US market Ranger, now a mid-size pickup rather than its predecessor's 'small'. Ford has adapted the Australian-designed (so its local unit claims) model built mostly for other markets in Thailand and South Africa, rather than going it alone as it did for the last Ranger. Compare the latest Ranger with its ancestor, the late 1970s Courier, a rebadged Mazda B-series, and you can see how much these once-small trucks have grown over the generations. Next comes a revived Bronco.
This week's Detroit show (NAIAS officially) was notable for new trucks. As well as the Ranger, FCA rolled out the redone and lighter Ram 1500, (check out our future model analysis) and GM presented a new Chevy Silverado, gunning, as usual, for Ford's F-150.
We took a first hand look at Adient's AI18 autonomous concept and BMW used NAIAS – where it unveiled its X2 and i8 coupe models for the first time – to highlight its contribution to the US economy as a vehicle manufacturer.
We weren't done with last week's CES show, either, talking autonomous driving with Zenuity and about the next level of connectivity with Harman. We also discussed digital cockpit, autonomous driving and connected mobility services with Luxoft.
See our CES and NAIAS show coverage grouped together.
Sales reports for 2017 and forecasts for 2018 continued to trickle in. Just today, Our Man in Brazil reported on the upbeat mood in Brazil after years of doom 'n' gloom, EU sales topped 15m for the first time since 2007, Russia saw a rise in December, car imports into Japan inched up last year, below overall market growth, Renault enjoyed a record year, as did VW, China sales were up a modest 3%, PSA had another good year and GM forecast a flat 2018 and better 2019.
Meanwhile, Ford updated its business plan with talk of "operational fitness" and "portfolio rationalisation".
Have a nice weekend.
Graeme Roberts, Deputy Editor, just-auto.com