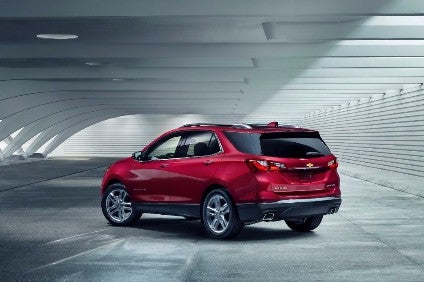 Our analysis of current and future vehicle model lines has always been popular with both readers (and customers who subscribe to our auto industry search engine PLDB) and, this week, we published two looking at future Chevrolet SUVs and pickup trucks and the success of the latest (recently updated) Ford Mustang, helped by, finally, the availability of factory right hand drive.
With the word Brexit in the news every day, and ongoing doom 'n' gloom predictions about the future of UK Automaking plc in the case of a 'hard' exit from the EU, it was good to see BMW's vote of confidence in its Plant Oxford Mini making factory with the award of the contract to build the all electric E variant. It also makes best sense and best use of already-tooled plants. The E is a hatchback; Oxford, at Cowley, is tooled up for Mini hatchbacks. Has been for nearly 20 years. German BMW plants like Dingolfing more recently geared up for the current 'electrification' fad. Ergo, ship the electric drivetrain from Dingolfing, which has been making i3 and i8 electric motors for several years to England, where Mini hatchback assembly is well bedded in, and count the savings in tooling costs and worker training alone. That prompted us to delve closer into the business case for BMW's decision.
Speaking of changing powertrains, that's just what Ford Brazil has done with the EcoSPort small SUV. This model was actually developed and sold first by Ford Brazil, initially only in South America. Generation two was sold (and built) much more widely. Now comes a major update, complete with a new 1.5 litre I3 engine, replacing an older 1.6 I4. The new interior should win the model new friends, too.
What certain German automakers refer to as 'the diesel issue' rumbles on (it rates a mention in Porsche H1 results out this week with no apparent adverse effect on said results), with news Audi would 'voluntarily' offer a modification for 850,000 vehicles while BMW rejected reports in the German media that it and other German OEMs worked together to fix the design and lower the cost of diesel emissions treatment systems.
EV and autonomous vehicle work goes on, too. Toyota was reported to be planning to launch an EV equipped with solid-state battery technology in Japan by 2022 and Daimler and Bosch jointly are demonstrating driverless parking (automated valet parking) in the multi-storey car park at the Mercedes-Benz museum in Stuttgart. Cars now drive – without a human driver – to an assigned parking space commanded by smartphone without any need for human intervention.
When I can get a car to pick up the (non-driver) wife and kids and drive them thru the Saturday traffic to the mall, drop 'em off, park itself, pick 'em up and drive them home, I'll be a very happy man.
Have a nice weekend.
Graeme Roberts, Deputy Editor, just-auto.com