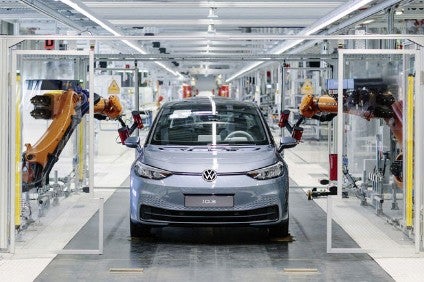 Almost simultaneously with the UK government's announcement of a GBP4bn package to support a green revolution, including GBP1.3bn for electric vehicle charging points, the German government has announced a standalone EUR5bn package to aid the auto industry's transition to electric cars.
The German government, while proving more directly generous to the automotive sector, stopped short of banning the sale of all diesel and petrol cars by 2030 as the UK government has just announced. The two approaches highlight the contrasting approaches of the two countries as the industry moves towards the total electrification of fleets.
The German package acknowledges the disruption to the industry status quo that electrification will bring.
The German package acknowledges the disruption to the industry status quo that electrification will bring. Together OEMs in Germany operate 18 engine and transmission plants, on top of this there are many of thousands of supplier plants attuned to supporting the ICE industry. In January 2020, a German government sponsored study reported that the shift to e-mobility could cost 410,000 jobs by 2030, with 88,000 alone in powertrain manufacture.
It is from this understanding, together with lobbying from the German automotive industry, that Angela Merkel's government has responded. The EUR5bn package approaches both the supply and demand side of the equation. Within it the following sums have been set aside:
EUR2bn to help suppliers adapt existing production lines to e-mobility needs
EUR1bn to extend electric vehicle purchasing incentives out to 2025
EUR1bn to support technology investment by the supplier community
EUR1bn for a truck scrappage program
The automotive industry in Germany is seen as the workhorse of the economy. In the UK the industry is not viewed as sympathetically. Already in the UK in 2020 there have been two announcements on the phasing out of petrol and diesel cars. In February, the government announced that the previous 2040 ban on ICE cars would be brought forward to 2035 with the ban to include all hybrids too. Nine months later, an industry that is already struggling due to Covid-19 tanking sales by 30% year-to-date, is waking up to the news that timelines have been brought forward an additional five years. Above all else, as is the case in the US as it vacillates between one CAFÉ regime to another, the industry requires surety on timelines and regulatory requirements as it makes multi-billion-dollar investments.
The requirement to transition to electric is not in doubt. However, the transition cannot just be approached from the demand-side. Support for an industry in turmoil, as Germany has demonstrated, is also required. The latest policy direction in the UK will be unwelcomed by the industry just as it enters a post-Brexit world when it's still unknown on what tariff terms it will be operating its complex and far-reaching supply chains.
This article first appeared on GlobalData's research platform, the Automotive Intelligence Center
See also:
UK government confirms 2030 ICE ban