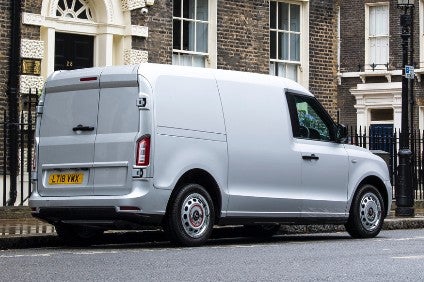 Another note to self this week: don't automatically assume a range extender is also a PHEV – certainly the maker of a clever van spin-off of London's latest taxi didn't want it called that. With British cities increasingly bringing in clean air zones, this new van can do 80 miles on 'lecky alone but, if it's anything like the taxi on which it's based, it'll be expensive. Order books open next year.
Since its spin-off from Delphi Automotive in 2017, Delphi Technologies has been pushing back the technical boundaries on a number of fronts. Last month, we learned it had developed a 500+ bar GDi system that can reduce particulate emissions by up to 50% compared to a 350 bar system without expensive engine design modifications. Last January, the supplier revealed at CES its Intelligent Driving technology, which could put 'self-aware' cars on the road by 2022-23. To learn more about these and other innovations, we caught up with chief technology officer Mary Gustanski.
Telefonica Deutschland and network supplier Ericsson is putting in what is claimed to be the world's first 5G mobile network for automobile production at Daimler's Factory 56 in Sindelfingen. The 5G standard is being implemented for the first time into running production and experience gained will be used to extend to other plants. Once installed and commissioned, the network will be operated by Mercedes-Benz Cars.
I often find, with electrified cars, GKN is up to its neck in there, somewhere underneath. GKN Automotive, Drive System Design and The University of Nottingham are collaborating on an GBP8m project to design and develop a(nother) world leading electric vehicle powertrain for the global market. ACeDrive (Advanced Cooling and Control of High Speed e-Drive) is backed by match-funding from the Advanced Propulsion Centre (APC ).
While they seem to be rolling out a new EV in China every five minutes, conventional cars are not doing so good. Kia Motors announced it would cease production at one of its vehicle assembly plants in China this month due to weak local demand. The carmaker said it was preparing to stop production of the Sportage and the localised KX7 SUV at one of its three assembly plants in Yancheng, Jiangsu Province, at the end of this month and lease out the factory to local business partner Dongfeng Yueda on a long-term contract. The redundant plant has an annual production capacity of 140,000 vehicles and its transfer will leave KIA with annual capacity of 750,000 units in Yancheng. Around 1,000 workers have already been transferred to other Kia plants in the city. Dongfeng Yueda has said it plans to use the factory to produce – you guessed it – electric vehicles from the first half of 2021.
It's notable that EV ranges are increasingly getting a boost. Nissan's got its Leaf+ out now and alliance partner Renault has chimed in with a Zoe EV third update with 52 kWh battery and an additional 100kW R135 electric motor option which boosts range to (a claimed) 242 miles under WLTP conditions. This comes with some exterior styling tweaks, new colours, a redesigned interior with more premium materials and a new 10-inch TFT instrument cluster. Farewell the 100 miles tops, if you are lucky, of most of the original EV models.
Nissan reported UK sales of its e-NV200 fully electric light van rose by 200% in 2019 as more firms switched their light commercial vehicle (LCV) fleets to electric propulsion. The automaker maintains operators are being swayed by increased fleet efficiency and reduced running costs amid changing emissions legislation and the introduction of London's Ultra Low Emission Zone. The surging demand echoes the results of a recent survey, showing that 24% of UK small businesses expect van fleets to be fully electric within a decade. This week I had a look at a clever proposal for an all-electric ice cream van that will eventually eliminate the need to have a diesel engine idling all day to keep the freezers cold – and usefully recycles end-of-life Leaf batteries. It's only a prototype and Needs Work to be commercially viable but they had me at 'ice cream'.
One to set the purists' teeth gnashing: Chinese automaker SAIC Motor has agreed to set up a new joint venture in Egypt with its current local distributor to assemble MG brand cars in the country. SAIC Motor announced the move this week at a signing ceremony in Cairo with its local partner Mansour Automotive Group, Egypt's largest vehicle distributor. The automaker's chairman Chen Hong said his company had built up a global corporate infrastructure which integrates R&D, manufacturing, marketing, logistics and finance, with the Mansour Group the latest company to join forces. Mansour Automotive Group CEO Ankush Arora confirmed construction of the assembly plant was currently under way and vehicle production would start within the next year. His company had also been appointed SAIC Motor's exclusive distributor for sub-Saharan Africa.
SAIC Motor itself reported a sharp sales decline in the first five months of 2019, of close to 17% to 2.47m units. The overall vehicle market in China declined by 16.4% to 1.913m units in May and by just under 13% to 10.3m units year to date, as consumer and business confidence continued to weaken as a result of the trade war with the US and growing economic uncertainty. SAIC Motor reported a 9.3% sales decline at its SAIC Volkswagen joint venture in the five-month period while SAIC-GM saw its sales fall by 15.1% and Shanghai GM Wuling's sales were down by 27.9%. The group reported an even sharper decline in vehicle output in this period, of 21.6% to 2.39m units. To be fair, other automakers also reported declining sales in the first five months of the year, including Volvo Cars parent Geely group which saw its sales fall by 12% to 560,805 units and GAC Group with a 3.2% decline to 810,590 units.
Have a nice weekend.
Graeme Roberts, Deputy Editor, just-auto.com