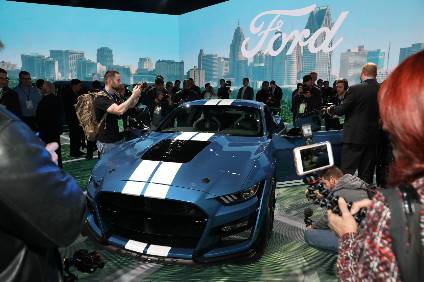 As news of Ford and VW's tie-up dominated headlines from NAIAS 2019 in Detroit, the show halls amply illustrated the current product focus for North America's auto industry. Unsurprisingly, large brawny pickups and performance cars dominated.
Ford has already rebalanced its North American product portfolio strategy towards SUVs and away from conventional passenger cars. What, then, to show at Detroit and garner some interest? The answer: Ford's new 2020 Mustang Shelby GT500 with a supercharged 5.2-liter V8 engine that produces more than 700 horsepower – enough to launch the car from 0 to 60 miles per hour in just over three seconds.
Ford also showed its latest unibody Explorer SUV on a new unibody rear- and all-wheel drive platform. The ST and Hybrid variants were world debuts at the NAIAS. The 2020 Explorer is packed with driver-assist technology, including 'Active Park Assist 2.0'. The latest park assist tech allows the driver to park in a parallel or perpendicular spot with just a touch of a button without having to work the steering wheel and brake pedal.
Over at Toyota, performance was also a big theme as company President Akio Toyoda declared: "Supra is back! Better than ever!". He revealed the fifth-generation Supra that resurrects the nameplate for the first time since it was phased out in 2002. Toyota says Supra's 3.0-liter twin-scroll turbo six will produce 335 horsepower and 365 pound-feet of torque. It is some six and a half years since Toyota and BMW announced that they had set up a JV to develop two rear-wheel sports cars. While the Z4 is a roadster, the Supra will be a hatchback. Each uses an architecture and engines developed by BMW. Both are made in Austria at Magna Steyr on the same line, at a combined volume of up to 40,000 vehicles per annum.
Lexus, which debuted as a brand at NAIAS 30 years ago, introduced the 2020 Lexus RC F and RC F Track. The Track Edition joins the standard Lexus RC F performance coupe which has been extensively updated for the 2020 model year. Improved aerodynamics, reduced weight, a retuned suspension and enhanced styling elevate the RC F to a new level of performance and refinement.
Subaru said it will bring one of its "S" models to the U.S. for the first time. Subaru Tecnica International (STI), a wholly owned subsidiary of Subaru Corporation, revealed the limited-edition STI S209 – the car will be the most powerful model the Japanese automaker has ever offered U.S. buyers. It will be powered by a 341-horsepower, 2.5-liter Subaru Boxer engine.
Performance numbers were also on display with the trucks and SUVs that automakers revealed.
Ram unveiled a heavy-duty version of its pickup with a towing capacity of 35,100 pounds and a payload capacity of 7,680 pounds. When equipped with a Cummins 6.7-liter I-6 Turbo Diesel engine, the 2019 Ram heavy-duty 3500 pickup – arriving soon – generates a claimed industry first 1,000 pound-feet of torque. It also comes with active noise cancellation, anti-vibration devices and acoustic glass to contribute to the 'quietest cabin yet'. Managed muscle. Ram also unveiled Laramie Black and Power Wagon versions of its heavy-duty truck.
Kia revealed the behemoth Telluride SUV – the largest vehicle ever produced by the Korean automaker. The Telluride provides comfortable seating for up to eight occupants and is powered by a 291-hp 3.8-liter V6. Telluride is the first Kia designed specifically for the US and is a product of the Kia Design Centre in Irvine, California.
Volkswagen unveiled its new 2020 Passat eight years after introducing the first American-made version of the car. Volkswagen said its new Passat has a bolder design, upgraded technology, and enhanced access to convenience and driver-assistance features.
Infiniti debuted the QX Inspiration – a mid-sized SUV concept that serves as a precursor to the brand's first fully-electric vehicle. Infiniti is in the process of electrifying its entire vehicle lineup by 2021 and the brand said the QX Inspiration concept signals a new era for Infiniti design.
The QX Inspiration was the second concept all-electric vehicle revealed at the show. Cadillac surprised journalists Sunday night when it showed renderings of an all-electric crossover. Dubbed "Cadillac EV," the brand said the vehicle will be the first model derived from GM's future EV platform. The Cadillac EV's actual name and additional details will be revealed closer to launch, the company said. Cadillac executives also hinted at both a future Escalade and an upcoming performance sedan.
Nissan unveiled its IMs Intelligent Mobility – a sedan concept vehicle that anticipates the future of electric power, automated driving and performance vehicles in a single model. The IMs comprises "a complete reinterpretation of the electric car in a sports sedan," said Denis LeVot, chairman of Nissan North America. "It's the future of electric vehicles."
Hyundai announced a new, sporty trim line for the Elantra GT called the N Line and announced a payment relief program aimed at helping federal employees furloughed during the government shutdown.
GAC Motor introduced a three-row, seven-seat concept vehicle called the Entranze EV. It is the first concept vehicle designed in the United States by GAC. The Entranze is an SUV with glass sliding doors and a three-passenger front seat.
Epilogue – a new NAIAS
Is there a future for traditional car shows like NAIAS? Can they continue to generate interest – among media, the industry and consumers? The answer seems to be a qualified yes. There are enough no-show brands at motor shows these days to suggest that the status of car shows is changing, for sure. They will continue to play a role, but demands on and preferences for car brand marketing spend are shifting in a world increasingly geared to the online consumption of marketing and product information. Indeed, the NAIAS is moving from January to June – partly to put some distance between it and CES, but also to offer more possibilities for exhibitors to take advantage of outdoor space. It's a welcome evolutionary step, although some will no doubt miss the traditional icy chill of the January Cobo experience and the post-holidays wake-up call to a new year in what used to be the world's largest car market and industry.
'Feeling the metal' in person will obviously continue to have a place at the car brand marketing table, messages to be efficiently communicated for new product designs, engineering and technological innovations in show-halls that attract collective attention and critical mass. However, OEMs – and suppliers – need to think creatively about what they do and how they maximise the opportunity for the right exposure in the right places – in traditional and non-traditional media. And the marketing table itself is much more crowded with options these days. There are fewer sacred cows when it comes to setting company marketing budgets and exhibition/event planning. See you in Geneva.
See also: 2019 Detroit auto show – the world debuts