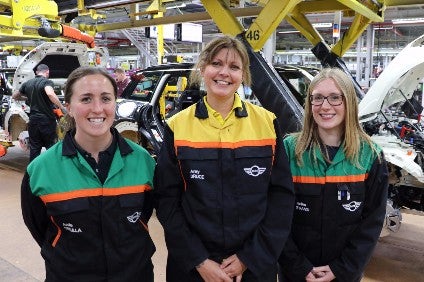 As BMW confirms that the electric Mini will be built at the Oxford plant in the UK, the decision inevitably raises Brexit questions amid continuing uncertainty over future trade arrangements between the UK and EU. However, it also shows that a strong business case for industrial investment in the UK can be decisive even while that uncertainty persists.
BMW's electric Mini will be built in Oxford, but the electric drivetrain will be made in Germany. The imported parts may be subject to tariffs and the finished vehicles that are bound for EU markets may also face an import tariff (as much as 10%). UK-EU trading arrangements after the UK exits the EU have yet to be determined.
Dom Tribe, an automotive industry analyst at consultancy firm, Vendigital, believes the timing for the start of production – 2019, the year of Brexit – will be 'concerning' for BMW, but that they will have taken this into account.
"The first all-electric Minis are expected to roll off the production line in 2019, just a couple of months after the UK officially leaves the EU.
BMW will have to work hard to ensure that whatever trade agreement is in place by then does not affect production and their cost model.
"At this point, BMW will have to work hard to ensure that whatever trade agreement is in place by then does not affect production and their cost model. If tariffs are imposed, for example, this could impact cross-border trade with Germany; forcing up import costs and BMW may need to consider passing on some of this to the consumer. This inflationary effect could pose a significant challenge given that electric powertrains are typically more expensive than their combustion counterparts."
However, Tribe also points out that other factors have come into play for this investment.
"BMW has invested heavily in the facility at Cowley in recent years and there is plenty of production capacity. While demand is expected to be high, there will also be some cross over as customers are likely to choose the all-electric Mini in place of one of the standard petrol or diesel models. The plant was updated about 3.5 years ago and the tooling, equipment and automated robots in situ are only part-way through their lifecycle."
"It is also important to bear in mind that the all-electric mini is not a brand new car as such. It is an evolution of existing models – incorporating electric powertrain technology imported from BMW's facilities in Germany," he adds.
The BMW investment decision sits in the context of a broader electrification strategy. "Based on BMW's own projections as much as 25% of car sales will be all-electric by 2025 and the UK government's move to ban the sale of new petrol and diesel cars by 2040 is expected to drive demand," Tribe points out.
Electrification is one of the central pillars of the BMW Group's corporate strategy 'Number One > Next' and the company has announced that all brands and model series can be electrified, with a full-electric or plug-in hybrid drivetrain being offered in addition to the combustion engine option. The momentum for electrification gathers pace in the 2020s and it would have been hard to leave Mini's lead plant out of the mix.
The electric Mini's hatch's electric drivetrain will be built at group's e-mobility centres at Plants Dingolfing and Landshut in Bavaria before being shipped to Oxford. That concentration of electric drivetrain manufacturing at the e-mobility production centres will also help to ensure that scale economies and manufacturing supply-chain optimisation on expensive electric technologies can be exploited.
Oliver Zipse, BMW's production chief, said: "[Dingolfing and Landshut] play a leading role within our global production network as the company's global competence centre for electric mobility. Our adaptable production system is innovative and able to react rapidly to changing customer demand. If required, we can increase production of electric drivetrain motor components quickly and efficiently, in line with market developments."
By 2025, the BMW Group expects electrified vehicles to account for between 15-25% of sales. However, factors such as regulation, incentives and charging infrastructure will play a major role in determining the scale of electrification from market to market. In order to react to customer demand, the group has developed a claimed "uniquely flexible system" across its global production network.
One question remains however and it is political in nature. Does the decision by BMW to invest in the UK – something that has been understandably seized on by UK politicians as good news – support the oft-stated hypothesis that German car companies will, out of self-interest, be lobbying the German government to pressure the EU to do a 'favourable' free trade deal for Britain? They sell a lot of cars in Britain and certainly would prefer that tariffs on UK-EU trade – both directions – are avoided and that additional customs checks are as smooth as can be.
However, German auto industry executives have consistently pointed out that for German politicians, the integrity and unity of the EU27 is the most important consideration. The two things are not necessarily mutually exclusive, of course. Stability and certainty are sought by business interests in both Britain and the EU ('transitional' trading arrangements for 2-3 years after March 2019 looks increasingly on the cards). BMW's investment decision at least points to confidence that its Oxford Mini plant – and its two other UK manufacturing facilities – have a future and place within its European manufacturing network. And businesses such as BMW will, increasingly, be looking beyond March 2019. They have to.