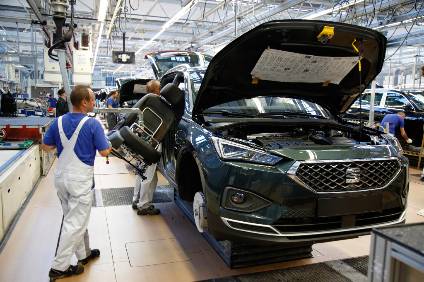 Covid hit one of the big European automakers this week. Volkswagen said it had been forced to reduce output at its Wolfsburg plant in Germany due to disruption caused by the Covid pandemic at a key supplier. VW said the Volkswagen Passenger Cars brand was cutting back production in some areas at Wolfsburg. Component supply sections of the Volkswagen Group Components plant at Brunswick are also affected. This, VW said, was attributable to a sudden production failure at a German seating foam supplier due to corona infections among the workforce and the resulting measures required by the authorities. Volkswagen said it was working very intensively on countermeasures and alternatives in order to minimise the impact.
Toyota has announced plans to build a prototype electric vehicle in 2021 powered by solid state batteries. This game changing EV technology relies on replacing the liquid electrolyte found in today's lithium-ion (Li-ion) batteries with a solid one, increasing energy density, lowering recharge times, lengthening service life, and reducing the risk of fire posed by liquid electrolytes exposed to the open air. However, the correct chemistry for solid state battery electrolytes has, until recently, proven elusive, considering it must be stable, cheap to produce and easy to manufacture.
In these extraordinary times, we sought snapshot perspectives from around the global auto industry on current macro developments and a take on prospects for 2021. In particular, we wanted a diverse range of perspectives and viewpoints from people in the industry. In this first of a series we are publishing this month, we heard from Amanda Roble, general manager, SABIC's automotive business.
Don't panic – we didn't not do any future model reviews this week, normally top of the reader chart, fourth placed this week, eye on future electrified Audi SUVs. Last week Audi stated its intention to expand an already bustling line-up of electric vehicles to "about 30 models, of which approximately 20 will be powered entirely by electric batteries" by the end of 2025. The company plans to spend EUR35bn on all manner of vehicle programmes, many of which will include PHEVs and EVs.
We also eyeballed future cars: Audi should sell around 650,000 locally made vehicles – mainly sedans – in its number one market this year. Add in 50,000+ imported models and 2020 will have been a good year after all. Yet while China is strong, the US and Europe are less so, plus consumers are buying way fewer TDI models and cars in general. Might more electrification help?
Michelin is to incorporate Radio Frequency Identification (RFID) chips into all its car tyres by 2023. The manufacturer believes RFID technology is a cost effective way of tracking tyres from cradle to grave and a significant contributor to predictive maintenance services. In addition, it will enhance driver safety by allowing advanced driver assistance systems such as ESP to fine tune responses according to specific tyre characteristics.
I guess when you drive something the size of a small British flat you could use all the help you can get. Veoneer said it had commenced production of its fourth generation thermal sensing system, called Night Vision which makes its (optional) debut on the 2021 Cadillac Escalade to enhance forward visibility by using a wider field of view thermal camera with four times greater resolution compared to the previous generation, to extend road coverage, improve detection capability, and display a sharper image to the driver. The thermal camera is integrated into the front grille and the thermal image is displayed in front of the driver on a new 38 inch curved OLED screen.
Daimler's Mercedes-Benz this week updated details of its EV launches and source plants. The EQA will be launched on 20 January, 2021 and its production launch at the Rastatt plant "went smoothly", according to the automaker. As with the EQC built in Bremen and Beijing and the EQV at Vitoria, all already on sale, the Rastatt EVs are made on the same line as ICEs and hybrids. EQB production – originally scheduled for the Smart plant at Hambach, now sold to Ineos – will begin in 2021 at the Hungarian plant in Kecskemet for most markets and at BBAC in Beijing for China sales. Plant preparation, including employee training and renovation work, is already under way.
Chinese electric car maker Nio plans to issue 60m new American Depositary Shares (ADS) in a follow on offering from its September 2018 initial public offering (IPO) when its shares began trading on the New York Stock Exchange (NYSE). Nio is looking to capitalise on a 15 fold increase in its share price this year to boost its coffers, joining a rush for fundraising among Chinese new energy vehicle (NEV) manufacturers as they look to increase their exposure to growing global demand for electric vehicles. Other Chinese NEV manufacturers that have successfully raised capital in the US in recent weeks include XPeng and Li Auto while Tesla also plans to raise US$5bn in its third stock offering this year.
Tata Motors – Jaguar Land Rover's parent – said its Nexon EV, had passed the 2,000 sales milestone after 10 months on sale in India. Sales reached 2200 units as of November 2020. After rolling out its 1,000th unit in August this year, the car managed another 1,000 sales units in a record three months (Sept-Nov 2020). Tata said the Nexon EV had emerged as the best selling electric car in India. Currently, Tata Motors is leading the EV segment with a 74% market share, it claimed.
Toyota plans to invest US$2bn for electric vehicle (EV) production in Indonesia over the next five years. Toyota joins Hyundai, which is also committed to commence the production of EVs in Indonesia by 2022. The investment, which forms part of Toyota's EV strategy to support both the local demand and exports, will help the company to sell 5.5 million EVs globally every year by 2025. The company plans to globally introduce over 60 new electric models during the same period.
Auto supplier Valeo has adapted its 48V motors to bikes, resulting, it claims, "in the most high performance electric assistance system for bikes to date, combining performance, efficiency, intelligence, comfort, robustness and ease of use". The Smart e-Bike System is claimed the first to integrate both an electric motor and an adaptive automatic transmission in the pedal assembly. With this new electric assistance system, the bike adapts to the cyclist. The gears change automatically and algorithms instantly adapt to the amount of electric assistance the cyclist needs.
BYD said delivery to Keolis Nederland was Europe's largest ever single order for electric buses. An initial 246 low-floor eBuses – part of a total order of 259 – are now with the operator and entered service on 13 December on a variety of routes in the IJssel-Vecht region. The remaining vehicles are scheduled for delivery and start of operation in spring 2021.
I've been sampling a couple of EVs myself. Electric vehicles are a rare bright spot in a European market in the depths of winter gloom, COVID-19 restrictions and general economic and unemployment malaise. In the midst of all the chaos, VW has been rolling out the ID.3. It bodes well for the rest of the coming ID line.
Volvo has been mucking about a bit with the naming of its plug in hybrids. First launched in the critically acclaimed XC90, the PHEV variant was dubbed 'Twin Engine'. Hence, when it got down to the XC40, the model was initially the T5 Twin Engine. Factually correct – one petrol engine, one electric motor – but it always reminded me of a Bmc cobble-up decades ago when engineers stuffed a second engine into a Mini (where the back seat went) creating an instant four wheel drive 'Twini'. The new name for Volvos with a cord – Recharge – makes a lot more sense as that's just what you can do with a PHEV.
It's been a horrible year for both people and the auto industry, and commerce generally. The resilience of the auto, and other sectors, has been amazing to chronicle or watch and I hope 2021 will see improvement and a gradual return to normality as The Vaccine rolls out. Sorting Brexit out would be a good idea, too.
Have a great Christmas and New Year.
Graeme Roberts, Deputy Editor, just-auto.com