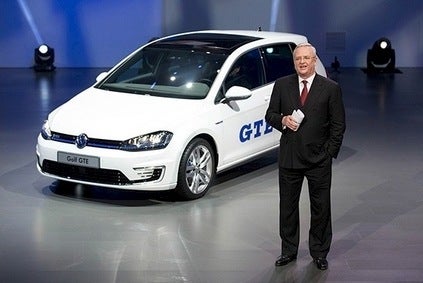 Monday is barely half over here in Europe and just starting on the east coast of the US – where news of the scandal broke on Friday night our time – and already it's looking like the timing of the EPA's announcement, and the fast-growing fallout therefrom, could not have come at a worse time for Volkswagen and, especially, its CEO Martin Winterkorn.
The executive summary is simple enough. Automaker tweaks engine management software to detect when diesel car is being subjected to US state 'smog test' conditions and ensure compliance, especially with hard-to-meet nitrogen oxide (Nox) requirements. Rest of time, engine is managed to deliver a nice driving experience, albeit emitting as much as 40 times the level of pollutants allowed under US clean air rules. Diligent digging by lobby group lab boffins eventually uncovers VW's clever trick, EPA gets involved, recalls of close to 500,000 cars are ordered, a humungeous (US$18bn) fine could be levied, criminal charges can not be ruled out.
So far today, we have seen Volkswagen shares tumble over 20%, their biggest ever one-day fall, following a weekend mea culpa from Winterkorn who said in a statement: "I personally am deeply sorry that we have broken the trust of our customers and the public." He added VW would "cooperate fully with the responsible agencies, with transparency and urgency, to clearly, openly, and completely establish all of the facts of this case. Volkswagen has ordered an external investigation of this matter".
We stress there has, so far, been no evidence Winterkorn knew anything of what was going on in the US, in much the same way former engineer turned GM CEO Mary Barra apparently knew little or nothing of the ins and outs of the ignition switch design scandal before the you-know-what hit the fan.
However, as a Reuters report noted earlier today, the scandal has emerged just as VW was hoping to move on from a damaging leadership battle with a supervisory board meeting on Friday (25 September) due to discuss a new company structure and management line-up. The automaker's supervisory board said earlier this month it would offer Winterkorn a new contract as chairman of the board of management… until 31 December, 2018 – after he won a bitter battle for control with former chairman Ferdinand Piech who, along with his wife, resigned from the supervisory board last April.
Already, according to Reuters, some analysts are saying Winterkorn should quit.
"This disaster is beyond all expectations," Ferdinand Dudenhoeffer, head of the Center of Automotive Research at the University of Duisburg-Essen, told the news agency.
Winterkorn ran the VW brand between 2007 and 2015, including the six year period when some of its models were found violating the US clean air rules and a source close to the company told Reuters any decision on emissions control mechanisms would have been taken at the group's Wolfsburg headquarters and not by regional divisions.
VW has been struggling in the US and, just-auto data shows, sales by its core Volkswagen brand fell 2.8% year to date to 238,074 vehicles (though overall group volume, including Audi, Bentley and Porsche, was up 2.6% to 404,698). Toyota brand volume, in contrast, rose 1.6% to 1,450,851 in the same period while group sales, including Lexus, were up 2.8% to 1,673,002.
"This is bad stuff. It smells of lack of control, hubris and denial," London-based Arndt Ellinghorst of Evercore ISI told Reuters on Monday, predicting management heads would roll. The news agency report noted some analysts have long criticised VW's centralised management system, saying it has delayed product launches and hampered its ability to compete in overseas markets.
Business-oriented news service Bloomberg agreed, saying the scandal puts pressure on Winterkorn to fix the damaged reputation of the world's biggest carmaker. It also quotes Evercore ISI's Ellinghorst as saying the analyst thinks Winterkorn now faces a serious challenge to his leadership. "This latest saga may help catalyse further management changes at VW," he wrote in a note today.
The US charges are "grave" and must be clarified swiftly, Stephan Weil, prime minister of the German state of Lower Saxony, which owns 20% of Volkswagen's voting shares, told Bloomberg. "Possible consequences can be decided after that."
The European Commission has also said it's taking VW's cheating seriously and is in contact with US regulators and the company about details of the case, according to Bloomberg which noted that diesel and VW's reputation for German engineering were cornerstones of Winterkorn's effort to catch up in the US market.
"If this ends up having been structural fraud, the top management in Wolfsburg may have to bear the consequences," Sascha Gommel, a Frankfurt-based analyst for Commerzbank AG, told Bloomberg.
Clearly, this is all just getting going. With a Damocles sword of potential huge fine and prosecution already hanging over his head, Winterkorn needs to move swiftly to establish just how this 'evil genius' idea of using engine control software to generate compliant emission test results only when a car was being tested got started and how it was implemented, and by whom, and then clean house, fast. Then he'll need to fall on his knees before US regulators and make clear he's cleaned house and negotiate the terms of any required settlements. The involvement, if any, of those in Wolfsburg, which some analysts already seem to think highly likely, should become apparent after full investigations both sides of the Atlantic and Winterkorn has already indicated he plans an independent investigator but has not yet provided details.
In some ways, his immediate future path will parallel that recently trod by GM's Barra who, while not implicated in the various machinations that permitted a sub-standard ignition switch design to be signed off for production, the full implication of accidents involving death and serious injury not to be appreciated and acted on (with recalls) quickly enough, and the appalling decision by an engineer to sign off on a part redesign without allocating a new part number, took decisive charge. Barra's actions included firing engineers and legal department executives, establishing a victim compensation fund, and thoroughly revamping GM's safety and product development culture to ensure no repeat of the debacle. She was also no doubt key to negotiations with regulators over the size of the fine (lower than Toyota's due to GM's apparent better cooperation with regulators) and the terms attached to the Department of Justice settlement.
VW's Winterkorn will need to do likewise and as fast as possible. Whether or not that will be enough to save his job remains to be seen in the coming months.