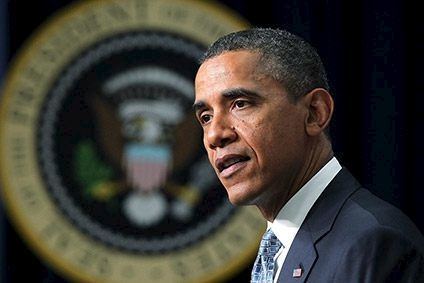 It's only natural to want to leave something behind, something tangible which indicates you've made a difference and which will endure for decades, perhaps even lifetimes.
The most modern evocation of that is perhaps President François Mitterrand, who wanted to stamp his distinctive socialist mark on Paris, creating a series of Grands Projets, such as the Pyramids at the Louvre, La Grande Arche, positioned exactly at the end of the Champs Elysées to mirror the Arc de Triomphe and the Bibliothèque Nationale de France.
Across the Atlantic, American Presidents also seem enthusiastic to leave behind something concrete, whether it's libraries or shovel-ready architecture that says they've mattered to society.
The latest in White House incumbents – President Obama – is fast approaching his last spin in Air Force One and Marine One – as elections loom next year and appears mustard keen to leave behind a series of – not necessarily architectural – but more social and business Grands Projets of his own.
Part of this is the controversial Trans-Pacific Partnership (TPP) deal, which is currently continuing its tortuous 11-country progress across its vast geographical space, but which has led to criticism from some of political grandstanding.
The TPP forms part of a mosaic of global free trade agreements, which may or may not see the light of day, with concern also recently raised the Pacific deal is being railroaded through by the US in particular, given Obama's apparent desire to leave office next year with a series of signature triumphs.
But only this week, Canada's Automotive Parts Manufacturers' Association (APMA) voiced its unease at the deal, noting it could see some member-countries looking to obtain lower country-of-origin thresholds, which would advantage "low-cost jurisdictions" outside the TPP.
Such a move would be "of concern to Canadian suppliers, says APMA, which strongly backs the Canadian government's efforts "to reject country-of-origin thresholds," which risk future prospects.
The TPP involves the Pacific-Rim countries of Australia, Brunei Darussalam, Canada, Chile, Japan, Malaysia, Mexico, New Zealand, Peru, Singapore, and Vietnam, whose collective view appears to be they are in the "end-game" of negotiations, although APMA takes a firmly opposing view.
"We support developing new markets," APMA president, Flavio Volpe tells me from Toronto, [but] I think there is a lot of pressure the Americans want to close the TPP [deal].
"The Americans previously accepted [the] proposal and presented to Mexico and Canada, but Mexico and Canada walked away from the table. There is going to be enormous pressure on Canada, Mexico to relent. I hope we don't relent.
"If the American President would like to get this deal wrapped up before an election, he is running out of time. A second term President would like to have legacy items."
Despite suggestions TPP talks in Hawaii had broken down, the 11 Pacific-Rim Trade Ministers insist "significant progress" has been made, although they concede "a limited number of remaining issues" are still to be resolved.
Into the row has waded the UAW, a consistent opposer of TPP and it may well have found some comfort in the fact the 11 countries are "continuing their intensive engagement to find common ground."
I think that's diplomatic code for a mother of all rows echoing around that Pacific Rim as argument and counter-argument ply their way between capitals. Finding agreement between 28 relatively close European Union countries is hard enough, its equivalent across the colossal Pacific must be mind-boggling.
APMA argues Canadian suppliers already operate within North America's existing Free Trade Agreement – the famous NAFTA deal – and appears to be concerned TPP – bringing in a host of other far-flung countries – would dilute its ability to secure business.
"There are very few chips left on the table," Volpe tells me. "Even more critically, the Mexicans can't afford to make a bad deal.
"The vast majority of Canadian production is engineered to [function] in NAFTA (North American Free Trade Agreement] dynamics. If we sign a TTP that overtakes NAFTA, the other thing is the tariff schedule would have an immediate impact on whether Canadian parts companies can win business."
America's UAW has its own worries about domestic job security as its currently rides the wave of an intensely successful US automotive regeneration following the severe economic crash of only a few years ago.
"We are concerned a weak rule of origin could provide a back door for countries like Thailand and China to participate extensively in the TPP without being a part of the agreement," a UAW statement sent to me notes.
"We are also concerned by press reports the domestic content requirements for the rule of origin (ROO) standards will be lower than NAFTA (62.5%). This is unacceptable.
"We need a fair standard won't allow Asian-pacific car companies to game the system. A low standard will lead to even more outsourcing to poor countries and fewer jobs in the US."
In all this, there is one word that isn't being mentioned, but I think it's important to let it have its say.
Protectionism.
It's been around for years, but FTAs are supposed to try and circumnavigate such a philosophical position, which simply looks to protect your own back yard.
Nothing wrong with that, it's human nature to safeguard what's yours. But in particular, when the UAW looks at its own patch and a resurgent US auto industry, it is nervous those hard fought jobs, some of which have possibly been secured at the expense of some sacred union cows, could be under threat from global liberalisation.
The world has de facto divided into gigantic blocks: Europe, the US, Asia-Pacific (dominated by Japan and South Korea), as well as the BRIC countries currently enduring something of a roller-coaster ride as some economies slide Russia/Brazil – while others – China – are seeing wild fluctuations in stock market fortunes.
In his former guise as European automotive supplier, CLEPA, CEO, Jean-Marc Gales told me the equally long-running TTIP (Transatlantic Trade and Investment Partnership) could take a decade to implement, such is the complexity of marathon negotiations, but that "the utopia vision is many billions of dollars."
Gales' successor at the helm of CLEPA, Paul Schockmel, wrote a joint letter with MEMA (American Motor & Equipment Manufacturers Association) to US trade representative, Michael Froman and European Commissioner for Trade, Cecilia Malmström, urging TTIP be speeded up.
"On behalf of these motor vehicle suppliers in the US and Europe, we urge a renewed effort on TTIP negotiations this year, allowing for an agreement to be finalised before the end of 2016," said both CEOs.
"As you are aware, these two economies account for nearly half of the world's GDP and represent 35% of global automotive sales. A recent EU impact assessment report found EU vehicle and parts exports to the US would increase by 149% and US vehicle and parts exports to the EU would increase by 347%, ten years after the implementation of a US-EU agreement to eliminate tariffs and reduce 25% of existing non-tariff barriers."
CLEPA and MEMA insist both Continents face regulatory costs of around US$12.8bn, while automotive regulatory burdens add around 27% to US and EU trade.
But attractive as such numbers undoubtedly are, unions and perhaps even some national automotive supplier bodies, may be concerned at both vastly cheaper foreign competition undermining domestic strength, as well as, particularly from a labour body standpoint, multi-national businesses taking an an even greater say in home-grown manufacturing.
The Byzantine complexity of such mega FTAs may in some ways be a blessing as it gives time for all parties – a bewildering array of global actors – to take stock and achieve a deal that is truly beneficial to all and not just vested business interests.
It's natural to want to leave legacy, a permanent footprint that says you've achieved something.
But that surely can't be at the expense of short-term empire building that won't have foundations which endure.
The Grand Projets of tariff elimination, be they TPP, TTIP or a host of other acronyms, have to be fair to all and not just multi-national elites, while domestic manufacturing champions equally can't live in ivory towers of protectionism.