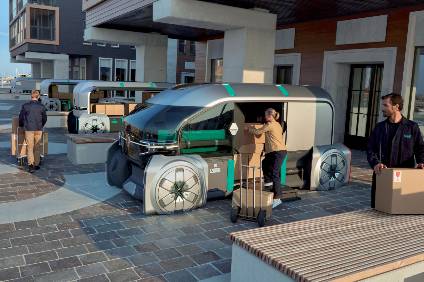 Autonomous vehicles are increasingly seen as at the heart of a radically different future landscape for transport solutions in the world's major urban areas. But don't believe all the hype, says Dave Leggett
After a century of little change for the industry's business and technology models, auto appears ripe for a period of accelerated transformation.
Change is being led by rapid developments in technologies that span the fundamentals of vehicle design. We have seen advances in electric vehicles – and lifestyles transformed by always-on connectivity. Further, personal connectivity has facilitated new business models that lever the burgeoning sharing economy. Ride-hail firms such as Uber and DiDi have become part of the world's urban transportation landscape.
Technologies that allow the automated operation of vehicles are creeping in to make life easier – and safer – for the driver, via a plethora of cameras, sensors and radar transmitters. Known as driver assistance systems, they are typified by already present car features such as cruise control and assisted emergency braking.
How long before these systems render the human driver redundant? In this future scenario, the time-poor passenger will be free to use the in-vehicle time however they see fit.
Already, more than half of vehicles sold are available with at least one semi-autonomous driving feature. What is termed 'Level 3' autonomous driving (on a sliding 0-5 scale set by the Society of Automotive Engineers, SAE, with 'Level 5' being full journey on autonomous control) is largely seen as a tipping point for autonomous vehicle technology. Take the Audi A8 – Audi has claimed a world first for the new A8 flagship saloon's 'traffic jam pilot'. The technology handles the task of driving in a traffic jam or slow-moving highway traffic up to 60km/h (37.3mph). With traffic jam pilot engaged, drivers no longer need to continuously monitor the vehicle and the road but must take over when the system prompts them. And there's the rub: the transition between driver and autonomous operation is potentially fraught with trouble. Studies suggest that drivers who have 'switched off' from driving will take longer to retake control – longer than manual drivers – in an emergency situation.
At SAE's Level 4, human input is reduced still further, with vehicles able to operate at a high level of automation, perhaps effectively fully automated in geo-fenced areas that are suitably set-up with the appropriate high resolution mapping infrastructure and street sensors.
"Variable driving conditions and events at relatively low speeds in urban areas are especially problematic."
This brings into sharp focus a big problem with autonomous vehicle technologies. As Tesla's Elon Musk has opined, you can relatively easily nail down 95% of what's needed, in terms of the necessary algorithms and scenarios, but the last 5% is extraordinarily difficult. Variable driving conditions and events at relatively low speeds in urban areas are especially problematic. While the human driver performs the necessary sensory and interpretive tasks very well indeed, automated systems – however clever the AI and machine learning can be – will struggle to anticipate dangers in the way a human brain can. And the computing power required when addressing urban driving environments is enormous. It requires around 2.5 terabytes of data to enable an Airbus A380 to fly autonomously across the Atlantic. Some 45 terabytes of data are required to enable a Level 4 autonomous vehicle to carry out fairly routine driving tasks.
There's also a moral dilemma associated with the transition to fully autonomous drive. The ultimate safety argument for autonomous vehicles is uncontested – accidents on the road are overwhelmingly caused by human error. But there are thorny ethical issues. What if the driverless car is heading for an imminent accident scenario in which human casualties are inevitable – but the net human cost is lower if the car's occupants are sacrificed (rather than say, ploughing into the crowded bus stop)? Who decides on the algorithmic priorities for playing out the scenario? Even worse, if the vehicle parc (vehicles on the road) is made up of some driverless cars programmed to minimise the net loss of human life, but these co-exist with manually driven vehicles, then effectively there's an asymmetrical safety burden at work with the passenger in the driverless vehicle bearing more of the safety burden while the manual car is behaving as a 'free-rider' (insurance companies, take note).
Driverless urban freight delivery
It will not be easy to develop freight carrying vehicles with the required complex tech and capabilities for reliable – and regulatory approved – last-mile urban delivery drop-off. However, there is no shortage of creative ideas.
Renault says it is bringing its last-mile delivery vision to life with its Renault 'EZ-PRO', an autonomous electric light commercial delivery concept featuring shared customisable robo-pods.
Interestingly, Renault's EZ-PRO concept acknowledges the need for a continued human element. In EZ-PRO, the leader pod hosts a human concierge who supervises the delivery of goods and services and its robot fleet. Renault says this concierge can focus on value-added tasks, such as supervising the itinerary planning and driverless robo-pods, or ensuring efficient and customised service, such as in-person, premium delivery of groceries or fragile objects.
Meanwhile, Mercedes-Benz has talked of a Sprinter van acting as a 'mothership' mobile loading and transport hub for final delivery robots. But you have to wonder about the practical operation of the delivery robots. Where can they actually go? How do they operate in a manner that means they happily coexist with other street traffic, people and vehicles? What will the regulators' attitude be?
Major obstacles
The point is, there are major obstacles in the way of the significant deployment of autonomous vehicles and they will take some time to address.
Bloomberg New Energy Finance asked 300 automotive, energy and technology executives to name a year when US consumers will be able to buy a 'Level 5' fully autonomous vehicle. Nearly 75% predicted that point won't be reached before 2030.
Limited scheme Level 4s, with sizeable fleets, could start to appear in specific domains in the first half of the 2020s and parcel drop-offs could potentially be part of that – but it is a geo-fenced scenario rather than widespread adoption.
Although much of the technology needed to operate self-driving cars has been developed, the laws that allow such vehicles on our roads are some way behind. It will take some time to convince regulators – and gain the public's trust – that it's okay to hand over control of a car or van to a computer while driving at 70mph.
This article first appeared in the just-food (a just-auto sister site) 'futures' PDF newsletter