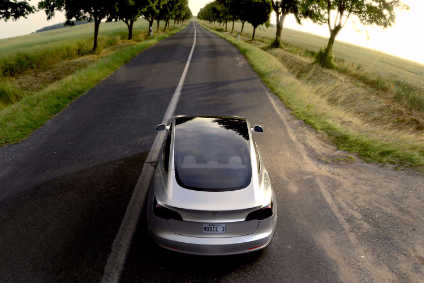 Tesla unveiled its Model 3 last week and it's already clear that the model is going to be of great significance to both Tesla Motors and the future of the burgeoning electric vehicle segment. Electric vehicle sales have been picking up lately, but growth is off a low base and they are still a small part of the overall vehicle market. Two things are happening that could give the sector a vital shot in the arm in the coming years.
One is that battery technology is improving to give longer driving range on a full charge. The improvements have been fairly incremental rather than dramatic, but we are now starting to see ranges that look significantly better than was the case five years ago. Tesla has gone down the big batteries route for greater range, but its smaller Model 3 will still have 215 miles of range (likely 50-60kWh battery for the entry model). Nissan's latest Leaf is available with a 30kWh battery pack that will yield 155 miles. The upcoming Chevrolet Bolt will have around 200 miles of range, GM says (that's with a 60kWh battery). Ground up engineered and designed electric vehicles are not cheap to do and there are physical size and weight constraints that determine the battery options, according to the size and segment of the vehicle. Nevertheless, improvements to battery performance have come and are coming. Tesla's battery 'Gigafactory' gets going properly in 2018 and that could be a game-changer.
This brings us to the second big – and related – change impacting the EV sector: technology cost. Electric vehicles with their low volumes and high development costs have come with a pretty hefty price tag, but we are beginning to see the possibility of vehicles aimed at mainstream segments that will have much lower unit costs. In this respect, GM's Chevy Bolt is obviously a key new entrant. GM is wary of talking about volume targets, but if the Bolt really hits consumer sweet spots, GM can use its clout – manufacturing and distribution – to really ramp up the volume.
The Model 3 from Tesla also comes with a relatively low $35,000 price tag and is part of the Tesla mission to get electric vehicles to market at high volume. It wants to achieve a whopping 500,000 units a year from its Californian factory. Crucially, Model 3 will be the first car to have its batteries supplied from Tesla's so-called Gigafactory in Nevada. The idea is that the ramp-up on batteries produced for the Model 3 there will bring the unit cost of battery packs down dramatically. More electric models and scale economies could follow, with additional mass market offerings, the core battery technology being constantly refined and improved.
It sounds good in theory, but there are questions, naturally. Can Tesla really execute on the ambitious timescale and volume plans? We will see. It has not all been plain sailing so far with deadlines slipping at times and Tesla is still making losses. On the demand-side, is the appetite from consumers for EVs strong enough? To what extent will governments help the nascent EV sector to grow (Norway is the poster boy there, but government belts have been tightening in many places, so financial incentives may be thin on the ground)? How many EVs can the world's largest market, China, take? Battery charging infrastructure is expanding, but will it be perceived as good enough? Will fleet sales or lease sales to individuals turn out to be significant? What will the EV business model really look like? Where will the bulk of EV customers be in 2020?
Elon Musk has already achieved much and impressed many in the auto business and beyond (investors included). He's not just a visionary, but shown that he can be a competent car company CEO, too. Going from the Roadster (which can be considered as Tesla 1.0), to Model S (Tesla 2.0), to Model X (Tesla 2.5) and now to have shown Model 3 (Tesla 3.0) is a huge achievement. He even managed to nudge General Motors a little further down the electrification path.
Now it gets very serious. The Gigafactory itself is a huge undertaking, one of the biggest buildings in the world (think Boeing's vast Seattle factory and you are in the ball park). Calibrating a planned huge ramp-up of lithium-ion battery pack production to supply rapidly rising Model 3 production and meet orders smoothly will be no easy task. External market environments will need to be favourable, too, with car markets growing and able to willingly absorb the new cars (also, a low oil price doesn't exactly help the EV sector).
A lot has to go right for Elon Musk to be sitting – by say 2020 – on a hugely successful company that is highly profitable and clearly delivering on its mission to significantly move the needle of motorised transportation energy source away from fossil fuels to electric battery. It's a noble aim. Shifting half a million units a year is a big leap from where Tesla is now. The man with the vision will have his CEO attributes and qualities tested like never before.