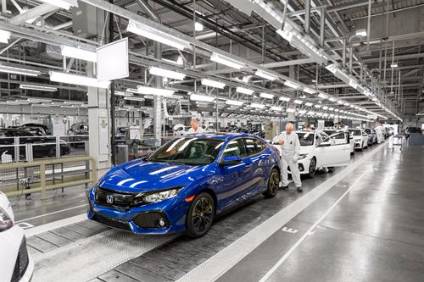 There's plenty of commentary around on the decision by Honda to shut its UK manufacturing facilities at Swindon. Some say it's all about Brexit and the ongoing uncertainties that brings, while others claim Brexit has absolutely nothing to do with it. The reality is a little more complex.
One thing is blindingly obvious though. Honda's UK plant was designed to serve the European car market where Honda has not enjoyed much success. In the light of volume shortfalls for Europe over many years that left Swindon at a low level of capacity utilisation, attempts to make Swindon work as a more global sourcing hub haven't made up for that European market performance failure.
To understand what's gone on, let's start with a bit of historical context and take ourselves back to the early 1980s. Europe's car market was – and to some extent still is – a highly fragmented place with market shares varying considerably across the nations. The Japanese players were effectively shut out by highly protectionist policies that restricted them to very low shares of national markets. Japanese OEM strategies for Europe were being developed though. Manufacturing in Europe was surely a way to outflank the protectionists and make profits with localised cars that would not be seen as hostile invaders. It was not easy to make progress though. Politicians and car company bosses were complicit in protecting national champions from competition at every turn.
In the UK though, there was a big welcome for the Japanese. The prime minister of the time, Mrs Thatcher, was no fan of the UK's big indigenous carmaker – British Leyland – and its perennial need for state bailouts. Nissan was pushing at an open door when it investigated manufacturing in the UK. Nissan led the Japanese in Britain – its UK distributor for the Datsun brand had already been highly successful. Every possible assistance for set-up was provided by the UK government, anxious to bring new investment and jobs to places with high unemployment. The less than positive attitude across the Channel was summed up by the remarks of then PSA chief, Jacques Calvet, when he described the UK as an aircraft carrier for the Japanese.
After Nissan, Toyota and Honda followed. Plants in the UK made good strategic sense: tariff-free access to the EEC and localised sourcing would make the products 'European'. Local manufacturing also provided some natural hedge to exchange rate movements (these were the days when sterling 'shadowed' the deutschemark). Plans for a Single European Market in 1992 and more harmonised standards (which the UK government and business loudly supported) were another compelling reason to be manufacturing inside the EEC's customs area for future free circulation of automotive products – vehicles and components – meeting harmonised standards that would support bigger profits. The stage was set: manufacturing plants would be built in the UK to serve buyers in the European market at low-cost, with European supply-chains, and build regional volume and share.
So how did it go? The short answer is that the results were mixed. Nissan's Sunderland plant eventually grew into the UK's largest car plant, but has not found the going easy. Qashqai was a big success, but other models much less so and the electric string to its bow has been a very costly investment. Toyota has developed a manufacturing base in Derby, but the numbers have never looked very large, especially on the slow-selling D-segment Avensis; one line at the plant is furloughed. Honda did well for a while with the Swindon-made CRV, but the recession of 2008/9 hit it hard, with the company deciding to retrench and put-off model renewals. That was a mistake. Market share in Europe nosedived and has never recovered. Honda has been left with a depleted European volume base and a model-mix that just hasn't been able to provide a strong enough lift; dealers have stayed wary. In 2018, the company sold just 135,600 cars in the EU (share 0.8%) which compares with 760,100 for Toyota Group (4.9% share) and 493,900 units for Nissan (3.2% share).
Fast forward to five years ago. Honda is wrestling with a strategy for its Swindon facilities, which are struggling with part of the capacity mothballed and volume looking low. The decision is taken to make it more global facing and specialised in one model: the Civic hatchback. Despite the best efforts of Honda – and the latest Civic is widely seen as a good car – markets were about to turn away from traditional cars and towards crossovers and SUVs. The Civic was always swimming against the tide. The strategy to refocus Swindon as a more global manufacturing facility was becoming a big ask and perhaps even starting to reinforce the brand's European market difficulties. The plant and brand should have been working together to grow volume, profits and margins on Honda's European business. But that wasn't happening, even with a currency tail-wind on US shipments after the Brexit referendum.
The business case for UK manufacturing and finished cars being shipped to the EU is still very tied to tariff-free market access.
Which brings us to the current position. The Honda plant has part-shifted to be global, but the US market is topping out now (there is also a significant risk of new tariffs on shipments to the US). Markets for the Swindon-made Civic hatchback elsewhere in the world are not very significant volume-wise. Which brings us back to Honda in Europe. The business case for UK manufacturing and finished cars being shipped to the EU is still very tied to tariff-free market access. But with a matter of weeks to go before the UK's scheduled departure from the EU, future trading arrangements are far from resolved. Tariffs can't be ruled out if there is 'no deal' sealed between the UK and EU. There is genuine frustration in Japan that different scenarios with big business impacts are having to be looked at at this late stage in the Brexit process.
Furthermore, the strength that comes from being part of the EU trade bloc is perhaps underlined now that the EU and Japan have struck a free trade deal. It will mean tariffs on Japan-built cars shipped to Europe are phased down over a number of years from 10% to 0%. For the Japanese OEMs though, that EU-Japan FTA makes consolidating car manufacturing for European markets in Japan look more viable as a long-term strategy. The rationale for an EU manufacturing base is less compelling if trade from Japan is tariff-free. The facilities in the UK could even be attracting additional tariffs if the UK's permanent trade arrangement negotiations with the EU don't go well. The future risks associated with this liberalisation on EU automotive trade with Japan are mainly going to be felt in the UK, as that's where the bulk of European manufacturing exposure is with Japanese OEMs. No surprise there, perhaps.
There are higher transport costs involved in shipping from Japan to Europe, but these are balanced against higher overall manufacturing capacity utilisation. The undoubted pain of walking away from a big manufacturing asset and decades of investment might be preferable to the alternative of persisting with an under-performing manufacturing asset that is failing to deliver what it was manifestly put there to do. A sense of loyalty to the UK project may also have been eroded by a perception in Japan that its often-voiced industrial concerns over planning for the post-Brexit future have not been taken seriously enough in London.
So, the Swindon closure is not ALL about Brexit. There is much more to it than that. Honda hasn't played a good strategic game in Europe. It has failed to get the market penetration and volume it needed in Europe that would support a viable European manufacturing base. The Swindon plant was eventually exposed as only marginally commercially viable as a European production base. Reinventing it as a global base for a single model may have worked if that single model was a major hit. It wasn't. Against that backdrop, Brexit uncertainties may well have served to tip the balance in the decision-making; Brexit can perhaps be seen as a contributory factor in the mix. The auto industry in Britain will be hoping that Honda's particular circumstances and its failures in Europe over a long period of time were at the heart of a decision that inevitably rings more than a few alarm bells, coming at such a sensitive time.
See also: Honda Swindon plant 'could not absorb 10% tariff'