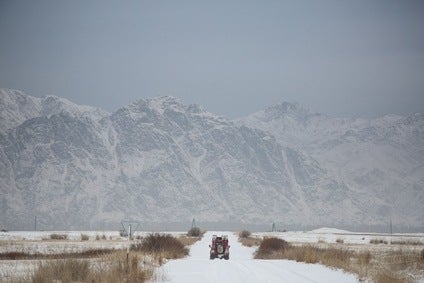 As sharply falling oil prices which went below US$40 last week, continue to feed through to Russian exchange rates, with a plunging currency in turn putting pressure on disposable income available for automotive purchases, is there a silver lining in the depreciation cloud?
The domino effect of the tumbling global cost of a barrel of oil is squarely decimating Russia's car and light vehicle sales, which have endured successive heavy monthly falls, while the enduring impact of international economic sanctions continue to affect investment confidence.
However, despite the undoubted squeeze on Kremlin finances, President Vladimir Putin continues to enjoy remarkably robust popularity figures, even as the furore surrounding Russia's de facto annexation of Crimea and simmering unrest in East Ukraine, refuses to disappear.
It is of passing interest also that deep economic problems are not translating into obvious political or social unrest – Russians are nothing if not stoic and have seen myriad crises come and go before with startling regularity.
But in the face of Moscow's apparent political impregnability, consumers looking to purchase cars are very much staying away from showrooms as more urgent day-to-day economic concerns test their ability to buy new vehicles.
"I think we will understand the latest decrease in the oil price in a couple of weeks or a month," EY (Ernst & Young) CIS Automotive Group Head, Andrey Tomyshev tells me from Moscow.
"The change in the economic climate will affect disposable income, certainly it will, because exchange rates have depreciated more. It will decrease [automotive] sales, but it is quite difficult to figure out to what extent.
"Our scenario we use…is more than US$40 – [but] nobody knows – it depends on many many factors. It can go below or stay above US$40 depending on the influence of the situation in Iran, in China and the situation with OPEC [Organisation of the Petroleum Exporting Countries]."
An indication of just how tough a time automakers are having in Russia, once hailed as a potential 4m market, can be gauged from the country's Association of European Businesses (AEB), which praised July's 28% plunge in vehicle sales as "almost good news" in the teeth of the economy continuing to lurch from economic challenge to political isolation.
The Kremlin has introduced a series of measures to boost the moribund market such as scrappage schemes, more favourable credit access and interest rate subsidies, but with its major export, oil, touching around US$42 per barrel, although indications are that is rallying, the Exchequer is coming under a sustained squeeze.
EY estimates sales will be off by between 35% and 40% for the current year, but considers the Russia market could start to rebound in 2017.
"We will definitely return to these levels [2012]. Of course they [OEMs and suppliers] experience certain problems [but] I don't see considerable lay-offs," said Tomyshev. "Maybe some regular stops of conveyors or sending people to vacation."
With the domestic market stagnant and falling for the foreseeable future, perhaps exports will be one way for Russia to soak up the shortfall in volume, while also taking advantage of a far more competitive field in terms of overseas business as a depreciating rouble makes both overseas deals and component production at home, much cheaper.
"They seriously look at this export potential," says Tomyshev. "They want to be globally integrated because they just don't want to focus on the Russian market. That is realistic of course. This is how the global automotive market works and the global supply chain works – we can see it on the China example.
"Ten years ago the country was quite isolated and and they did not experience currency depreciation. Now they suffer because they import a lot of equipment to build factories."
However, The Kremlin is certainly not throwing its auto industry to the wolves, far from it. The EY analyst notes Moscow is currently finalising its budget for 2016 now and forecasts are being reshaped for the following year.
"Since April, the government has introduced an interest rate subsidy programme and the share of credit sales increased up to 30% [but] still interest rates [are] higher than in Western economies," says Tomyshev.
"Interest rate subsidy is RUB20bn (US$296m) for [the] following three years, plus scrappage of RUB15bn for 2015. It is [also] around RUB3bn for municipal [automotive] purchases and RUB11bn for central government."
And just this week there have been two remarkably good pieces of news, which may give hope to those looking to tough Russia out and stay for the, admittedly arduous, long haul.
Ford Sollers announced its new US$275m engine plant in Elabuga, Tatarstan as part of existing commitment to increase local content and expand operations in Russia, a move currency deprecation makes logical, especially as the company has mandated a high level of home-manufacture.
From the start of production, engines will have a significant level of local content, receiving core components from Russian suppliers and produced from domestic raw materials.
Meanwhile, Mazda and OJSC Sollers unveiled a deal with the Russian government to begin assessing the establishment of an engine production plant at their joint venture, Mazda Sollers Manufacturing Rus (MSMR), located in Vladivostok in the Primorsky region of Russia's Far Eastern Federal District.
It's worth noting the caveat that pact is currently at the MoU stage, but it nonetheless shows significant confidence in a market many would regard as too fragile and volatile into which to plough large investment.
How far could oil yet tumble? As ever, the commodity is wrapped in a bewildering mosaic of geopolitics, which has just been given an even greater twist by the prospect of sanctions against Iran being permanently lifted.
The formerly hostile State is starting to come in from the cold in exchange for a tough inspection and verification of its nuclear programme, despite some arguing that oversight isn't nearly severe enough.
If Iran is readmitted to normalised business relations and new energy sources such as fracking really start to take off, could oil plunge yet further?
If Russia can hold its nerve and survive at US$40, it will entertain the possibility of US$100, admittedly appearing a long way off at the moment, returning at some stage as political events overtake a potential glut of oil and as its fellow-BRIC economies, particularly China, start to regain some of their former strength.
The market has a habit of being easily spooked by those unforseen political circumstances, while the ever-powerful OPEC could equally entertain the idea of curtailing the oil pumps if it chose to
In the meantime, the Russian auto industry, caught in the crossfire of a depreciating currency, international economic sanctions and plunging domestic disposable income, could look to take advantage and become super-competitive overseas.
And as clearly easier said than done which that is, maybe this crisis will drive a renewal of overseas exports few had formerly envisaged.