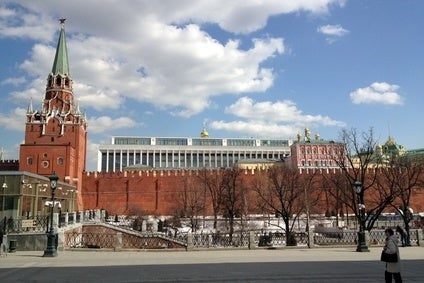 Just when you thought things couldn't be any worse for the auto sector in Russia, up popped the AEB recently with its latest monthly instalment of doom that sets the situation in stark clarity, but will a stabilising rouble ride to the rescue?
After almost 12 months of plunging sales, last month was the poorest in Russia for ten years and although the business association is trying to put a brave face on it, there's no disguising the gloomy reality this is not the best of times to be in the car biz east of the Urals.
In fairness to AEB Automobile Manufacturers Committee chairman, Joerg Schreiber, whose resolutely sunny outlook is normally such a constant feature of his statments, he didn't try to pull any punches in the latest disatrous set of figures.
"With 132,000 new vehicle registrations, total market sales in April mark a new low point in the AEB sales history over the past 10 years," said Schreiber.
"Only in 2009 did we record a similarly weak but slightly better result for this month [136,000 units]. The similarity to 2009, the year of the Lehman crisis, demonstrates the severity of the present situation."
Invoking the ghost of Lehman is serious stuff indeed. Despite a gradual – and in some cases painfully slow – recovery in Western European economies – memories have not faded so much we can't remember bewildered Lehman employees walking out of the bank with cardboard boxes of possessions having barely had time to pack before the doors were shuttered.
I can also vivivdly remember the equvialent of a very British 'run' on the Northern Rock bank in 2007 – as the first storm clouds were starting to mass over Europe – when I saw vast crowds in London queing in a very orderly fashion with real concern etched on their faces they wouldn't be able to take their money out.
However, despite the pervading gloom, there is some long-term Russian automotive thinking, which says this crisis will blow over, just as so many others have done and Russia will once more gradually start to deliver on the bold promise so many made before that it could become Europe's largest market, if you include the country in the Old Continent.
"For 2016 we expect stabilisation at 2015 level or slight recovery," EY (Ernst & Young) CIS Automotive Group Head, Andrey Tomyshev tells me from Moscow, although he noted this year's resuscitation of the scrappage programme had not yielded quite the impressive results of last year.
Interestingly, the analyst notes Russian flagship brand, Lada volumes decreased 29% while total market volume fell 38% in the first three months of 2015
"Decrease of Lada volumes is less considerable as Lada prices have been increased at lower rate compared to foreign brands," says Tomyshev. "Besides, due to decrease in real disposable income of population, customers are switching to cheaper cars.
"Another reason is in contrast to foreign brands all Lada models and modifications have been included in utilisation programme and car loan interest rate subsidisation programme.
"Launch of new models should help to improve Lada sales in future: Vesta in the end of 2015; X-Ray in 2016 and the new ?-class in 2017 according to publicly available information."

But despite a tricky market, AvtoVAZ confirms to me its Lada share for the first four months of this year is 18.6%, up 2.3% compared to 2014, while the Russian behemoth has even awarded its 50,000 staff, with the exception of contacted managers, a 6% pay rise from 1 June.
All these numbers are to a certain extent set against the backdrop, perhaps uniquely, of events beyond manufacturers' and banks' control as Russia continues to be in the eye of a political storm many would argue is of its own making.
The country is simply never out of the headlines – witness yesterday's very public backing by President Vladimir Putin of embattled FIFA president Sepp Blatter – a man almost friendless in the West but who has received a warm endorsement from Moscow with Russia due to host the 2018 World Cup.
And never shy of stoking the flames of anti-Western sentiment, Putin couldn't resist equating the involvement of the FBI in FIFA as somehow relating to US interference externally,
"This is yet another obvious attempt to spread their jurisdiction to other States," intoned the President.
"I have no doubt this is obviously an attempt to prevent Mr Blatter's re-election to the post of FIFA President, which is a grave violation of the principles international organisations function on."
Against such a volatile backdrop, automakers and Russian manufacturers in general are forced to make plans uncertain of what the economic and political landscape will bring, although the silver lining in the economic cloud has been a depreciating rouble boosting domestic suppliers.
But for how long? Slowly, inexorably the rouble is starting to claw its way back from the depths as a quasi-peaceful ceasefire in Eastern Ukraine starts to become more permanent and the Crimea crisis is quietly shunted to one side in Western capitals.
Could that "slight recovery" next year turn into something more durable for those Western automakers holding their nerve and who have opted to stay in the ever-changing landscape that is Russia?