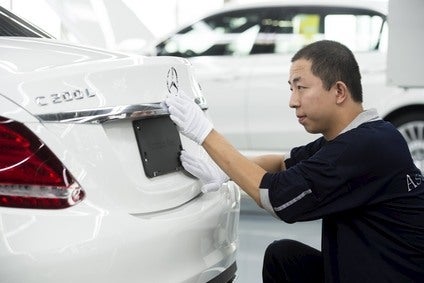 There's something going on in China that could weaken the outlook for margins and profitability in what has been a major source of profitability for the automotive industry globally. It is something to keep an eye on.
The regulators in China are looking at a number of industrial sectors for signs that companies have been making super-normal profits through anti-competitive practices. Industries being investigated include the automotive, telecommunications, chemicals, cement, drugs and medical equipment sectors. Large fines are expected to be imposed on companies found to have operated anti-competitively. Foreign firms appear to be, particularly, in the spotlight.
Domestic Chinese politics provides some background to this. President Xi Jinping is waging a sweeping campaign against corruption. Moves to target foreign companies for anti-competitive practices may well suit the leadership. Local regulators and authorities may see some gain in demonstrating to Beijing that they are acting to curb foreign companies enjoying big profits in China.
In terms of the automotive sector, aftermarket services and parts prices have come under scrutiny. The fact that manufacturers cut parts prices when they realised which way the wind was blowing suggests that they knew that they potentially had a case to answer. That may have emboldened the regulators.
Three questions will cause some auto executives to sleep less easily:
How big will the fines be? There is some uncertainty here but China's anti-monopoly laws reportedly allow for fines up to 10% of a company's annual revenue.
Will China's regulators eventually move from the aftermarket to take a serious look at new car prices?
Does this mean the good times – for profitability in China – are coming to an end?
China has been a honey-pot for the auto industry for some time. Soaring demand has been unprecedented and bailed the industry out, globally, when Europe and North America tanked. It's not just the units, but the value per unit: premium brands performing well, high-spec model variants, options fully loaded, cash purchases commonplace.
A fragmented market has arguably lifted profits further for foreign players, preventing the biggest domestic groups from exploiting potentially huge scale economies and therefore holding average prices up in a market that is also still regionally based. Furthermore, unattractive domestic brands with relatively crude products have helped to create a de facto two-tier market structure, with Western brands priced much higher, happily enjoying bigger margins in the upper tier. Not only do the foreign brands enjoy better margins, but they have better products, quality and control the technology that the JVs are still very reliant upon. That is not exactly how Beijing wants China's auto industry to evolve.
While the Chinese vehicle market is confidently forecast to see further growth in the long-term, margins and profitability may well not be as buoyant. And the regulators may yet get more active.