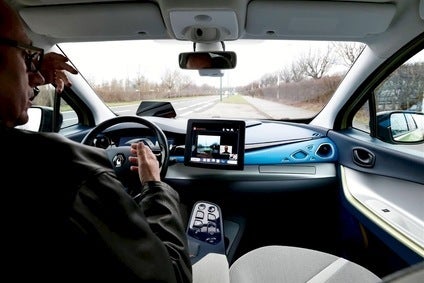 The protocols which govern the use of motor vehicles are enshrined in the United Nations Convention on Road Traffic. One of its key stipulations is that "every driver shall at all times be able to control his vehicle". Those 12 words are currently the greatest barrier to the introduction of self-driving vehicles.
But the Convention was drawn up in 1968, when the majority of cars did not even have a heated rear window. Today, cars can accelerate and slow down automatically to maintain the distance to the one ahead, prevent their owners from pulling into the path of another vehicle and even park themselves. The technology for fully autonomous vehicles is just about ready, but the legislation is not.
I got to thinking about this at the launch of the Passat GTE, Volkswagen's second plug-in hybrid car (after the Golf GTE) during a demonstration of a system called V-Charge, an EU-funded project involving VW, Robert Bosch, ETH Zurich and the universities of Oxford, Braunschweig and Parma.
Using V-Charge, electrified cars can potter off without a driver on board to park themselves over an inductive charger, drive to an empty bay once charged to free the charging point for another vehicle and return to the drop-off point to await their owners. There is even a fast-charge option using a cable and plug – but the plugging-in is done by a Kuka robot similar to those which build cars. If the robot was mobile it could serve several charging points.
This is all controlled by a smartphone app. It requires minimal investment in infrastructure beyond the charging points, since the digital mapping, cameras and sensors to make the system function are already on board the car. But under current legislation it cannot be used – even in a private parking area.
"Our lawyers have advised against this," said a member of the VW team involved in the project. "Obviously, we are trying to change this in collaboration with other companies, but at the moment we cannot say when we will be able to use it."
Yet it is exactly the kind of thing that cars like the new Passat GTE were designed to exploit. The car has a range of up to 31 miles on battery power, and this can be topped up on the move through regenerative braking or by using its 1.4-litre TSI petrol engine as a generator as well as a power source. Just imagine how much more attractive electric and electrified cars would be if they were allowed to free their owners of the tedium of having to find a charging point and then unfurl cables to connect them.
Technically, it could be argued that using active cruise control or self-parking systems is against the spirit if not the letter of the Convention, yet many thousands of people use both every day. Which begs the question: isn't it time the 1968 Convention was rewritten to take into account that it has been left behind by technology? Should there be a legal test cars to redefine what "every driver shall at all times be able to control his vehicle" now means?
The world has moved on.