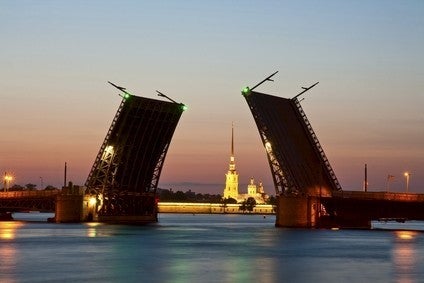 It's been variously labelled as President Vladimir Putin's 'vanity summit' and those attending it as 'Kremlin lackeys,' but for the thousands thronging this year's St Petersburg International Economic Forum (SPIEF) on the shores of the Gulf of Finland, it was a chance to offer some defiance to a disappoving Western world.
Russia has to a very large extent, brought that disapproval straight down on itself. What at best can be described as destabilisation in Eastern Ukraine, coupled with the outright and barefaced annexation of Crimea last year, has combined to bring world, well virtually world, opprobrium on Moscow's shoulders.
Business is undoubtedly hurting. There is a catalogue of woes to make anyone setting up in Russia potentially think twice and the list is extremely well known.
Cripplingly high interest rates, which to business means credit access up to an eye-watering 18%, rampant inflation, soaring unemployment, a depreciating rouble and oil price, are all combining in a potent brew that is choking off investment and overseas corporations.
The automotive business could be widely regarded as a litmus test for other big ticket purchases in that consumers simply aren't making them, as people keep roubles in their pocket anxiously scanning the runes for any sign of long-term improvement, of which there is scant little yet.
But although there were some Western CEOs who stayed away from the 'Russian Davos,' they missed the mood of defiance which is never far away in this country that has endured so much in an extraordinarily turbulent past 100 years.
"Russian society does not need growth whatever the cost is," said First Deputy Prime Minister, Igor Shuvalov, addressing the conference. "What we need is good quality growth.
"There are no wizards around when your oil is US$100 a barrel. Society expects the government to make decisions when it is not US$100 a barrel."
However, sharing the same platform in a vast hall of perhaps a couple of thousand delegates, Sperbank chairman, Herman Gref, drew wild applause by noting: "Crisis is always the result of poor management.
"The current environment is the result of a period where for a long time the current issues in the economy were not being resolved, i.e., poor management. We must start improving the quality of our management. You can't be competitive without being in a competitive environment."
Politicians always have agendas, it's the nature of the beast and you could argue the same of a similar forum in London or Washington addressed by the cabals of Westminster and The Hill , but my guess is the majority of the 1,500 plus journalists at SPIEF were there to openly sift through the propaganda.
I'm no Kremlin lackey and I heard some tough issues openly discussed, including political dissent and an economy in freefall, while for those labeling it a 'vanity fair,' well, I'd hazard a fairly large guess they weren't' there and were opining from far away.
President Putin sharing the same stage as surprise guest, Greek Prime Minister, Alexis Tsipras, Pwc chairman, Dennis Nally on a platform with Basic Element chief and hugely powerful Russian businessman, Oleg Deripaska, owner of GAZ Group , Deputy Prime Ministers and worldwide-respected economists such as former Mikhail Gorbachev adviser, Abel Aganbegyan of The Russian Academy of Sciences , the list was endless and criticism of the current situation, boundless.
And just to add to the element of surprise, SPIEF pulled a rabbit out of the hat when up popped former British Prime Minister, Tony Blair, who seemed be having his cake and eating it by also paying a flying visit to Ukraine earlier in the day.
For those who wanted to aim both barrels at SPIEF 2015, there are some easy targets.
Putin's a very persuasive speaker, but as with most politicians the devil's in the detail and there wasn't a lot of flesh on the bone from him.
But as vanity projects go, this one had some red meat attached to to it; there were elephants lurking in just about every room hosting a panel and no-one ducked the hard issues undoubtedly facing this country.
Jaw-jaw is better than war-war and if the very least human beings do is get together and talk, then that surely is something worth cherishing?