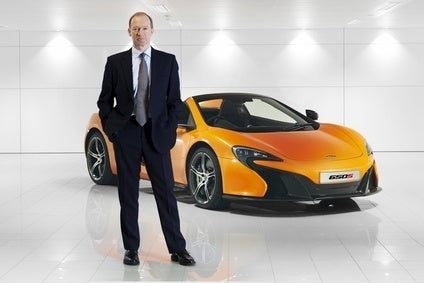 Now in its fifth year, McLaren's road car company is a success in its own right. Just as well, given the performance of the Formula 1 team…
When we first heard that McLaren planned to challenge Ferrari on the road as well as the race tracks there were plenty of sceptics. I was among them. I had no doubt that McLaren could produce a car of technical brilliance that would appeal to engineers and Formula 1 fans but I questioned whether it would resonate with the undiscerning rich who actually buy exotic supercars. For them, the latest, fastest and flashiest Ferrari was the default choice.
McLaren is second only to Ferrari in Formula 1 history and number of race wins but in the era of title sponsorship has lacked the visual consistency of the vivid red Italian cars. At the time the new road car was being developed, its silver race cars were just as likely to be identified as Mercedes. Daimler owned 40 per cent of the McLaren Group and it was making the SLR supercar for Mercedes.
A mid-engined Ferrari challenger had been expected as a follow-on from the SLR but Mercedes elected to make the gull-wing (front-engined) SLS at AMG in Germany instead. McLaren decided to go it alone and set up McLaren Automotive as an independent company which would have a manufacturing facility close, and connected, to the showpiece McLaren Technology Centre in Woking, Surrey.
Before embarking on this venture, Ron Dennis, the ever-methodical chairman of McLaren, commissioned research in 18 countries to find out what McLaren stands for. The positive result gave him the confidence to go-ahead with a direct rival to the F430, then the most popular Ferrari.
The programme was announced in September 2009, at the height of the post-Lehmann economic crisis. Supercar sales were down, although Ferrari was the least affected and continued to sell some 6,500 a year. Dennis was clear about McLaren's intentions: 1,000 cars in the first year and thereafter to build up annual production of a family of road cars to 4,000. It looked like a tall order – and Dennis admitted that he was counting on the recession being over by the time the first car was ready in 2011.
McLaren had produced a road car before – and caught a cold. The 1993 F1 was built with no expense spared and was ultra-fast and ultra-expensive – too costly even for many of the wealthy enthusiasts for whom it was intended. Just 100 were made over five years, 72 of them street-legal, the rest for racing.
This time, the car would have to be built to strict budget and schedule. Furthermore, Dennis decreed that all its parts – including the engine – must be exclusive to McLaren and that, like the F1 and all McLaren race cars since 1981, the structure would be a carbon-fibre monocoque. Established manufacturers don't do 'all-new' cars like this, preferring to use at least some tried and tested components. And for most, the timing of new model introductions slips by months, sometimes years. Antony Sheriff, the first managing director of McLaren Automotive, was justly proud of delivering the first MP4-12C in June 2011, just four weeks after the target date set at the start of the programme. The UK price was set at £168,500.
Fast forward to June 2015, and Mike Flewitt, chief executive since 2013, goes through McLaren Automotive's results for 2014. It was its second year of profit – £15 million pre-tax on a turnover of £475.5 million (2013:£4.5 million and £285 million) and sales had increased 18 per cent year-on-year, with 1,639 cars delivered. He declared it to be 'a sustainable business, investing in its future and people'.
McLaren Automotive has met its targets and kept its promises. It has launched a new car or variant every year – the open MP4-12C Spider followed the Coupe; there was a race version; then the 900PS hybrid P1 and the 650S Coupe and Spider. Now it is about to start production of the less expensive 570S, the first of which will be delivered in October.
This start-up business has had remarkably few teething troubles. Its specially-made sat-nav and audio system didn't work properly in the early cars, which required various software upgrades but, generally, reliability has been good. But the MP4-12C's technical efficiency brought unexpected criticism – most of the tests by enthusiast magazines acknowledged its performance and capability as a driver's car but said that it lacked the style and emotional appeal of a Ferrari 458.
The 650S was the answer to those criticisms – and a way of increasing transaction prices – but the trade was not happy to see the MP4-12C replaced after less than three years' production. By that time, the P1 had arrived as a technical tour de force with the dramatic looks that the earlier cars had lacked, and formed a halo for the whole of the road car range. The P1 is, by consensus of supercar specialists, more than a match for La Ferrari and follows its rival in offering a 1,000PS track-only GTR version.
'The P1 has done an excellent PR job for us', said Mike Flewitt, who also admits that this car – 375 sold, each with a price approaching £1 million – is a significant contributor to the company's profits.
One thing that McLaren didn't get right was its model nomenclature. No-one understood MP4-12C, which was supposed to make a connection with the McLaren race cars. Now the models are grouped in three series – Ultimate (P1), Sports (650, 675) and Super (570, 540) with the numbers indicating the engines' power outputs.
The Super Series is critical to McLaren's future as a road car manufacturer. The 570S revealed at the New York Auto Show in April is the 'Baby McLaren' to be priced around £150,000 and compete with the Porsche 911 Turbo and Audi R8 V10. There will also be an entry level 540S at about £130,000. McLaren sales director Jolyon Nash (ex-Rolls-Royce) says that this is a distinct price category with different customers to those in the £200,000 class inhabited by the 650.
The 570S looks to be a formidable competitor in this 'lower' class as, to a casual observer, it doesn't seem very different from the 650S. In truth, it isn't very different: it is more or less the same size, has a similar carbon-fibre Monocell structure, and the same twin-turbo V8 engine and transmission. The power output is lower, it is a touch heavier, and the suspension is not as sophisticated – so it is not as track-focussed.
It follows that the Super Series cannot be as profitable as the more expensive models – but the 570 and its companions are expected to double the volume at the McLaren Production Centre (MPC), taking the plant up to its design capacity. That means 4,000 cars a year by 2017 – Ron Dennis' target at the outset.
Where it goes from there is an interesting question. Mike Flewitt is a sports car and racing enthusiast (he and his wife race a 1963 Lotus Elan in club events) but his business background is in volume car manufacturing. He reflects that when he was running Ford in Turkey they made 2,000 cars a day. He says that MPC could build up to 5,000 a year but that McLaren is 'not chasing volume' and intends to continue to focus on two-seater sports cars. He is adamant that it will not follow Aston Martin, Lamborghini and Bentley with a sports-SUV crossover.
Flewitt is also aware that the exotic car market is fickle and that rich customers readily shift to the latest new thing: 'We can't afford for our cars to get old'. So McLaren faces the prospect of continuing high development costs for a stream of new models. It will spend £120 million on R&D this year and add 200 employees (making a total of 1,500). This requires considerable further investment by the backers of McLaren Automotive, who, thus far, have received no dividends from the company. The company's main shareholder, Singapore billionaire Peter Lim, is said to be content to see the company's growth and increase in value in the medium term.
So far, so good. Flewitt believes that making a profit in the second and third years of a new car company may be unprecedented in the modern automotive industry.
More than 90 per cent of McLaren's cars are exported, with a good global spread of sales. Its biggest market (35 per cent) is North America which is somewhat surprising as the US has little interest in Formula 1 and the McLaren name was not well known there. Perhaps that proves that McLaren Automotive is now established in its own right and its cars are appreciated for what they are, rather than just by association with racing. Anyway, as someone pointed out recently, who would buy a car on the strength of the lamentable performance of the current McLaren-Honda Formula 1 team?