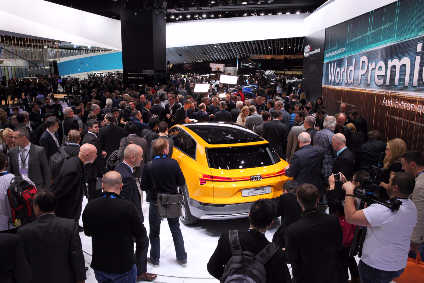 The mood at the Detroit Show this week was good, but there was also a sense that the future could be less bright. The good news right now is that the US light vehicle market is running north of 17m units a year and forecast to grow a little further in 2016. And the low price of gasoline is sending consumers into high margin trucks. With the price of a barrel of the black stuff hitting $30 this week, the signs are that the low oil price environment will persist for a while yet (some forecasts say it could go down to $10).
The Detroit Three are enjoying huge profits and the big suppliers are also operating at healthy volume. The US economy appears to be motoring along quite nicely, too. The latest labour market data is pretty positive. Interest rates are still low (albeit facing an upward nudge) and consumer finance is readily available. So what's not to like?
For one thing, Mike Jackson of AutoNation told an industry conference that the industry tends not to work well in a market plateau. He points out that everything is fine when the industry is growing and even when things are in decline, companies work out how to work in tough conditions. The problems come, he maintains, when the market is flat (he reckons December's lower than expected market is a sure sign that the plateau is imminent). That's when the marketing and incentives have a tendency to get unhealthy, according to his analysis of history. We'll see.
However, the real worry is a longer term and much deeper one. The cloud on the horizon is of indeterminate size, but it could be devastating for some firms in the auto industry. It took an analyst from an investment bank to provide the message that caused auto industry jaws to drop at the Automotive News World Congress. Adam Jonas of Morgan Stanley neatly summarised what is going on with personal connectivity, the emergence of a sharing economy and also autonomous driving tech that is leading to 'shared autonomy'. The key to this term is that it brings together sharing and automated – or autonomous – drive.
And this is where it gets particularly interesting. The auto industry is set up in a business model that is essentially a century old. Cars are bought (owned by individuals) and sold on a three year cycle that yields big revenues and keeps the vehicle parc or fleet of cars ticking over. The car companies of today want that model to move in the direction of 'owned autonomy'. So the car becomes able to perform autonomous driving via the clever sensors tech and algorithms that are already making their way into cars. The future, as they would like it, sees the business model remaining unchanged with utilisation of the asset – the sold car that sits in the driveway or street doing nothing for 95% of the time – staying conveniently very low. In this scenario, vehicle markets stay where they are – subject to economic cycles – and all is well in car land.
Jonas points out that the huge threat to this benign scenario stems from an alternative way of looking at the industry and this alternative viewpoint is what has got the potential disrupters at Google and Apple very interested. The key in analysing the market is to consider distances travelled rather than simply look at annual sales of vehicles. It shows up a huge global opportunity of 10 trillion miles at an average 25 mph which Jonas reduces to 400bn hours and adds the assumption of revenue generating at $10 an hour. A ride-sharing firm might aim for 1.5% market share of that and he reckons that would be, back of an envelope, around $225bn annual revenue. That is around the same number as Toyota turns over in a year. "It has taken Toyota seventy years to get there," he cheerfully points out. "How long do you think it would take a firm in the business of bundled miles [ie one of the big tech companies] to get there? Probably not seventy, right? Which side of seven would you go for?"
Detroit needs some creative and out-of-the-box thinking, Jonas concluded. Of course, there are a lot of uncertainties ahead concerning 'shared autonomy' and how it will actually look. Analysts are looking at it in different ways, coming up with different predictions, but the car companies will clearly need to be on their game to both protect what they have – making and selling cars that people will want to own – while also embracing the winds of change that have started blowing. Ford's Mark Fields gave me a nice summary of how he sees things at present.
Suppliers will also need to keep a close eye on how the transportation space is evolving. An analysis by Barclay's Brian Johnson predicts that shared autonomous vehicles in the future would be used much more intensively than the current fleet of vehicles, so that would have implications for vehicle life, maintenance and replacement cycles. Public transport also comes into the picture (a platooning convoy of vehicles on the highway makes no sense if it replicates journeys that could happen by rail or bus).
How will Google and Apple actually make their cars/pods? Will they engage with OEMs? Is there an automotive equivalent of Foxconn to handle contract manufacturing? Google has already engaged with suppliers to produce prototypes and is making plenty of collaborative mood music at the moment. And then there's the can of worms that is cyber security. There were interesting discussions going on all around the show this week.
On the exhibition floor at Cobo the emphasis this year was firmly on premium vehicles. World debuts included the Genesis G90, Volvo S90, a new Mercedes-Benz E-Class, Chrysler Pacifica (now available as a plug-in hybrid with claimed 80 mpg equivalent in city driving and 30 miles range on the battery), Lexus LC 500, Lincoln Continental (a proper flagship) and the delightfully styled Infiniti Q60 Coupe.
One notable outlier to the premium craze was the Chevrolet Bolt EV. With a claimed 200 miles of range and a $30,000 price tag, it could be in high demand, although it will be launching at a time when gas prices are very low. It will be very interesting to see how well it does. The GM folk here were very wary of giving any kind of volume expectation or planning target. It will be all down to how demand evolves, they say. I'd guess they are being cautious on the planning front, but it will likely look like a very expensive project unless volume is fairly high.
On the premium front, vehicles are being loaded with highly sophisticated technologies and features. The Mercedes-Benz E-Class is particularly impressive, not just for the usual reasons people like luxury Mercedes cars, but also because of the advanced technology it is packed with. The semi-autonomous 'drive pilot' is a new generation adaptive cruise control system that not only keeps the car the correct distance from the car in front, but can also follow them at a speed of up to 130 mph (therefore the driver no longer needs to operate the brake or accelerator pedal during normal driving and also receives plenty of steering assistance from the 'steering pilot' that centres the car in lane). The car will also intervene actively by taking account of surrounding vehicles and parallel structures. And it will also change lanes if you indicate to do so and it detects that the lane is unoccupied.
The Audi h-tron quattro concept shown at Detroit also provides a foretaste of the technologies for piloted driving and parking that will go into production in 2017 with the next generation of the Audi A8 full-size sedan. Piloted driving at Audi revolves around the central driver assistance controller (zFAS). It computes a model of the car's surroundings in real time and makes this information available to the assistance systems and the piloted driving and parking systems. The latter can assume driving tasks during parking or in stop-and-go traffic on freeways at speeds of up to 60 km/h (37.3 mph).
Volvo Cars has also raised its semi-autonomous driving capabilities with the new flagship S90, which looked very good in the flesh. But the point I really want to make is that the semi-autonomous driving tech is now making it into high-end cars in a fairly big way. It will trickle down to mass market segments eventually. The vehicle makers would like us, the customers, to continue to accept that they are the experts and we trust them.
There are some big and powerful brands that would also like us to continue to crave car ownership and not necessarily accept that sharing vehicles is the answer. More vehicular asset sharing combined with autonomous drive may well turn out to be a big part of the future mobility solution in urban areas. Is there room for a radical rethink of motorised transportation in cities? I think the answer is a firm yes there. I used Uber to get around Detroit this week and it has a delightfully easy to use app. It would be a lot cheaper without a driver and it seems the thought has clearly occurred to Uber.
The big question is how quickly 'shared autonomy' will roll out and how far it will really go; how much disruption comes. But for now, Detroit has a spring in its step, even if it looks over its shoulder a little nervously at the gradually emerging ambitions of some companies in Silicon Valley.