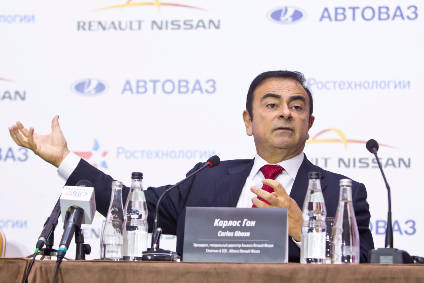 Industry consolidation is much talked about in automotive circles. Just the other day, I heard the prediction – one that I first heard in the 1990s – that the global auto industry will eventually collapse to around six big players. Don't hold your breath though. The process of consolidation or restructuring at the industry level is a pretty slow and long one that takes a number of forms. It is coming, but it will take time. Of course it will. Maybe though, we're just seeing signs of acceleration.
The strength of the brands in the auto business is one thing that works against easy outright assimilation and eventual disappearance (DaimlerChrysler's split springs to mind). The auto industry is also a complex one in terms of products offered (natural profit margins for different segments), shifting market geography (which can deliver big head or tail winds via big market movements or currencies), manufacturing economics (principally, scale) and the ultimate ability to generate a profit. Companies that look weak – on scale grounds, for example – can nevertheless survive if they have effective and smart managers able to navigate the auto industry's complex business landscape. And, although I have a fairly hard-nosed business brain in gear here, there is undeniably a significant emotional element that transcends business analysis; delivering great products (not just the hardware values of the car itself, but the soft values around that, the brand attributes and/or perceived customer service) can stand you in good stead for years when the consultants, bankers and accountants say you are virtually finished. Otherwise rational people continue to buy Alfas and they always will.
However, the smaller players may be particularly vulnerable if something unexpected goes wrong or a storm blows up out of nowhere. Suddenly, as the share price tanks, they are there to be picked off. Which brings us to Mitsubishi Motors (MMC). The company's business has been blown off course by a fuel economy testing scandal in Japan that has damaged its reputation, added cost and caused sales to slide. It was ripe for an approach to join a global alliance. Carlos Ghosn seized the opportunity, just as he did with financially challenged Nissan in the late 1990s. It will be interesting to see how he gets on with realising synergy potentials and cutting cost at MMC. One thing that he has been good at with the Renault-Nissan Alliance is maintaining independence for the two. The collaboration goes so far, but company cultures are respected. Talk of full-on merger is usually quashed immediately. Ghosn has been the glue that has held it together and now he'll be performing that role as chairman of the board at MMC. One does wonder who will fill his boots when he eventually steps down, but he seems to still have a big appetite for the business.
Ghosn targets big synergies in MMC deal
Suzuki is also a company that looks on the small size as a volume player in mainly low-margin segments, but it has done well at home and in overseas markets such as India, which is a major production hub now. Can it protect its independence? It will be determined to do so after its unhappy experience with VW Group (VW guilty of a number of undiplomatic actions that provoked outrage at Suzuki). The cultural aspect, respecting brands and corporate histories, feelings, is at the centre of things when companies come together – that's what Ghosn understands. Suzuki can, however, go down the selectively collaborative road with other OEMs and that is a way to save cost and stay viable. And choosing Toyota as a partner for expensive R&D activity looks sensible. It could grow into something more, but it will be baby steps on the way, trust and respect proven before next steps to deepen the relationship are taken. Gently does it.
Toyota, Suzuki, consider R&D collaboration
Geely and Volvo Cars also strikes me as an example of a coming together that works well. Parent Geely manages Volvo's bottom line, gives it room to breathe, retain its independence – just so long as the P&L stays in the black. So, Volvo keeps its Swedish cool and between them, they work together on engineering systems that lower overall costs, unit costs spread over higher volume. There is even a new brand for the Geely group aimed at meeting another part of the market, sub-Volvo: Lynk & Co. Not sure about the name, but the strategy looks interesting. My instinct is to say that Europe will always be very tough indeed for a new premium car brand. China could be very good quite quickly (domestic brand with European DNA infusion), and the US may be fertile ground eventually, but will take time. That said, it will be interesting to see how the 'new business model' elements work out in practice. Could they prove to be a brand differentiator for Lynk & Co? That is certainly something for the established premium players to think about.
Geely launches Lynk premium brand
The auto industry will continue to evolve and reshape. Much of the corporate consolidation attention has been in the supplier industry in recent years, as Tier 1s shape up and reposition for rapid technological change that lies ahead. The focus may now start to move to OEMs. The costs of greater electrification, commercialising autonomous drive, connectivity (and security) that goes outside of the established auto industry's comfort zone and adhering to tougher fuel economy and CO2 standards are all taking more development time and budget. Companies will come under greater pressure from stakeholders to respond, particularly as new alliances and M&A activity picks up generally. Also, with the two largest car markets – China and the US – topping out after a long period of growth, a comfort blanket that has provided bigger profits for not much additional effort is being taken away. Conditions could get much tougher for the industry's smaller and non-aligned players over the next five years. Autonomous and electric cars, working on asset sharing business models, could bring revolutionary change to the auto industry over the next decade. It may even start to be known as the mobility sector/industry, rather than autos. True independence will be increasingly difficult to hang on to as the big groups – enjoying greater scale economies, the ability to attract capital and do deals outside of the traditional sector – get even bigger. And being smart to survive for the smaller guys will require being even smarter.