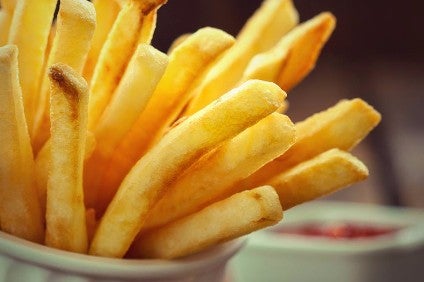 You want chips with that? The automakers and their suppliers certainly do but the microprocessor makers' fryers just aren't able to keep up with the queue out the shop door. Barely a day goes by without another chips shortage story on just-auto and it's going to take a while for supply to match demand. To top it all off, one major supplier's frying room went up in smoke. Renesas Electronics provided an update on chip production (or lack thereof) at its Naka Factory in Hitachinaka, Japan, thankfully due to restart by 19 April after a fire closed the factory last month. "The operation of the N3 Building clean room has resumed from 21:00, 9 April," Renesas told us in a statement. "In addition to the cleaning of the floor, underfloor, walls and above and beyond the ceiling of the clean room, we have completed the decontamination of the clean room by replacing the air filters installed on the ceiling of the clean room. We are sincerely thankful for the rapid assistance we received from as many as around 1,600 people a day from partner companies, equipment manufacturers, materials suppliers and construction companies." A fire is one of the worst things that can occur to a factory. As well as the risk to human life and losing machines and infrastructure, the mess created by extinguishers, water and smoke can take as long to clean up, make building repairs and source and install new equipment. Renesas and its suppliers and contractors have clearly undertaken a Herculean effort and we wish them the best of British for the production restart. In case you missed it, here's a recent update considering the effect across a number of automakers.
The chip shortage continues to affect new vehicle production worldwide. Mitsubishi Motors said it would cut vehicle output in Japan and Thailand in April due to the semiconductor shortfall. Subaru also announced it was suspending operations at one of its plants in Japan in April, resulting in a production cut of around 10,000 vehicles. GM Korea this week said it would suspend operations at its Incheon No 1 and No 2 plants for a week from 19 April due to the same problem while its Bupyeong No 2 plant has been operating at 50% capacity since early February.
It gets worse: Taiwan Semiconductor Manufacturing Company (TSMC) has warned the global chip shortage affecting industries including automotive and consumer electronics may continue into 2022. The world's largest semiconductor company said on Thursday it was building new factories and hiring thousands of people to match the soaring demand for silicon. Over the next three years it plans to invest $100bn in expanding capacity. "We see the demand continue to be high," CC Wei, CEO of TSMC, told investors. "In 2023, I hope we can offer more capacity to support our customers. At that time, we'll start to see the supply chain tightness release a little bit."
It's also not looking good on the Ssangyong front. Last week, we noted the SUV and pickup truck maker SsangYong Motor was expected to enter a court led restructuring process after its sole prospective buyer failed to submit a letter of intent (LOI) to buy the company by a 31 March deadline. This week the other shoe dropped when Ssangyong was put in court receivership, on Thursday, after parent company Mahindra & Mahindra failed to attract an investor by the court-mandated deadline. Ssangyong had filed for bankruptcy on 21 December 2020 after it failed to meet significant debt obligations with creditors refusing to reschedule repayment deadlines. The company was given a three-month respite from debt obligations by the Seoul Bankruptcy Court while M&M negotiated sale to a potential buyer. Mahindra had held talks with US vehicle importer HAAH Automotive Holdings to sell all or most of its 75% stake in Ssangyong since last year but not letter of intent (LOI) to acquire the automaker arrived in time. The court has now approved a debt rescheduling process for Ssangyong after it gained approval this week from the its largest creditor, Korea Development Bank . This is the second time in 10 years Ssangyong has been under court receivership. Is this the end? We don't yet know.
As the automotive industry rapidly pivots from combustion to electric vehicles, many OEMs are racing to set up lithium-ion battery supply deals. At the same time, OEMs are increasingly concerned about vesting such a large proportion of the value of their EVs outside of the company. As their role in modern technology becomes more critical, batteries have become a new battleground, with those in possession of the best technology or the most lucrative supply deals likely to become dominant in the future. To capture as much value as possible within their own walls, several OEMs now looking to more vertical integration for battery supply. This will be driven by their concern over large third-party developers such as CATL – one of the fastest-growing providers of batteries to the industry. Here's a GlobalData analyst's primer on CATL, what it is, where it came from and where it's going.
Yazaki Europe, North Africa and Yazaki North America and Central America, president and CEO, Bo Andersson, has stepped down from the helm of both companies. He will continue to serve the company in an advisory role to smooth the transition to new management. The Yazaki Europe and North Africa division is now led by Hans Lemmens  as president and CEO. Lemmens started at Yazaki in 1993, held various positions in sales, costing & pricing, programme management, purchasing and plant management and was appointed as Sales EVP in 2018 for Yazaki in Europe. Andersson's earlier career included heading purchasing at Saab Automobile , chief of global purchasing and supply chain at General Motors , turnaround CEO at GAZ Group  and the first non-Russian AvtoVAZ CEO. Quite the resume.
Toyota , a senior industry sage told me years ago, is like a huge ship which, like that container ship in the Suez recently, takes a while to change direction. At the time, almost all of Toyota's model range was still rear-drive, a decade after Europe started changing ends, and several years after most of its Japanese rivals had begun to switch. When they eventually came, the Toyota FWDs were great and, in some markets I can think of, propelled an also-ran to the top of sales charts. The giant automaker is in its third decade of hybrids, more recently billed as 'self charging', but Toyotas with a power cord are much more rare. There's a pure 'lecky Lexus in the price lists now, the pioneering Toyota PHEV, the Prius (first gen had a woefully short range) is now second generation and now, drum roll, comes the very popular RAV4. I spent a week pedalling one around and thoroughly liked it. Pricey, though.
New vehicle sales in China are continuing to recover. News this week: sales rising by 75% to 2.53m units from 1.44m in the same month of last year, based on passenger car and commercial vehicle wholesale data released by the China Association of Automobile Manufacturers (CAAM ). At the low point of the COVID pandemic, in February 2020, total vehicle sales in China plunged by 79% year on year followed by a 43% drop in March. The country's economy is estimated to have rebounded by close to 18% in the first quarter of 2021 after shrinking by 6.8% a year earlier, with strong domestic and overseas demand driving a sharp rise in industrial output. The World Bank last month said it expected economic growth to exceed 8.0% in 2021. In the first quarter of 2021 the vehicle market was up by almost 76% (from a low year ago base) at 6.484m units, with passenger vehicle sales rising just over 75% to 5.076m units and commercial vehicle sales up by over 77% at 1.408m units. Our regularly updated 'recovery' article lists more and more good news stories such as that.
Like rust, our vehicle model futurist never sleeps, this time it's sporty Daimler products. Electrification will soon be the default for Mercedes-AMG 's powertrains. That's a major shift for a Daimler division which started life as AMG, a company that raced V8 sedans before evolving into a small volume maker of fast production cars too. A comprehensive list of what to expect.
Same analyst, different subject. Auto Shanghai kicks off on Monday with press reviews. The latest addition to just-auto's list of global launches for 2021's biggest motor show is the Mercedes-Benz EQB.
It's a deal! ZF has received a production contract for its Full-Range Radar technology from SAIC. The radar perceives vehicle surroundings in four dimensions, including height, making it similar in capability to optical sensors such as cameras and LiDAR. In combination with these technologies, high-resolution radar can help provide the necessary safety and reliability for semi to highly-automated driving, including level 4.
Have a nice weekend.
Graeme Roberts, Automotive Editor, just-auto.com