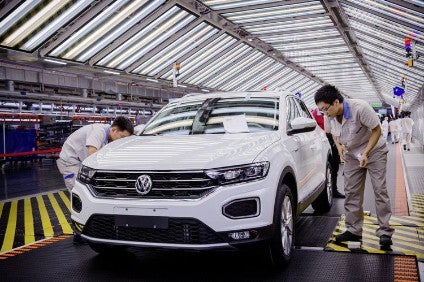 While the rest of the globe still deals with the humanitarian and economic fallout from COVID-19, a recovery of sorts is emerging in China. Consider this bubbly view from Volkswagen which has been up to its neck in China since the early Audi build and sell deals of decades ago: China CEO Stephan Woellenstein told local reporters "there are more and more signs that business in China is recovering. By the middle of the year, we could be back to last year's levels. Hope is returning to the Chinese market". The passenger vehicle market is seen rebounding to around 1m units in March from a low of around 240,000 in February when the market declined by over 80% as large parts of the country's economy shut down. Woellenstein confirmed over 95% of the group's 3,000 dealers in China have reopened their showrooms and customer visits are currently at around 60% of normal levels. Production at 22 of its 24 vehicle and component plants in the country has restarted although some are still operating below normal output levels. "But they are ready to ramp up production when demand picks up," he added.
The Chinese government's dived in, too, deciding not to withdraw subsidies for new energy vehicles at the end of 2020 as planned to help stimulate demand. Sales of new energy vehicles, comprising mainly electric and plug in hybrid vehicles, have been in free fall since the government significantly reduced subsidies at the end of June 2019 – way before the COVID19 coronavirus became known. China's State Council earlier this week said it would extend current subsidies for new energy vehicles until 2022 and waiver the purchase tax, which is normally 10% of the price, on these vehicles until further notice. This latest financial support is aimed at stimulating domestic demand for new energy vehicles and follows recently introduced measures including stepping up the roll out of recharging infrastructure nationwide. Local governments have also cut restrictions on issuing licence plates for new energy vehicles while state owned enterprises have also been encouraged to switch their purchases from conventional internal combustion engines. The government's efforts to contain the coronavirus pandemic are also beginning to work with overall vehicle sales in March seen rebounding sharply from February's low when most of the economy was in lockdown.
Chinese start-up AIWAYS said it had recommenced production of the electric U5 SUV at its manufacturing facility in Shangrao, China, following the interruption caused by COVID-19. Production for Europe will start in July, with the first deliveries now slated for August 2020. AIWAYS said it was adapting its pre-sale marketing activities to better suit the enforced period of 'contactless' retail because of COVID-19. By introducing new online platforms and 'seamless digital experiences', it claims it will give European car buyers the confidence to order the U5 online.
Meanwhile, in the rest of the world, utter freakin' chaos. We have a continuously updated COVID-19 article running while our US analyst – who has experienced the wind's wrath first hand – likens the effect of COVID-19 to a hurricane – one can never predict the amount of damage that will be done but recovery will occur. Based on incomplete reports, first quarter sales were down about 12.6% to about 3.49m cars and light trucks but, from the end of February to the end of March, new vehicle deliveries plunged by over a third as Americans were asked, then ordered, to stay home and dealership walk in traffic evaporated. Using hurricane analogy, March was like that day after a hurricane passes, when it was still too fresh to get a good grasp of the total damage. As bad as March was, April is likely to be much worse. Stay at home orders have been extended; millions of Americans are without their usual sources of income; and businesses are without their usual sources of revenue. COVID-19 just tossed a large spanner into the American economy. Even if warmer weather does break the pandemic, as many are hoping, a jolt of this magnitude is going to require time just to return to relatively normal conditions. Moreover, it may be even longer before consumers have rehabilitated their finances to the point when acquisition of a new vehicle is even feasible. One major analyst has reduced its forecast for the year to about 14.5m vehicles but even that may be too optimistic without major incentives, either from the industry or the government. "About the only bit of optimism I can offer is the experience of recoveries after a hurricane. We do come back and I would expect us to do the same this time."
Automakers and suppliers appear to be digging themselves into deeper hock as you need cash to keep things running even if the cash registers are hardly ringing. Daimler has sorted itself a further loan facility agreement for EUR12bn. This is in addition to an existing EUR11bn revolving credit facility with a term until 2025 including extension options. Autoliv said it was drawing down US$600m of cash from an existing credit line. Delphi said it had been taking significant steps to conserve cash given the immediate impact on its business from the coronavirus pandemic. This includes working to access government support in countries where it operates, effecting temporary layoffs, moving employees to part time schedules and pay reductions throughout the organisation, disciplined inventory management and active past dues collection. It has also drawn down on its full $500m revolving credit facility. Toyota announced it was seeking a JPY1 trillion ($9bn) line of credit from Sumitomo Mitsui Banking Corp. and MUFG Bank. General Motors said it would tap its credit lines to access an additional $16bn. Volkswagen is currently spending around EUR2bn ($2.2bn) per week to remain afloat. Its revealed it had access to credit lines worth around EUR20bn ($22bn) but it would only use those as a last resort. Renault chairman, Jean-Dominique Senard said that, while the automaker may have to seek help from the French government – which announced a EUR300bn package ($330bn) of loan guarantees – it would not need to be renationalised like it was in the aftermath of World War Two. It pointed to its previous performance during the 2008 financial crisis where it was able to access EUR3bn ($3.3bn) in government help without the need to renationalise. Remember all this is on top of the extraordinary amounts being spent on electrification before COVID-19 reared its ugly head.
Optimistic western plant reopening dates are being put back. For example, Nissan said its manufacturing facilities in the US would now remain closed "through late April" as a measure to help protect employees and reduce the spread of COVID-19 coronavirus. Almost all Autoliv's Americas, India, Malaysia and Philippines are currently closed in line with customer plant closures. Most customer plant closures are currently planned to be between two weeks and one month, though Autoliv expects some plant closures to be extended. But China, and Asia, are humming again. Sez Autoliv: "In China, operations have gradually recovered to around 90% compared to this time last year. The production recovery has been in balance with customer demand recovery since mid February". In South Korea, Indonesia and Japan, the majority of the company's plants are currently operating relatively close to planned output. There are closures in Japan, though: Mitsubishi said it would temporarily suspend production at three plants in Japan "considering global market decline due to the global expansion of COVID-19 coronavirus" and others, including Toyota, are putting up the shutters.
Here in the UK, there's talk – arguments more like – about how a proper test regime could end the lockdown (two weeks and counting) and trigger the economy off again. India is apparently in chaos as there's talk of how much more badly this virus will hit poorer nations. Despite optimism about reopening for Easter, the US is pretty much nailed down to the end of April. And so it goes.
China's experience at least shows that a lockdown can work and that recovery will happen. Eventually.