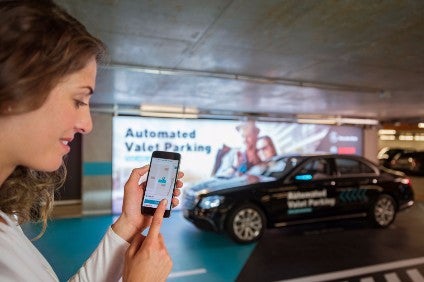 Bosch infrastructure combined with Daimler vehicle technology means cars can now be parked and retrieved without a driver at the Mercedes-Benz Museum parking garage in Stuttgart. It's a nice step on the way to autonomous driving and is so cutting edge no official approval process for automated driving functions that do not require a driver exists yet in Germany so local authorities – the Stuttgart regional administrative authority and the state of Baden-Wuerttemberg's transportation ministry – oversaw the project along with German technical inspection service TUV Rheinland representatives.
Bosch and Daimler started developing driverless parking in 2015 and showed off the technology in mid 2017, with and without drivers at the wheel, followed by intensive testing. Starting in 2018, museum visitors could use the parking service live, accompanied by trained safety personnel, and share their experience. One aspect of the pilot project involved testing lighting concepts on the vehicles. Turquoise lighting indicates that a vehicle is in automated driving mode and informs passers-by and other road users that the vehicle is driving itself.
With so much investment being poured into 'mobility' in its many forms, it was not surprising this was the most-read article on just-auto this week.
HVAC seems, based on my experience, to be a weak point in EVs. Not enough heat or cool and a drain on range. Mahle has developed a heat pump based device for heating electric vehicle cabins it calls Integrated Thermal System, or ITS, and claims an increase in winter cruising range of up to 20%. Most current electric vehicles rely on direct resistive heating using electricity to heat the cabin and traction battery in winter. This extra load on the drive train battery in cold temperatures can reduce the cruising range of a fully charged vehicle by up to half. Summer cruising range is shortened by the additional energy required for cooling the drive train battery and the cabin. In field tests with an unnamed "compact electric car" Mahle said it showed ITS reduces the loss of cruising range "substantially", especially in cold temperatures. The original vehicle used, equipped with conventional electric heating, started with a cruising range of 100km. Equipped with the ITS, cruising range increased to 116km. The ITS combines various thermal components into one system that functions in several modes. Central to its architecture is a semi-hermetic refrigerant circuit, comprising a chiller, a coolant-cooled condenser (i-condenser), a thermal expansion valve and an electric drive compressor. The i-condenser and chiller have the same function as the condenser and evaporator in a conventional refrigerant circuit. However, instead of exchanging heat with air, the refrigerant exchanges heat with the coolant, thus generating hot and cold coolant flows. The ITS uses R1234yf as a refrigerant and the conventional vehicle coolant as the medium for heat transport between the cooling circuit and the various heat sources and sinks in the vehicle.
The Brexit bleating continued this week as a change of guard occurred in the UK's parliament. Out went Theresa May and in came Boris Johnson, one time mayor of London. He's promised a do or die Brexit on 31 October and evicted every Remainer from his cabinet. So far, comments from the EU are 'we won't budge'. So no deal is looking ever more likely.
Similar inflexibility seems to exist at PSA where chief Carlos Taveres said: "Deal, no deal, soft, hard, whatever, we need clarity. A no deal can't be considered." He may have to, so how about a positive plan instead of the defeatist "This would of course, be very bad for the UK, very bad for Europe, very bad for all"? "Decisions are suspended and if we suspend decisions for ever, something bad will happen," said the portent of doom at a Paris briefing outlining the automaker's impressive first half results, which saw net income soar 24% to EUR1.83bn (US$2.04bn). PSA has said it was planning to make the next generation Astra at Vauxhall's British Ellesmere Port, but that this would be subject to Brexit terms.
It is, of course, tough everywhere and restructuring – 12,500 European jobs on the block Brexit or not – is costing Ford big. Its Q2 numbers out this week showed reduced net income as a result of "ongoing global redesign and restructuring activities, primarily in Europe and South America". Those initiatives, Ford said, accounted for US$1.2bn of charges for special items. But profit is still profit.
A new(ish) term for the tech minded: 4D printing, the process of producing a 3D multi-material printed part that reacts to external stimuli, such as heat, moisture or sound, over time. It is an area that is beginning to capture the imagination of scientific labs, leading tech vendors and investors. In 4D printing, material is pre-programmed to have built in sensing and actuating abilities that allow the material to self-transform over time. When exposed to energy from heat, light or moisture, the printed component can morph into the chosen 3D shape. The part can also be returned to its original shape by applying the relevant stimuli.
Does endlessly extending vehicle lines mean ever-expanding sales? Not if you're Audi, or now, Mercedes-Benz. The brand is hardly embattled but recently things haven't been going as well as they might, with several profit warnings and slightly disappointing global deliveries for H1 having been announced in recent times. Can the next wave of passenger cars remedy some of the company's current ills? We took a look. We also eyed Merc's SUVs in a separate piece of analysis.
PSA's supervisory board appointed Opel CEO and turnaround specialist Michael Lohscheller as a member of the automaker's managing board effective from 1 September 2019 until 2 April 2021. He replaces Jean-Christophe Quemard, head of PSA's Middle East & Africa unit who remains a member of the global executive committee. The supervisory board said Lohscheller's new appointment reflected "the importance of Opel Vauxhall's integration into Groupe PSA". "He will bring to the managing board his international experience gained from several OEMs as well as his expertise in finance, trade and logistics." Supervisory board chairman Louis Gallois said the board was continuing 'internationalisation' of senior management.
As Trump sanctions bite, there's a few signs the Chinese might be backing away a little from expensive Silicon Valley. This was alluded to in news former General Motors senior executive James Taylor had taken the role as co-CEO of China's electric vehicle (EV) start-up Seres (formerly 'SF Motors') which has just axed 17 positions in California while currently working on next-generation battery technology and a new car model. Responding to media reports the company had laid off 90 employees at its Silicon Valley office, Taylor said that only 47 jobs were cut across the US, and it was the necessary adjustment according to the company's new business plan and evolving market conditions. He said: "Seres has decided to delay the launch of the production version of the SF5 crossover in the US as uncertainties of the US auto market remain, and the company will focus on the launch of the product in China."
How do you haggle a car's price online? The question came up this week when a company which provides cloud based dealer management software scrutinised Daimler's plan to do 25% of sales online by 2025. "However, if it is a question of a quarter of all car sales taking place completely online, there remain fundamental structural problems, the biggest of which is pricing. Like almost every other manufacturer, Mercedes-Benz sells very few of its cars at list price, so there needs to be either a new approach to pricing or a mechanism for online price negotiation. To date, no-one has arrived at a satisfactory method of resolving this problem."
Uncertainty now exists for numerous Nissan Motor employees after operating profit plunged 98.5% in the first fiscal quarter and the company said it now planned to cut 12,500 jobs worldwide, more than the 4,800, then 10,000 previously thought. Operating profit of JPY1.6bn compared with JPY109.1bn on net revenues of JPY2.37 trillion (JPY2.716 trillion). Operating margin of 0.1% compared with 4% a year ago. First quarter net income fell 94.5% to JPY6.4bn. "Global total industry volume remained weak during the quarter and Nissan's unit sales decreased as the company continued its efforts to normalise sales," the automaker said in a statement.
Hardly a cheery note to end the week.
Have a nice weekend.
Graeme Roberts, Deputy Editor, just-auto.com