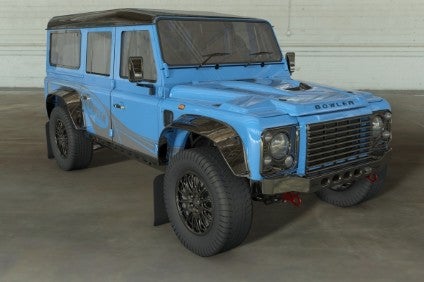 Clearly just-auto readers like old Land Rovers – the most read article this week was about a revival of the old Defender which went out of production at Solihull in 2016. Now it is to be revived as a high performance, low volume model. The Tata Motors owned automaker has given Bowler Motors, part of its Special Vehicle Operations division, permission to use the original Defender shape for high-performance vehicles beginning with a project codenamed CSP 575 – a new road-going vehicle with Bowler's own rally-proven CSP high-strength steel chassis, aluminium alloy Defender 110 Station Wagon body panels and Land Rover's 575PS supercharged V8. That's going to be a hoot to drive offroad if you can stump up the cost – indicative pricing for the new model is around GBP200,000 in the UK.
Geely's Volvo Cars just reported global sales continued to grow in October, with volume up 7.1% year on year, partly driven by continued demand for SUVs including the mid-size XC60. We continued just-auto/AIC's review of interior design and technology trends this week with a closer look inside the popular model.
Volvo Cars also said this week it was making "significant investments" to allow for the in house design and development of electric motors for the next generation of models as it continues to move towards becoming a fully electric car maker. The automaker has opened a brand new electric motor lab in Shanghai, China, the latest addition to its global network of facilities for the development and testing of electric car components. The lab is in addition to ongoing e-motor development in Gothenburg, Sweden and battery labs in China and Sweden.
Former TD Ameritrade CIO Vijay Sankaran is to return to Ford "to hasten development and application of technology, software and data, with objectives to modernise the company and provide customers with constantly evolving, world-class services and experiences", according to the utomaker. Sankaran, 47, will rejoin Ford on 16 November as chief software and information officer, reporting to president and CEO Jim Farley. Sankaran was at TD Ameritrade for seven years, the last four as chief information officer. He was previously with the automaker for 12 years until 2013. His final role was chief technology officer.
You might have heard there was an election in the United States this week. At the time of this going to pixel, the outcome was still unknown but it was looking more and more likely former VP Joe Biden had beaten incumbent President Trump. On election day, GlobalData's automotive analysts summarised the potential impacts of the election.
Renault Samsung Motors announced on Monday it would suspend production at its only plant, located in the South Korean city of Busan, for the first two days of this week to help control inventory. The South Korean Renault subsidiary also released its sales performance data for October – a 49% drop in global sales to 7,533 vehicles from 14,826 a year earlier. Domestic sales fell by 15% to 7,141 units last month, from 8,401 in October 2019, while exports plunged by almost 94% to 392 from 6,425 units. Renault Samsung said recently it would export its XM3 SUV model to Europe from next year to help lift production volume and utilisation at Busan. The vehicle would be badged as the Renault Arkana in Europe.
Sullivan & Cromwell and Kirkland & Ellis were the top mergers and acquisitions (M&A) legal advisers in the automotive sector for Q1-Q3 2020 by value and volume, respectively. A total of 499 M&A deals were announced in automotive sector during this period, according to just-auto parent GlobalData, the leading data and analytics company. According to GlobalData's M&A report, Global and Automotive M&A Report Legal Adviser League Tables Q1-Q3 2020, there was a 11.8% decrease over 566 deals that were announced during Q1–Q3 2019. Deal value also decreased by 27.3% from $40bn in Q1–Q3 2019 to US$29bn in Q1–Q3 2020.
Given the COVID-19 ravages on the autobiz, there's been some surprisingly good Q3/fiscal Q2/H1 results out this week. General Motors reported adjusted EBIT up 78% year on year to US$5.3bn for the third quarter of 2020. Revenue was flat at $35.5bn. The Q3 non-GAAP EPS of $2.83 beat a consensus analysts' estimate by $1.40 while GAAP EPS of $2.78 beat by $1.43. Revenue beat estimates by $150m. Shares were up 6.7% in premarket trading to $37.60. Adjusted EBIT beat the consensus by $2.64bn. EBIT-adjusted margin rose 6.5 points to 14.9%. GM said automotive liquidity was above target, ending the quarter at $37.8bn. The automaker repaid $5.2bn of its revolving credit facilities during the third quarter, and an additional $3.9bn in October.
Toyota, meanwhile, doubled its full year earnings forecasts for the current financial year with production and sales recovering from the global COVID-19 pandemic faster than had been previously expected. Japan's leading automaker now expects net sales for the fiscal year ending 31 March 2021 to increase to JPY26trn (US$250bn), compared with a previous forecast of JPY24trn, while net profits are expected at JPY1.42trn (US$13.65bn) compared with the earlier estimate of JPY730bn.
Magna rebounded to profit, posting third quarter net income of $405m compared to a loss of US$233m in the same period last year. On a consolidated basis, it booked sales of US$9.1bn for the third quarter of 2020, a decrease of 2% from the third quarter of 2019, compared to global light vehicle production, which decreased 4%, reflecting a decline of 5% in Europe and essentially level production in North America.
The Chinese government has unveiled a new 15 year development plan for its new energy vehicle (NEV) sector with the aim of strengthening the global competitiveness of the domestic industry. The plan unveiled by the State Council, China's cabinet, extends until 2035 and targets five key areas to help accelerate the industry's development. These include improving industry technology innovation capacity by building new industry ecosystems; accelerating industrial integration and development; improving infrastructure; and stepping up international market integration.