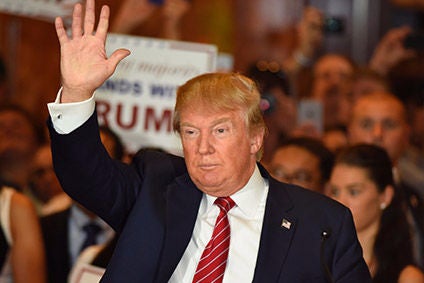 Big news on Wednesday as the US woke up to the news it wasn't going to be Good Morning, Madame President as the polls had confidently predicted. Instead, like it or not, it's Trump for president-elect. So we dived in early with a look at what the Trump victory could mean for the automotive industry? The end of NAFTA? Thirty-five percent duty on anything from Mexico. A million percent tariff on autos and steel from the much-maligned, job-hoovering China?
"What was campaign rhetoric and what will be followed up by a Trump administration? We don't know, of course, but we do know that a significant body of things said on the campaign trail won't make it into action or statute. And we'll gradually get a feel for just how a Trump administration will work – in terms of approach – over the next weeks and months," we said. And it's starting. The United Auto Workers union, which did not support Trump, said it would work with him to to renegotiate the trade deal. Union president Dennis Williams said he would be open to tariffs on Mexican or Chinese vehicles "as an option" but would have to evaluate the impact of tariffs on the union overall including workers at export oriented companies such as Caterpillar. Free trade is a two-way deal, after all. Ford, targeted during the campaign for its move of small car production to Mexico, has also said it will work with Trump but has pushed back, citing investment in US plants, and clearly does not plan to reverse its strategy of making low-margin, cheaper cars in lower cost Mexico while building the more profitable stuff north of the border. German automakers, with piles of fresh factory investment in Mexico (as well as the US) are also fretting. "It is to be feared that the United States under a new president, just like China, will mainly focus on their own economies, at the expense of international trade flows and relationships," VDA said. And European politicians requested urgent face-to-face talks with Trump to discuss the future of the Transatlantic Trade and Investment Partnership (TTIP), following his remarks he would extinguish the deal should he secure the keys to The White House.
Next year is going to be interesting.
JLR reiterated its commitment to the UK, despite the growing number of factories – operating and planned – outside the UK and called off a deal that might have made Silverstone into a showcase and heritage centre for its products. Audi rolled out yet another crossover as there were reports it might have cheated on CO2 emissions testing and I re-acquainted myself with Toyota's 'little pickup truck' (first tried 40 years ago) with a look at the latest generation Hilux. We also ran just-auto eyeballs over Peugeot's refreshed 2008. Tesla bought a German robotics specialist and announced future buyers of its cars would not get unlimited free Supercharging.
Quite a week. Have a nice weekend.
Graeme Roberts, Deputy Editor, just-auto.com