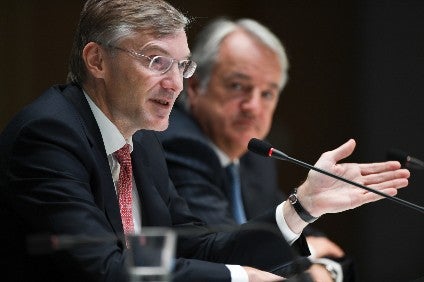 ZF has recorded first-half sales down 27% to EUR13.5bn (US$16bn) as the supplier reacts to conditions created by the global pandemic.
"Together with all ZF employees worldwide, we effectively adjusted our costs in March and reduced them by more than EUR1bn in the first half of the year," said ZF CEO, Wolf-Henning Scheider.
"In the second half of the year we will now ramp up production everywhere, return to positive operational performance and realign structures and capacities for the long term.
"We will strictly keep to our course, continue to limit expenses, adjust personnel capacities to sales levels and invest very selectively. If there is no major COVID-19 wave in the next few months and the market level in the second half of the year is in the range of minus 10% to minus 15% below the previous year's level as we anticipated, then ZF can – even in this extraordinary period – achieve a positive adjusted EBIT at the end of the year."
ZF's expected annual profit will nevertheless be negative.
Scheider recalled due to the weaker market development over the past two years, ZF had already begun to adjust structures and capacities before the outbreak of the pandemic: "With our Next Generation Mobility strategy, we have defined the Group's long-term orientation and formulated our goals," he added.
"We are on the right track. Within the core areas of technology transformation, our business orders have developed well despite the unprecedented conditions of the first half of the year. We were able to win a number of key awards in the areas of e-mobility, advanced driver assistance systems and the relevant advanced sensors and intelligent actuators."
According to Scheider, positive trends were also evident when it came to business wins for bus transmissions and electric bus drives as well as in the aftermarket. ZF's Wind Power division is also benefiting from strong market growth outside of Europe. In view of the increasing worldwide interest in a hydrogen economy, there are further developments for the business unit.
ZF recently announced a further step in the company's ongoing transformation towards e-mobility. On 1 January, 2021, a new division will be formed from the current Car Powertrain Technology and E-Mobility divisions to offer customers electrified driveline solutions from a single source.
In the future, ZF will not invest in transmissions exclusively designed for internal combustion engine vehicles but will focus its development activities on flexible platform technologies for long-range plug-in hybrids and purely electric vehicles.
"The corona pandemic is noticeably accelerating the transformation of the automotive industry – we expect electrification to come even faster now," noted Scheider. "We accept this challenge and are decisively driving the necessary changes at ZF in order to better participate in the growing market for electrified car drives.
"The newly formed division will be able to leverage the system advantages of both divisions and offer vehicle manufacturers a comprehensive electrified drive portfolio as well as worldwide development and production capacities under one roof."