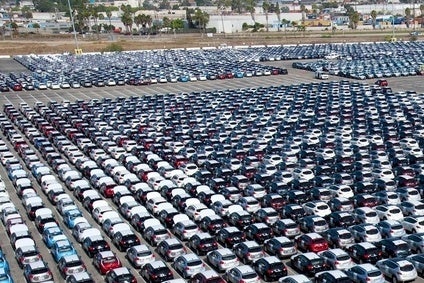 GlobalData (GD) analysis shows that Western Europe's car market is continuing to recover from depressed year-ago levels as supply shortages caused by the global chips crisis continue to ease.
GD estimates that Western Europe's car market was up 18.9% year-on-year in May to just over a million units, although that was still down 23% from the pre-pandemic 2019 result.
The Western Europe new car market annualised selling rate (SAAR) improved to 11.4 million units/year in May, up from 10.7 million units/year in April.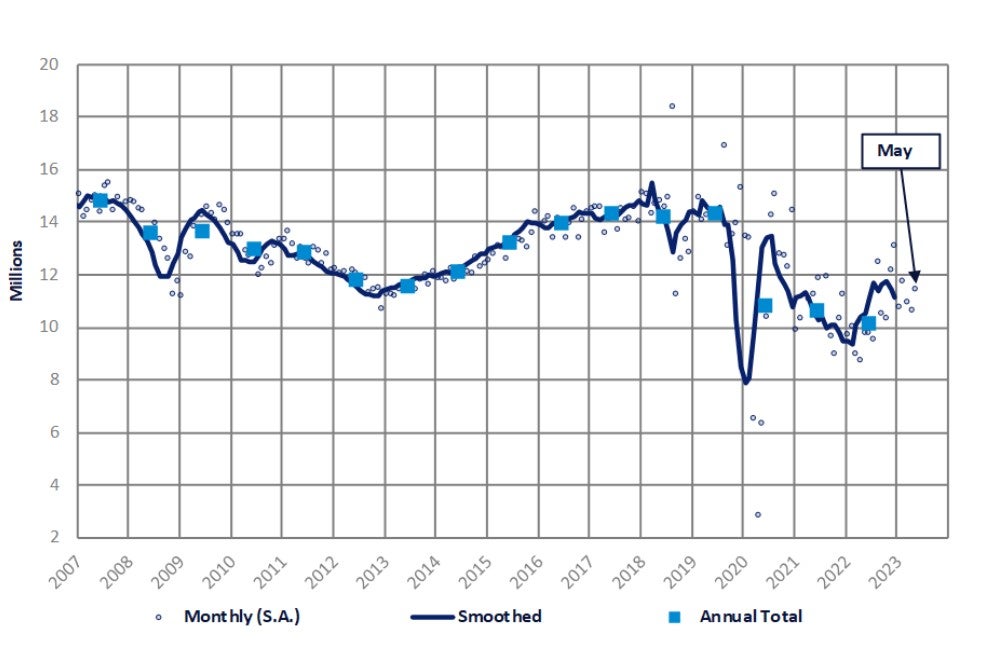 Germany and Italy both enjoyed solid performances in May with YoY growth in raw monthly registrations of 19.2% and 23.1% respectively. All markets across the region have experienced strong YoY growth, admittedly compared to a weak base last year.
Aside from Spain, the top five West European markets recognized double-digit YoY growth in their registration figures for May. These encouraging performances support the annual 2023 forecast of 11 million registrations across the region, representing nearly 9% growth YoY. This is as supply constraints continue to ease, and production levels improve accordingly.
For Germany, the PV market registered 247k units in May in line with our expectations, representing a 19.2% YoY growth. With a selling rate of 2.8 million units, as with its European counterparts, the German market has been benefitting from an improving supply situation which has sped up production and delivery rates for customers. The UK PV market registered 145k units, continuing a positive YoY growth trend for the tenth consecutive month at 16.7%. This is the longest uninterrupted period of growth the market has observed since 2015.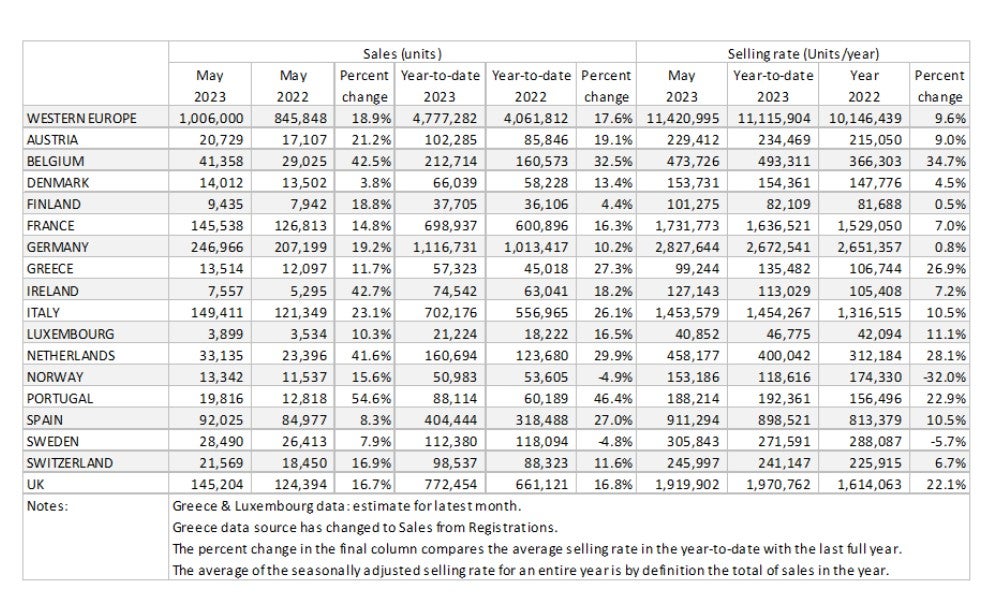 GlobalData forecasts the West European car market at 11 million units this year. GD analyst Jonathon Poskitt warned that the market rebound caused by easing supply shortages will be of diminishing strength later this year. "That cushion of backed up orders being fulfilled in the coming months will be of diminishing strength during the course of the year," he said. "That leaves a weak market picture overall.
"A regional car market of around 11 million units for this year is well below normal and almost a quarter below where we were in pre-pandemic 2019. The challenge for OEMs is still very much one of managing their model mix and market geography to maximise profitability in this highly unusual market environment."