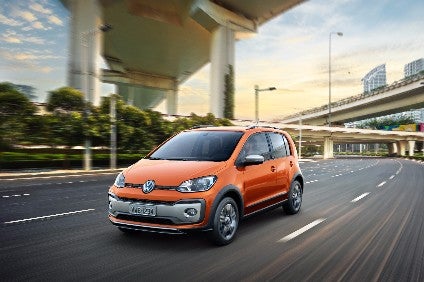 A daring offensive of four new model launches by 2019 in the price bracket BRL45,000/US$14,500 through BRL90,000/$29,000.
This is Volkswagen's strategy to climb back from third place (by sales) in Brazil where it once led, unmatched, for over 40 years.
Today, there's a chance it will move up to second by year end, behind GM and ahead of Fiat. It has confirmed spending of BRL7bn/$2.25bn in the 2016-2020 timespan to achieve this recovery.
There had been fears the bad performance of the Brazilian economy would limit product updates. Yet the German instead chose to build cars on its most modern platform, the MQB, starting with the redesigned Polo. The compact hatch will go on sale by the middle of the second half, only a few weeks after Germany launches.
This model will be followed in 2018 by a saloon, larger than the Polo, already christened Virtus, and by a compact SUV in the same year.
The fourth model will be a pick-up, probably a four-door, in 2019.
Using architectures aligned to current global platforms will spur competitors to follow this strategy if they do not want to lose market share in Brazil. It will be far from easy for other automakers to compete if they continue offering outdated products.
Currently VW Brazil sells the first-generation Tiguan imported from Germany. Despite sharing its platform with the Paraná-made Golf 7, VW dismissed producing it here or even importing the second generation Tiguan, ending up deciding to bring in from Mexico the seven-seat Tiguan Allspace by the end of this year.
Another strategic move was upgrading the Up for the 2018 model year, this was launched last week. It turned out similar to its German counterpart although the Brazilian version is longer with larger rear doors and boot.
New bumpers added an 8.4cm increase in length. Inside, there is a new, plusher steering wheel, revised instrument cluster and top versions have an LED lighting strip; smartphones can serve as trip computers and GPS. For better visual identity, the turboflex TSI version gained red trim in the front grille and a black bumper (only the tailgate was black previously to differentiate it).
More equipment meant prices went up: BRL37,900/$12,200 to BRL57,100/$18,400.
VW has not confirmed but, clearly, its entry level model is the Gol from now on. Its prices are slightly lower than the similarly equipped Up.