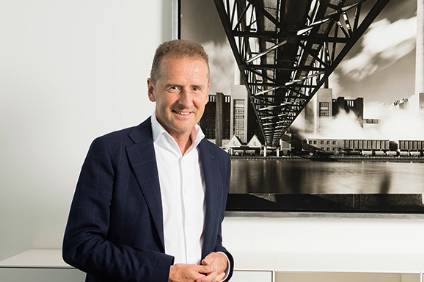 Volkswagen Group CEO Herbert Diess has put his job on the line amid infighting within the company over his reform aims.
In a move that has seen tensions rise to the surface, Diess has brought forward his contract extension, forcing a board-level discussion today.
In asking to remain in post beyond 2023, Diess has effectively forced a vote of confidence in his leadership and his reform efforts – and especially cost cuts – which are reportedly opposed by labour head, Bernd Osterloh.
The VW Group supervisory board's executive committee is meeting today. The eight-member board panel plans to review Diess's proposal that he remain CEO beyond 2023, but it's unclear if a decision will be made.
VW Group watchers will sense familiar talk of internal discord over reform (cost-cutting) efforts. The company has been long seen as cost heavy, but structurally ill-equipped to tackle high costs in Germany due to an ownership structure that includes local politicians, as well as the Porsche and Piech families with their often shifting allegiances.
CEO Herbert Diess, whose contract expires in 2023, has reportedly forced the issue of his contract extension after Osterloh resisted his reform efforts. Normal practice would be for the contract extension to be considered a year before it ends, but Diess wants board backing now.
Reuters reported that Diess recently sought to install two allies on the management board, but Osterloh insisted instead on a 'package solution' which is 'harmonious'.
Osterloh is also said to oppose an early contract extension for Diess, Reuters reported.
Diess voiced frustration in a column in the Handelsblatt newspaper last week and criticised factions within Wolfsburg that he said stand in the way of overhauling the company.