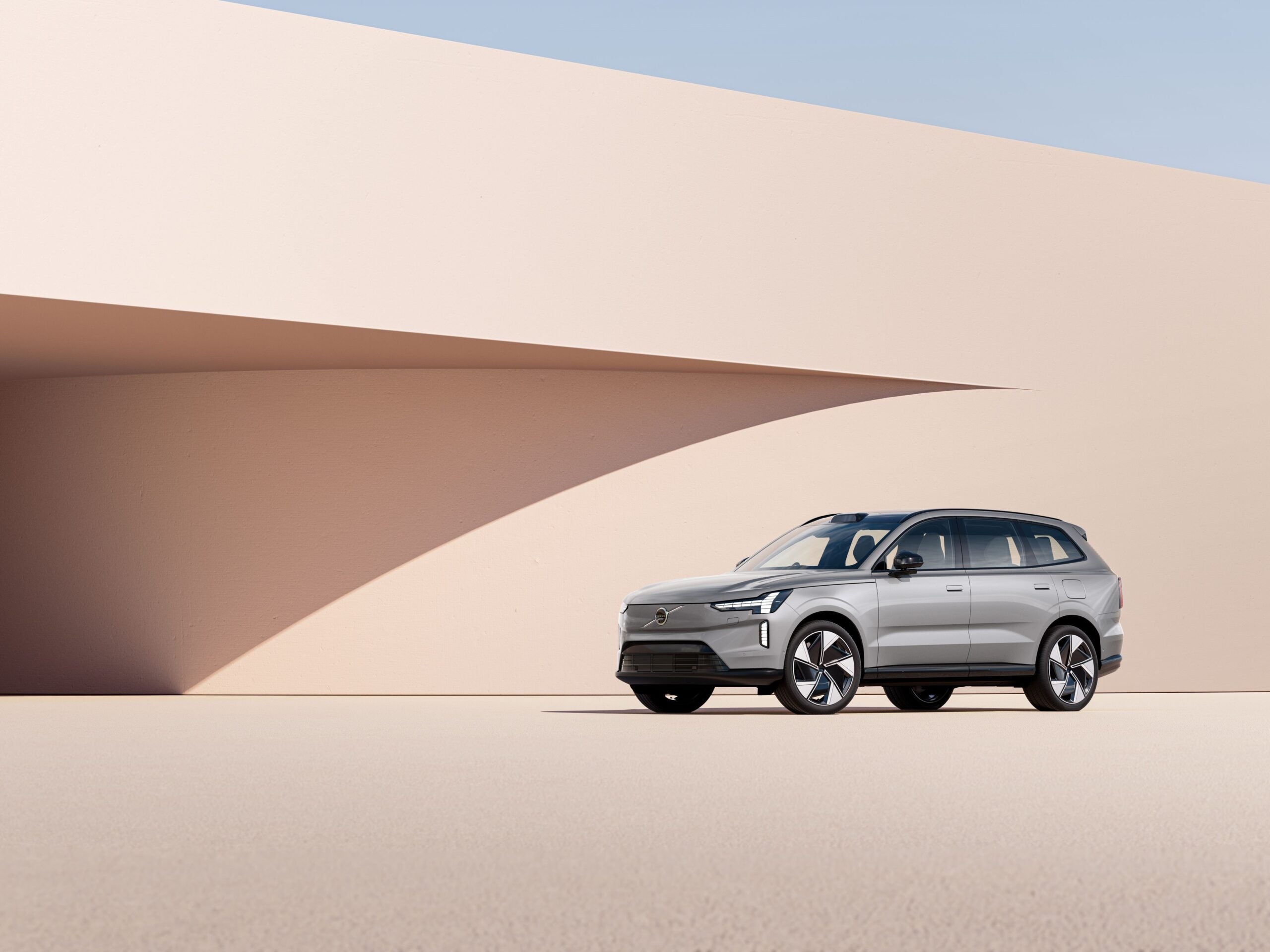 Geely's Volvo Cars has launched an all electric full size SUV, the EX90, expected to eventually replace the current ICE and PHEV XC90.
Like the earlier model, the EV seats seven and is built on a new platform, this time purely for EVs, with motors and battery pack under the floor and no compromises such as an under bonnet intended to also house ICE powertrains – the EX90 gains a 'frunk' (front trunk like Tesla or Ford's F-150 Lightning).
"Starting with the EX90, we'll reveal one new fully electric car each year," Volvo said at the model reveal in Stockholm.
"By 2030, we aim to sell only fully electric cars, one of the most ambitious electrification blueprints in the automotive industry and crucial to our ambition to be a climate-neutral company by 2040."
"The EX90 is a statement for where we are, and where we are going," said chief executive Jim Rowan. "It's fully electric with a range of up to 600km [370 miles] on a single charge, designed to further raise our safety standards, the first Volvo car to be truly defined by its software and part of a wider ecosystem, connecting to your home and your other devices."
The EV SUV has "an invisible shield of safety" enabled by new sensing technology, inside and outside. Cameras, radars and lidar (a full array is installed above the windscreen) are connected to the high performance, core computers, where Nvidia Drive runs in house software to create a real time, 360-degree view.
Lidar senses the road in front, day or night, and also at highway speeds and can 'see' small objects hundreds of metres ahead. It also improves reliability and overall performance of assisted driving function Pilot Assist with a new steering support function for changing lanes.
Interior sensors and cameras, powered by in house developed algorithms, gauge eye gaze concentration detecting distraction, drowsiness or other inattention to new standards.
If a driver falls asleep or is taken ill while driving, the new SUV is designed to safely stop and call for help.
It is also the first Volvo "hardware-ready for unsupervised driving in the future" – likely initially to be Level 2 autonomous.
Technology
A core system powered by Nvidia Drive AI platforms Xavier and Orin, Snapdragon Cockpit Platforms from Qualcomm Technologies plus software developed by Volvo engineers runs most of the core functions inside the car, from safety and infotainment to battery management. There will be regular over the air (OTA) updates.
The cockpit platforms combine with Unreal Engine, a 3D tool developed by Epic Games and used to power games, which delivers claimed "lightning-fast computing power and high-quality graphics on the in-car screens and head-up display".
A rectangular screen in front of the driver is supplemented by a 14.5-inch tablet style centre screen with Google apps and services, including a hands-free assistant, maps and Play. And yes, Apple fans, wireless CarPlay is included.
A 5G connection is standard and top audio again is courtesy Bowers & Wilkins with newly added Dolby Atmos and headrest integrated speakers for immersive sound.
A smartphone can serve as the key, automatically unlocking the car and starting a personal welcoming sequence as you approach. A personal profile will be loaded automatically as the driver enters the car.
That 370 miles ('ish' WLTP) is courtesy of a 111kWh battery (fast charge 10% to 80% battery capacity claimed in under 30 minutes) and an initially single powertrain choice of all wheel drive powered by two permanent magnet electric motors together delivering 380kW (517hp) and 910Nm of torque.
Volvo said the new model contains approximately 15% of recycled steel, 25% of recycled aluminium plus 48kg of recycled plastics and bio-based materials, or about 15% of the total plastic used in the carm the highest level of any of the automaker's models so far.
The EX90 will also come standard with all necessary hardware to enable bi-directional charging so the EV can be used as an extra energy supply to power a home, other electric devices or another electric car.
"We plan to make bi-directional charging available in the future, starting with selected markets," Volvo said.