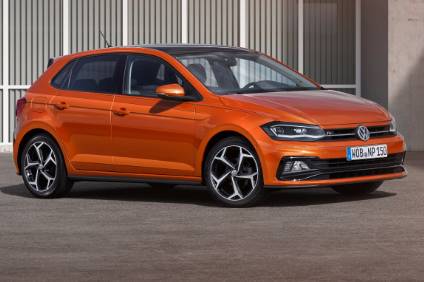 Volkswagen has shown its new sixth generation Polo in Berlin.
The arrival of Volkswagen's sixth generation Polo sees an increase in cabin and luggage space – in fact bigger in every dimension but length over the Golf Mk IV which went out of production in 2003 – which goes to show how small cars are growing.
Among the attributes of the new car, VW highlighted greater room, more efficient engines and pioneering driver assistance systems. Dr Herbert Diess, VW brand board chairman said: "The Polo is a young, fresh car. It combines charisma with strong technology. No other car offers so much space for its size. This makes our Polo the number one compact car, and it will remain number one."
There are new 'big car' assistance systems, a new generation of infotainment and the global debut of the second generation of VW's Active Info Display. Technologies such as City Emergency Braking with new Pedestrian Monitoring function, Adaptive Cruise Control and Blind Spot Detection improve all round safety.
More than 14m Polos have been sold since launch in 1975 and the latest model utilises the MQB AO platform which has allowed cargo volume to grow 25% from 280-litres to 351-litres while the wheelbase has increased by 94mm over the outgoing version. In length it remains around four metres but width has been increased by 7cm.
VW board chairman Herbert Diess said the new model at the heart of the most extensive product campaign in the carmaker's history with 10 new models being introduced during 2017. He added: "The new Polo is becoming more premium and we have Mini and Audi A1 in our sights. Polo is already the market leader in Western Europe and China and the new model is our most advanced small car ever, it plays in a higher league.
"The small car segment is highly important accounting for 7.5m sales globally in 2016. We expect to see further growth in future in markets such as Brazil, India, Russia and South Africa. We will also be pushing the new Polo into South America to expand our presence there."
A completely redesigned interior debuts a single 'visual and control axis' with instruments and infotainment merging on the same horizontal axis in the dashboard to give the driver fewer distractions and better displayed information via larger touchscreen.
The range features six TSI petrol, two TDI turbo diesels and one TGI natural gas engine (the newly developed 1.0 TGI with an output of 66 kW / 90 PS1.) All are Euro VI compliant and the petrol line-up includes the new 150hp 1.5 TSI EVO with Active Cylinder Technology to deliver cylinder deactivation. Top of the power plant line is the 200hp 2-litre TSI muted to either six-speed manual or seven-speed DSG transmissions in the new GTI model.
All cars are equipped as standard with start/stop system and regenerative braking mode. Every engine with a power output of 70 kW1 or above can be combined with a dual clutch gearbox (DSG).
Development chief Frank Welsch announced that prices will start at EUR12,975 and as well as a GTI, the range will also include the Polo Beats, aimed at a more youthful market which includes an updated 300w sound system.
In January 2013, just-auto reported that VW would invest EUR785m at its Navarra (Pamplona) plant over a period of five years. Part of that would be spent on tooling for the next generation Polo, it was noted. The car's architecture was named by Audi's chief technical officer Ulrich Hackenberg, speaking at the 2014 Geneva motor show: "The TT is the most sporty car on the MQB [platform] … but [we] will also have MQB Zero – [the] next-gen Polo…".
An extra Polo derivative is expected to be launched as part of the next generation Polo range. This model, a rival for the Opel/Vauxhall Crossland X, will reportedly be built at Navarra.
New Polo will have its public debut at the Frankfurt IAA in September. It is expected to go on sale soon after.
Future model plan reports for other manufacturers can be viewed in the OEM product strategy summaries section of just-auto.com.
Future product program intelligence
Additional data on vehicle lifetime and future product plans, such as model code names, are available in PLDB from QUBE.