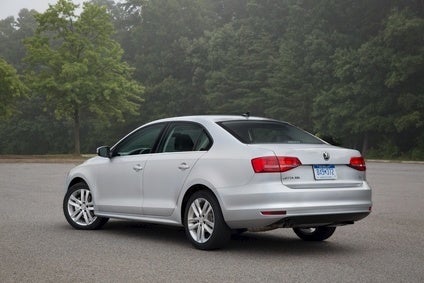 Volkswagen has told US dealers to halt sales of some 2015 diesel cars after US government regulators found software it designed for the affected vehicles gave false emissions data and ordered a recall of close to a half million cars, the company said on Sunday, announcing it had launched an investigation. In a statement [see Press Releases below] on Sunday, VW CEO Martin Winterkorn said: "I personally am deeply sorry that we have broken the trust of our customers and the public."
He added VW would "cooperate fully with the responsible agencies, with transparency and urgency, to clearly, openly, and completely establish all of the facts of this case. Volkswagen has ordered an external investigation of this matter".
Fines
The US Environmental Protection Agency (EPA) had said on Friday night software in a range of VW diesel models deceived regulators measuring toxic emissions by detecting when a car was being tested, altering settings to change the measurements, primarily of nitrogen oxide. The EPA said VW could face fines of up to US$18bn as a result. US commentators over the weekend said this was the latest example of the US government cracking down on an automaker that had not met regulatory obligations and contrasted the potential $18bn penalty with the $900m just levied on GM over the ignition switch recall and the $1.2bn paid by Toyota in connection with a 10m-plus car recall over unintended acceleration.
The EPA said VW had been ordered to recall some four cylinder Volkswagen and Audi vehicles from model years 2009-15. The Detroit News reported late on Friday US dealers still had some 2015 diesel Jetta, Passat and Beetle cars for sale. A VW representative on Sunday confirmed to the Reuters news agency the partial halt of sales of the affected vehicles but did not give any numbers.
A Volkswagen Group of America statement on Friday night said Volkswagen and Audi had received notice from the EPA, US Department of Justice and the California Air Resources Board (CARB) of "an investigation related to certain emissions compliance matters". The company "takes this matter very seriously and is cooperating with the investigation". VW added it was "committed to fixing this issue as soon as possible" and was "working to develop a remedy that meets emissions standards". Owners of the vehicles did "not need to take any action at this time".
In the statement issued in Wolfsburg on Sunday, Winterkorn added: "We do not and will not tolerate violations of any kind of our internal rules or of the law. The trust of our customers and the public is and continues to be our most important asset. We at Volkswagen will do everything that must be done in order to re-establish the trust that so many people have placed in us, and we will do everything necessary in order to reverse the damage this has caused. This matter has first priority for me, personally, and for our entire board of management." He did not detail who would carry out the external investigation.
"This is not your usual recall issue, an error in calibration or even a serious safety flaw," Bernstein analysts wrote in a note on Sunday cited by Reuters. "There is no way to put an optimistic spin on this – this is really serious."
Cynthia Giles, an enforcement officer at the EPA, said on Friday the cars in question "contained software that turns off emissions controls when driving normally and turns them on when the car is undergoing an emissions test". The feature, which the EPA called a "defeat device," masks the true emissions only during testing. When the cars are on the road, they emit as much as 40 times the level of pollutants allowed under clean air rules meant to ensure public health is protected, Giles told Reuters.
"We have admitted to it to the regulator. It is true. We are actively cooperating with the regulator," a Volkswagen spokesman told the new agency on Sunday.
Models
In a statement issued at a press conference on Friday night, the EPA said affected VW diesel models include:
Jetta (Model Years 2009 – 2015)
Beetle (Model Years 2009 – 2015)
Audi A3 (Model Years 2009 – 2015)
Golf (Model Years 2009 – 2015)
Passat (Model Years 2014-2015)
The EPA added: "VW may be liable for civil penalties and injunctive relief for the violations alleged in the Notice of Violation (NOV)."
US media reports said the automaker could face civil penalties of $37,500 for each vehicle not in compliance with federal clean air rules. Some 482,000 four-cylinder VW and Audi diesel cars sold since 2008 are involved in the allegations. If each car involved is found to be in noncompliance, the penalty could be $18bn, an EPA official confirmed during a telephone conference on Friday night.
Meanwhile, Daimler suggested to Reuters it may not be subject to the same violation.
"I have a rough idea of what is happening and that it does not apply to us," CEO Dieter Zetsche said on Sunday at an event in Hamburg. "But it is much too early to make a final statement on this," he added.
EPA
"We expected better from Volkswagen," Cynthia Giles, the EPA's assistant administrator for the Office of Enforcement and Compliance was quoted as saying by the New York Times. She called the automaker's actions "a threat to public health".
The software was designed to conceal the cars' emission of nitrogen oxide which contributes to the creation of ozone and smog. The pollutants are linked to a range of health problems, including asthma attacks, other respiratory diseases and premature death, according to the paper.
Experts in automotive technology said disengaging the pollution controls on a diesel-fueled car can yield better performance, including increased torque and acceleration.
"When the pollution controls are functioning on these vehicles, there's a trade-off between performance and emissions," Drew Kodjak, executive director of the International Council on Clean Transportation, a research group, told the New York Times. "This is cutting corners."
The paper said Kodjak's group, conducting research on diesel vehicles, first noticed the discrepancy between Volkswagen's emissions in testing laboratories and on the road. They brought the issue to the attention of the EPA, which conducted further tests on the cars, and ultimately discovered the use of the defeat device software.
The paper noted California [which has long had stricter emissions laws than most other states, since also adopted by some other states – ed] had issued a separate notice of violation to the company. California, the EPA. and the Justice Department are all working together on an investigation of the allegations.
Recall
Over the next year, EPA officials told the NYT, owners of the affected vehicles should expect to receive recall notices from the company, including information about how to get their cars repaired at no cost to them.
'Opening salvo'
Friday's notice of violation was the Obama administration's "opening salvo" in the Volkswagen case, Thomas Reynolds, an EPA. spokesman told the paper.
Analysts and activists said it was intended to send a message to automakers that they would be harshly treated for compromising federal rules.
"This is several steps beyond the violations that we've seen from other auto companies," said Tyson Slocum, director of the energy program at Public Citizen, a consumer advocacy group, told the New York Times. "They appear to have designed a system with the intention to mislead consumers and the government. If that's proven true, it's remarkable and outrageous. It would merit a heck of a lot more than just a recall and a fine. We would see criminal prosecution."
Noting the large fines levied on Toyota and GM over safety issues, analysts said the US administration now appears to be pursuing similar tactics against automakers that conceal violations of health and environmental rules. In November 2014, the administration announced the largest penalty ever for a violation of the Clean Air Act after Hyundai and Kia agreed to pay a combined $300m as part of a settlement for overstating vehicle fuel economy standards on 1.2m cars.
"They want to make it clear that they're going to crack down on cheaters," Frank O'Donnell, president of the environmental advocacy group Clean Air Watch, told the New York Times. "They're cheating not only car buyers but the breathing public. They want to lay down the law, enforce the law and show they're not going to tolerate cheaters. The laws and regulation are only as good as the enforcement."
Embarrassment
The paper noted the notice of violation was especially embarrassing for Volkswagen because it came just days after the company trumpeted plans to introduce 20 plug-in hybrid or all-electric vehicles by 2020 as part of a campaign to reduce vehicle emissions. News of the recall request also arrives in the middle of the Frankfurt show, one of the biggest events on the auto industry calendar, where VW has taken over an entire exhibition hall to show off its cars and Audi has a separate pavilion.
US sales
Though the Volkswagen group recently passed Toyota as the world's biggest automaker, the core VW brand has struggled to gain market share in the US, where it has long been weak, despite efforts such as the development of a Passat designed specifically for and made in the key market. Data compiled by just-auto shows, in the eight months to the end of August, sales of VW brand cars in the United States fell 2.8% to 238,074 vehicles (though overall group volume, including Audi, Bentley and Porsche, was up 2.6% to 404,698). Toyota brand volume, in contrast, rose 1.6% to 1,450,851 in the same period while group sales, including Lexus, were up 2.8% to 1,673,002.
Fallout
Investor website seekingalpha.com on Monday morning said the VW affair was "heavily shaking investor confidence. Shares in Frankfurt plunged as much as 22% on the news, the steepest intraday decline in almost seven years, wiping out $18bn in market value and extending the stock's slump for the year to 32%," it said in an email to subscribers.
A spokesman for the US car buyers guide Edmunds.com said: "In recent high-profile recalls, there has been very little – if any – impact on sales. With so many recalls in the news, they easily become white noise for a lot of consumers, and they don't appear to have much of an influence on shopping decisions. Nevertheless, Edmunds encourages all car owners to take any recall notices seriously and follow the instructions provided by their dealers.
"Edmunds counts 44 models that offer diesel powered engines in the 2015 model year. VW and Audi combine to produce 17 models – or 39% – of those 44 total models."