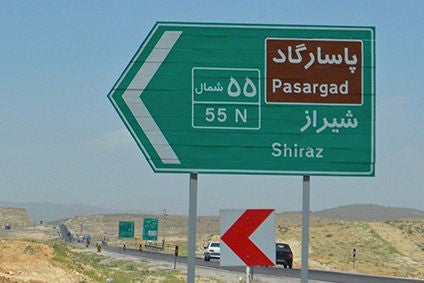 French supplier association, FIEV's subsidiary, Club Iran, has branded President Donald Trump's decision to withdraw from the nuclear agreement "a big mistake" as Western countries fight to preserve the deal.
The Vienna Agreement, signed by the United Nations as well as the P5+1 members of the Security Council; UK, France, China, US, Russia and Germany paved the way for the Joint Comprehensive Plan of Action (JCPoA) for sanctions to be lifted against Iran, but Trump's unilateral move has caused consternation among European capitals.
France has considerable historical ties with Iran and moved to significantly up its presence in Iran in automotive, aerospace and petrochemical areas once the green light was given, but is now facing a battle to keep its considerable presence in the country intact.
"It is a mistake – the exit of the US is a big mistake," Club Iran president, Didier Henin told just-auto from France. "It is still insufficiently clear [there is] not enough communication. We are waiting for the passion to subside a bit.
"We have decided at FIEV (Fédération des Industries des Equipements pour Véhicules) to wait a bit, perhaps ten days. We will have to understand what are the limits being imposed. We have led eight delegations [to Iran] since 2013 and the idea is to do it again this year, probably after the summer.
"It is clear France is not alone. Alone we can't do, but we belong to an organisation called the European Union. It is clear this [nuclear] agreement is still valid today and don't forget [it] was validated by a vote of the United Nations."
The key issue is what impact any American retaliatory sanctions could have on Western companies, with PSA, Renault and many French and German auto suppliers beating a significant collective door to Iran during the past two years following Iran's emergence from the economic cold in 2015.
FIEV and its Scandinavian equivalent, FKG, have both organised major visits with large delegations to Iran in recent years, sensing the huge opportunity in a market where sanctions had significantly dampened demand for and access to, Western goods. Now, their headquarters in Paris and Gothenburg will be urgently trying to make sense of what the new landscape might herald.
The JCPoA was agreed between China, France, Germany, Russia, the UK and the US, with the European Union) and Iran in a bid to limit Tehran's nuclear programme in exchange for sanctions relief, including on trade. The EU exported more than EUR8.2bn (US$9.7bn) of goods to Iran in 2016.
French Foreign Minister, Jean-Yves Le Drian has taken a firm stance against the US decision to pull out of the JCPoA, slamming it as "unacceptable" as he urgently prepares to meet his British German and Iranian counterparts next week.
"We say to the Americans the sanctions they will take concern them [French businesses]," Le Drian said in comments sent to just-auto from Paris by the French Quai d'Orsay (Foreign Ministry).
"But we consider the extra-territoriality of their sanctions is unacceptable. Europeans do not have to pay for the withdrawal of an agreement by the US, to which they themselves have contributed. Between Europeans, we should put in place necessary measures to protect the interests of our businesses and start negotiations with Washington on the subject.
"I ask for the agreement to be respected. I was able to talk to my Iranian counterpart, Javad Zarif [and] we are going to work together in the coming days.
"With President [Emmanuel] Macron, it [US-France] has always been a relationship of clarity. Disagreements have always been assumed – on climate as well as nuclear. That does not prevent us being historical allies and to be proud of it.
"But historical alliance does not signify political alignment."