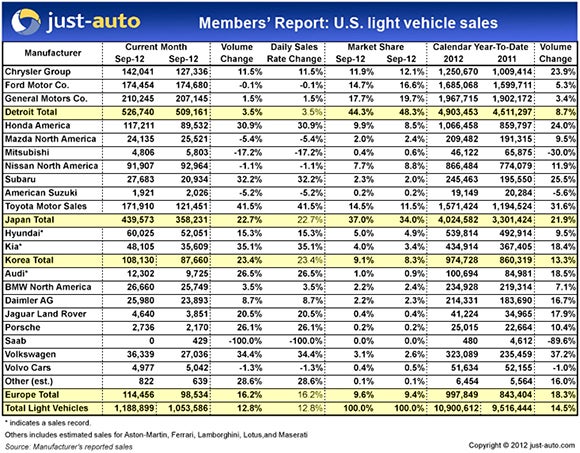 Even optimistic forecasters predicted August's hot sales would cool to lukewarm in September. But the US light vehicle market demonstrated its surprising strength one more time.
The seasonally adjusted annualised sales rate (SAAR) came in at 14.94m, 540,000 units above expectation, 1.8m ahead of September 2011 and the highest reading since the 14.95m reached in March 2008.
Sales volume came in at just less than 1.2m, a 12.8% increase over last year. Year to date (YTD) sales hit 10.9m, over 1.38m more than September 2011.
The largest Asian automakers were the prime beneficiaries. Toyota sales rocketed 41.5% on strong results from smaller cars and hybrids. Both Honda divisions rose, posting a combined improvement of 30.9%, driven by the Accord, Civic and Acura MDX.
Nissan struggled with stock shortages and missed its mark by 1.1%. The new Altima remained in short supply.
Among the Tier II Japanese automakers, Subaru chalked up a healthy 32.2% advance on a triple-digit improvement in sales of the Impreza but that was about the only good news; Mazda came up 5.4% short, Suzuki dropped 5.2% and Mitsubishi plunged 17.2%, the largest deficit reported for September.
Altogether, the Japanese automakers picked up three more points of market share, mostly from Detroit.
Chrysler was the only Detroiter to outperform both its September 2011 numbers and the forecasts. Fueled by incentives, Chrysler sales were up 11.5%. Sales of the new Dodge Dart are growing but there are still supply constraints.
Ford finished September flat compared to last year: sales were off a scant 0.1%. Ford brand sales were just 190 units shy of matching September 2011 but Lincoln slumped again, pulling the blue oval down.
General Motors eked out a 1.5% improvement. Car sales were brisk, especially those of the Chevrolet Cruze, Sonic and Spark. Cadillac reported its first sales of the ATS, a car everyone's watching to see if it can compete with the Germans, especially BMW's 3-series.
Detroit also donated share to the Korean automakers, both of which posted new monthly sales records. Hyundai's Veloster and the Kia Optima contributed triple-digit gains to the efforts.
The US-built Passat propelled Volkswagen to its best September since 1972. VW's 34.4% was second only to Toyota's gain. Audi racked up another monthly record as sales climbed 25.6% in September. Porsche contributed with a 26.1% improvement of its own.
Mercedes built on its lead over BMW in the premium segment in both monthly and YTD sales but the lead is not insurmountable, so the battle will continue. Long-time leader Lexus looks to be out of the running, though.
Jaguar Land Rover came in ahead of its 2011 numbers, thanks to the Evoque [a new entry level model, US$2,000 cheaper was launched this week – ed] and strong sales of the LR2 [Freelander]. Jaguar sales were off about 10% in September.
There is concern among industry watchers; the light vehicle market seems to operate almost independently of the larger US economy. But the relaxation of lending requirements means more buyers are taking advantage of bargains as dealers clear out the 2012s.
As of now, the industry still looks good to hit 14 to 14.5m sales this year.