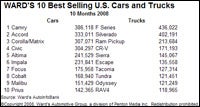 General Motors led the Detroit big three's plunge off the October sales cliff with a massive 47.2% year on year drop – adjusted for selling days – that a key executive said was unsustainable.
According to WardsAuto.com data, GM sold just 168,785 new light vehicles in the US last month compared with 307,952 in October 2007.
Sales at the Detroit three were off 40.8% to 391,988 units with Chrysler down 37.7% to 94,042 and Ford down 32.7% to 128,976.
The industry-wide total fell 34.5% to 834,752 compared with 1,226,597 a year ago, according to Ward's.
A US report said the seasonally adjusted annual sales rate of 10.6m vehicles was the lowest since February 1983.
Year to date, the industry overall is down 14.6% to 11,560,155, according to Ward's.
"It's really an unsustainably weak level for all manufacturers," Mike DiGiovanni, GM's executive director of global market and industry analysis, was quoted as saying last night. "This is clearly a severe, severe recession for the US automotive industry and something we really can't sustain."
"The market has been shrinking for three years, but in October we saw a dramatic decline for the industry and GM," added sales and marketing chief Mark LaNeve.
"We are obviously disappointed in our results which reflect a difficult comparison with a strong year-ago October performance. More importantly, it also reflects an unprecedented credit crunch that is dramatically impacting the entire US economy. The credit freeze has also had a very negative impact on consumers' confidence and their purchase behaviour across America."
"We outpaced the competition with our sales results in August and September, and fell back with the industry in October. If you adjust for population growth, this is probably the worst industry sales month in the post-WWII era," LaNeve added.
"We believe there is considerable pent-up demand from the last three years, but until the credit markets open up and consumer confidence improves, the entire US economy, and any industry like autos, that relies on financing, will suffer."
LaNeve said GM was bringing forward its regular year-end 'no-haggle Red Tag' sales promotion to start today (4 November).
GM also said it was managing inventories to align supplies with market demand. In October, about 799,000 vehicles were in stock, down about 146,000 vehicles (or around 15%) compared with last year.
LaNeve added: "It will take a coordinated national effort to turn this economy around."
"While October was a very tough month for everyone in this business, we as an industry must focus on the fact that there are still many serious car buyers out there, and every company has an equal opportunity to win their business," said Chrysler president Jim Press.
He added that Chrysler would continue to offer new incentives introduced last month.
Ford is expected to announce new incentives soon.
In import brand land, things were also grim.
Toyota sales were down 25.9% to 152,101; Honda was off 28% to 85,864 and Nissan down 35.5% to 56,950.
Hyundai sales fell 33.7% to 20,820 and affiliate Kia was down 40.8% to 15,483.
"We are experiencing one of the most challenging times in recent automotive history," said Hyundai sales head Dave Zuchowski. "We are encouraged by the prospects for November. With the financial markets beginning to stabilise and the election behind us, we believe consumer confidence will be bolstered and prospects who have been on the sidelines during this period of uncertainty will re-emerge into the market to help fuel the economic engine."
Two European importers fared a little better with BMW sales down just 8.5% to 25,475 and Volkswagen off 9% to 23,332.
But Daimler sales plunged 27.3% to 17,251 and Porsche crashed 52% to 1,427.
"October sales show there is still life in the market, but it will take some hard work to achieve results," said BMW's US head Jim O'Donnell. "Our attractive APR financing rates and four year or 50,000 miles free maintenance programme have been well received by customers. We believe these are major reasons why the year-to-date sales continue to track better than the overall premium market."
The big question now is if the bottom of the swamp has finally been reached.
Some analysts have suggested the industry hit a plateau in the mid-September to mid-October period while others opined there was more bad news to come. Light on future prospects will hopefully dawn in the dark months of this coming northern hemisphere winter.
"Whether the auto industry mirrors the state of business in general, or whether business mirrors the industry, is hard to say. What is sure, though, is that it's a roller-coaster ride every day – one day it looks like we're turning the corner while the next it seems that the hill ahead is ever-steeper," said Jim O'Sullivan, president and CEO of Mazda in North America.
Graeme Roberts