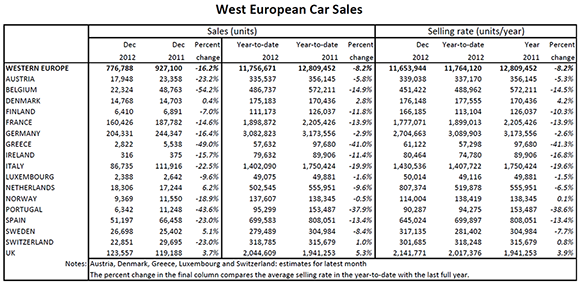 Car sales in Western Europe fell by 16.2% in the month of December to leave sales for the full-year down 8.2% (at 11.76m units) as economic problems across the continent continued to depress new car demand.
Data issued by LMC Automotive showed that the Seasonally Adjusted Annualised Rate (SAAR) of sales for December stood at just 11.7m units a year.
In Germany, one of the brighter spots on the European economic front, December brought a car market year-on-year decline of 16.4% (full year down 2.9%), suggesting weak prospects ahead for the German car market.
Further bad news came in from other markets too. In France, sales fell back 13.9% for the year. Italy finished off the year with a market of just 1.4m units, over 1m units down on 2007's level. While the Spanish market has been given a lift with the PIVE scrappage incentive, it has failed to translate into any real boost in the selling rate — that market down to just 700,000 units for the full year.
The UK went against the trend, with the car market comfortably up for the full year at a little over 2m units, the 2012 result being the highest since 2008.
LMC forecasts that the West European car market will contract by around 3% to 11.4m units in 2013.