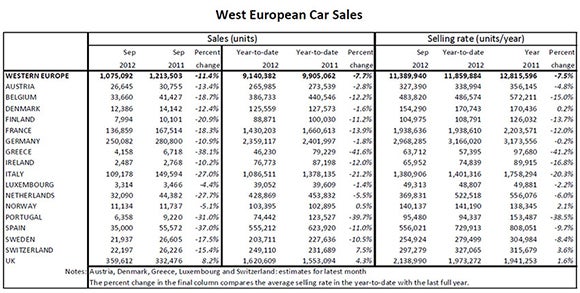 Car sales in Western Europe fell by 11.4% in September. It was the twelfth successive monthly year-on-year decline as eurozone economic gloom continues to dampen down new car demand across the region.
LMC Automotive reported that the Seasonally Adjusted Annualised Rate (SAAR) of sales for Western Europe in September was just 11.4m units a year, somewhat worse than the already weak 12.2m units a year SAAR average for the first half of the year.
There was little joy in the big five national car markets last month. The German car market – until recently a bright spot – was off 10.9%. Italy's decline continued in September (down 27%), as did France (down 18.3%). Spain, LMC noted, managed to reach new depths as sales fell back 37% and the annual selling rate stood at an "almost unbelievably low" 560,000 units a year as a VAT increase also took effect.
However, the UK car market bucked the wider trend, increasing 8.2% year-on-year with the selling rate standing at a "reasonably impressive" 2.1m units a year, LMC said. Suspicions may continue concerning the extent to which the UK car market is being forced by widespread discounts and reports of dealer 'pre-registrations' but it is standing out as a large European car market not recording the substantial declines being seen elsewhere.
LMC warned that as we head into the final quarter of the year, the West European market is expected to be down 8% for the full year versus 2011. Moreover, the forecasters at LMC are anticipating that "we are in for more choppy waters ahead" and a weak start to 2013.
As Europe's automotive sector comes under increased pressure to address overcapacity, scrappage schemes to lift sales are being discussed again. Spain has moved first with a new scrappage inventive (called PIVE) running from October 2012 until March 2013. Analysts caution that the market boost may be small when set against the heavy market falls seen in Spain of recent years and given the country's severe economic problems. However, European politicians may well be attracted to such measures if they help to prevent plant closures.
LMC acknowledges that a return to scrappage incentives in other countries has become a little more likely following the Spanish move.