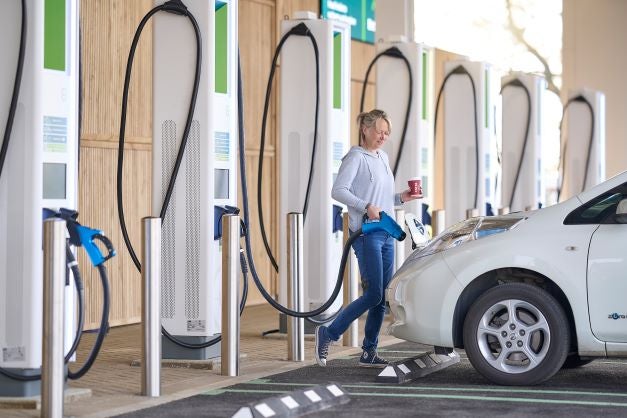 Latest data from the Society of Motor Manufacturers and Traders (SMMT) has revealed a growing gap between the number of electric vehicles on the road and the number of public chargers available.
Last year in the UK, there were 36 EVs on the road to every public charger. In 2021, that figure was 31.
The data from SMMT also showed that the northwest of England was the worst-served area, with 85 EVs to every charger by the end of last year. In 2021, that figure was 49.
London's ratio of EVs to chargers was 11:1, compared to 10:1 in 2021, making it the best-served region in the UK, though still showing a worsening ratio trend.
The gap means that at peak periods, such as holidays, drivers are faced with lengthy queues when charging away from their home base.
The government wants to ban the sale of new petrol and diesel cars by 2030, and new hybrid cars are expected to be banned by 2035.
The SMMT has called for binding targets on chargepoint rollouts, 'in line with targets on vehicle sales due to be set by the Zero Emission Vehicle Mandate' and said they 'would accelerate infrastructure growth and inspire more to move to electric.'
Mike Hawes, SMMT Chief Executive, said: "More drivers are switching to plug-in cars, attracted to ever greater choice, better range and, often, compelling cost of ownership savings. However, anxiety over chargepoint accessibility and reliability is putting a brake on potential demand. Recent infrastructure announcements are welcome and vital but the provision of chargepoints is behind when we need to be building ahead of need. For the entire market to switch – which is essential if climate goals are to be met – drivers must be confident they can charge whenever and wherever they need.
"Britain can be the world's first major zero emission vehicle market, but everyone must play their part – manufacturers, chargepoint operators, energy companies, government and all other stakeholders – and set the example for other global markets to follow."