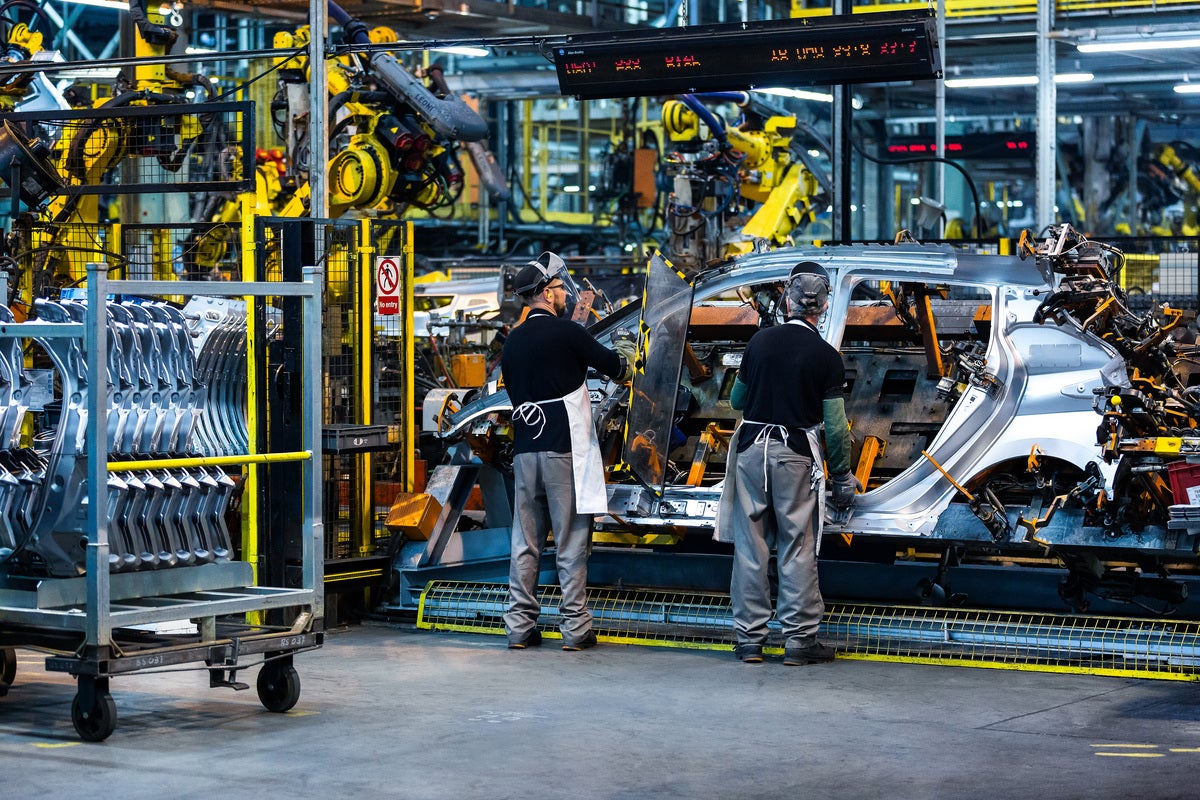 UK car manufacturing made further gains in April, with output increasing for the third month in a row, up 9.9%, according to the latest figures published by the Society of Motor Manufacturers and Traders (SMMT).
Some 66,527 cars rolled out of factory gates, 5,973 more than in April last year as global supply chain shortages, most notably of semiconductors, continued to ease.
Exports drove volumes up, rising 14.7% to 54,820 units, with more than eight in 10 cars (82.4%) heading overseas. This was the third month in a row that exports saw a double-digit rise.

The EU remained by far the most important global market, taking 58.4% of all exports, equivalent to 32,002 units with volumes up 12.2%, followed by the US, China and Australia. Shipments to these destinations changed by 36.2%, -3.6% and 226.8% respectively.
UK factories continued to turn out increasing numbers of hybrid electric (HEV), plug-in hybrid (PHEV) and battery electric vehicles (BEVs), with combined volumes up 56.2% in April and representing well over a third of all production (37.7%). So far this year, manufacturers have made 113,315 electrified vehicles.
The SMMT points out the news comes as the UK and EU automotive sectors face a looming cliff-edge with rules of origin agreed in the UK-EU Trade and Cooperation Agreement, governing local content for electric vehicles and batteries, due to get tougher from 1 January 2024. These rules, the SMMT says, pose significant challenges to manufacturers on both sides of the Channel and raise the prospect of punitive tariffs being applied to electric vehicles alone.
Mike Hawes, SMMT Chief Executive, said: "UK car production is starting to motor again, good news for the sector and the many thousands of jobs and livelihoods it sustains. These figures also show how exports, particularly to Europe, continue to be the foundation of British automotive manufacturing so we must do all we can to safeguard the competitiveness of these trading relationships.
"Most immediately, this means finding a solution to the rules of origin challenge faced by manufacturers on both sides of the Channel, else we risk the application of tariffs – and therefore unnecessary cost – on the very vehicles we are trying to encourage consumers to purchase."
The SMMT says the automotive sector, both in the UK and EU, is calling for a 'pragmatic solution to be found urgently'. This, the SMMT maintains, does not require a renegotiation of the TCA (the UK-EU Brexit deal), but 'simply a common sense approach to find agreement over a technicality, giving Britain and the EU more time to establish the local supply chains needed to drive a successful transition to zero emission mobility'.
See also: More carmakers join call for Brexit relook