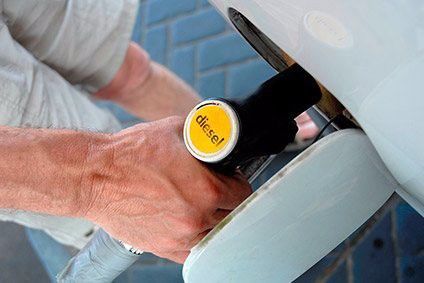 Britain's automotive industry body the Society of Motor Manufacturers and Traders defended diesel cars on Monday, as the government prepares to announce proposals for improving air quality which could follow London in making it more expensive to use the most polluting vehicles.
Reuters noted the government was due to announce by 24 April plans to comply with European Union legislation to improve air quality and meet nitrogen dioxide limits following a ruling by the High Court late last year.
London's mayor has promised to crack down on polluting vehicles to make the city the greenest in the world, banning new diesel taxis from 2018 and introducing a series of new levies on motorists, which could be copied nationwide.
Diesel cars have been increasingly maligned since the Volkswagen emissions scandal in 2015, while a study that year by researchers at King's College London found nearly 9,500 Londoners die prematurely a year as a result of long-term exposure to air pollution, Reuters said.
"Some recent reports have failed to differentiate between [the latest Euro6-compliant diesels] and vehicles of the past. This is unfair and dismissive of progress made," SMMT chief executive Mike Hawes said in a statement.
Reuters said Sales of diesel cars were down 1% so far this year in Britain, compared with a rise of 6% in the market as a whole. Demand for petrol is up 11.5%, in a sign that buyers may be moving away from diesel.
Several cities such as Paris, Stuttgart, Athens, Brussels and Madrid are trying to reduce pollution by proposing bans, fines and restrictions on diesel vehicles.
The SMMT's '10 facts about diesel'
In 2016, a record 1.3m new diesel cars were registered in the UK, up 0.6% on the previous year – a trend that's continuing in 2017. In March, more businesses and consumers chose a new diesel car than in any other month in history, with almost quarter of am leaving showrooms.
Diesel is critical to reducing CO2 emissions, which in turn is tackling climate change – diesel cars emit, on average, 20% lower CO2 than petrol equivalents. In fact, since 2002, diesel cars have saved 3.5m tonnes of CO2 from going into the atmosphere.
Almost one in every two new cars registered in the UK is a diesel, with buyers valuing their high performance and low fuel consumption. On average, diesels use 20% less fuel than like for like petrol models, and with diesel drivers typically covering 60% more miles, lower fuel bills are essential.
More than 99% of the UK's 4.4m commercial vehicles are powered by diesel and they transport people, essential goods and our emergency services over 61bn miles every year. Without them, life would be much harder.4
Advanced diesel technology has virtually eliminated emissions of particulate matter, with 99% of these soot particulates captured by special filters fitted to all new diesel cars since 2011. Around half of diesels on the road now boast a DPF.
The latest Euro 6 vehicles are the cleanest in history – and light years away from their older counterparts. As well as special filters, they also feature clever technology that converts most of the NOx from the engine into harmless nitrogen and water before it reaches the exhaust.
Euro 6 technology works. Real world tests using a London bus route show a 95% drop in NOx compared with previous generation Euro 5 buses. In fact, if every older bus operating in the capital were replaced with a Euro 6 version, total NOx emissions in London would fall by 7.5%.
The latest Euro 6 cars are classed as low emission for the purposes of the London Ultra Low Emission Zone due to come into force in 2019, meaning drivers of these vehicles will be free to enter the zone without charge.
Contrary to recent reports, diesel cars are not the main source of urban NOx. In London, gas heating of homes and offices is the biggest contributor, responsible for 16%. While road transport as a whole is responsible for around half of London's NOx, diesel cars produce just 11%, although concentrations will vary at different times depending on congestion. Keeping traffic moving is the key to keeping emissions low.
In September this year, a new official EU-wide emissions testing system will come into force. This will involve, for the first time, on-road testing to better reflect the many and varied conditions involved in 'real-world' driving such as speed, congestion, road conditions and driving style. This will be the world's toughest-ever emissions standard.