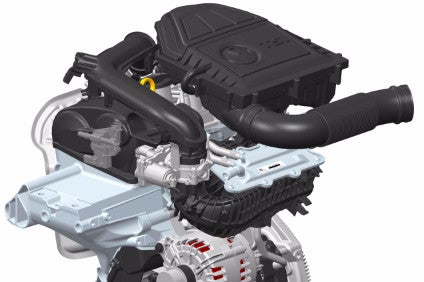 Volkswagen Brazil has launched the country's first locally made, midsize hatchback with a one-litre, turbocharged, flex-fuel engine (turboflex).
The new engine makes the Golf more competitive. One-litre engines once dominated amongst compact models (A and B segments), accounting for 70% of the market due to taxation advantages. Now one-litre cars barely exceed a third of the market despite fiscal incentives.
Volkswagen has chosen one-, 1.4- and two-litre turbocharged TSi family engines for most of its products made or marketed here in Brazil. The Jetta was the first model offered only with turbo engines (1.4 and 2.0). Rival Chevrolet subsequently launched an Argentina-built, all-turbo 1.4 Cruze line and now we have the Golf.
Flexible-fuel three-cylinder turbos already power compact models like VW's Up and Hyundai's HB20 and there is also a petrol-only Ford Fiesta.
VW of Brazil's local engineering department specifically developed a three cylinder turbo for the Golf. It is by far the country's best ever flexible-fuel engine since it was designed to take best advantage of the properties of ethanol in terms of performance and fuel economy without compromising operation on petrol.
Power output is 123bhp on ethanol and 114bhp on petrol, both at 5,500 rpm. Torque reaches 200Nm between 2,000 and 3,500 on either fuel. For comparison, the petrol-only Golf 1.0 TSI sold in Europe is rated at 113bhp with similar torque.
Among the changes compared to the Up's 1-L turboflex are sodium-filled exhaust valve stems and a steel alloy turbocharger case.
The 1.6-litre naturally-aspirated engine version has been dropped and the Golf retains the 1.4 turboflex 148bhp engine along with the petrol-only 217bhp two-litre turbo.