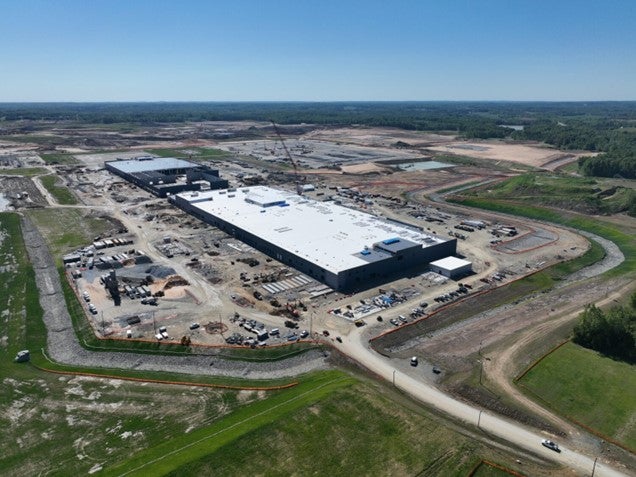 Toyota Motor Corporation is stepping up its expansion in the battery electric vehicle (BEV) segment with the announcement of an additional US$2.1bn investment in its battery plant currently under construction in Randolph County in the US state of North Carolina.
The Japanese automaker said it plans to produce an all-new, purpose-built battery-powered SUV at its Kentucky vehicle assembly plant from 2025, which will be its first BEV to be made in the US. The new model will have three rows of seats and will be powered by batteries produced at its North Carolina facility, which will employ some 2,100 people and will also make batteries for hybrid vehicles.
The additional funds will lift Toyota's total investment in the Randolph County plant, under construction since 2021, to US$5.9bn to help meet its goal of selling 1.8 million electric or hybrid vehicles in the US by 2030.
Ted Ogawa, president and CEO of Toyota Motor North America, said in a statement: "We are committed to reducing carbon emissions as much as possible and as soon as possible. To achieve this goal, customers must have access to a portfolio of options that meet their needs now and in the future. It is exciting to see our largest US plant, Toyota Kentucky, and our newest plant, Toyota North Carolina, drive us into the future together with BEV and battery production for our expanding electrified lineup".
The automaker said the Toyota Kentucky plant will lead the company's carbon reduction efforts in the region with its first US–assembled BEV. Susan Elkington, president of Toyota Motor Manufacturing Kentucky, pointed out: "Toyota Kentucky set the standard for Toyota vehicle manufacturing in the US and now we're leading the charge with BEVs. Our incredible team of Kentuckians is excited to take on this new challenge while delivering the same great quality and reliability that our customers expect".
Toyota said its Randolph Country battery plant will become Toyota's North American hub for developing and producing lithium-ion batteries. Production is scheduled to begin in 2025 with six battery production lines, four for hybrid-electric vehicles and two for BEVs.
Toyota Battery Manufacturing, North Carolina, president Sean Suggs said "the future is bright at Toyota North Carolina. With this proactive infrastructure investment, we will be able to quickly support future expansion opportunities to meet growing customer need".