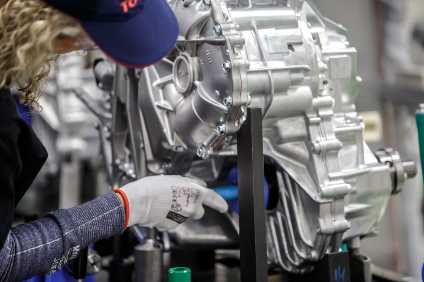 Toyota has started production of hybrid electric transaxles at Toyota Motor Manufacturing Poland's Walbrzych (TMMP) plant. It is the first time this core component of Toyota's hybrid electric powertrains has been manufactured outside Asia.
The transaxle will be fitted to the new Corolla Hybrid, built at Toyota's Burnaston factory in the UK, and the C-HR Hybrid, produced in Turkey. The start of production marks the first stage in Toyota's introduction of its advanced hybrid technology and the Toyota New Global Architecture to its Polish manufacturing facilities.
TMMP is the first Toyota plant outside Asia and only the second outside Japan to be entrusted with production of the technologically advanced hybrid transaxles, used to co-ordinate the synergy between the hybrid system's electric motors and combustion engine. The new development has created around 600 new jobs and brought Toyota's cumulative investment in its Polish operations to more than EUR1bn.
Dr Johan van Zyl, President and CEO of Toyota Motor Europe, said: "We started Europe's journey towards electrification with the introduction of our first hybrid model here in 2000. Today, almost one in two of our new vehicle sales are hybrids and the level continues to grow.
"Hybrid technology is our key differentiator. It is one part of our ambitious electrification strategy to sell more than 5.5 million electrified vehicles globally, including one million zero emission vehicles, per year by 2030. The continued growth of hybrid in Europe allows the expansion of local production of hybrid components."