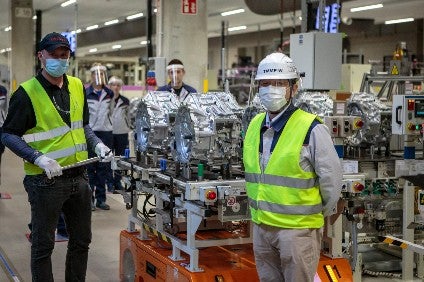 Toyota Motor Manufacturing Poland (TMMP), the automaker's European powertrain operation, has started production of hybrid electric transmissions.
The new transmission combines with a new 1.5-litre petrol engine, produced in Jelcz-Laskowice, to form the hybrid electric powertrain for the redesigned Yaris assembled in France.
Toyota claimed demand for the recently launched models was at an all-time high, the B-segment model accounted for over 20% of its European sales last year.
Production begins later this year at Toyota Motor Manufacturing Czech, the former JV with PSA set up originally to build a shared A-segment city car line.
TMMP output of hybrid electric powertrains will receive another boost when the Yaris Cross begins production later in 2021, also in France.
TMMP's latest expansion is a key part of Toyota Motor Europe's strategy to further localise production of hybrid electric drives to help meet the company's ambition of selling 1.4m vehicles a year by 2025 when 90% of sales will have electrified powertrains - hybrids, plug-in hybrids, battery electric and fuel cell.
As part of increased European investment, TME has expanded TMMP's Walbrzych plant to accommodate a new casting line, additional processing lines and a new assembly line.
TMMP also began the first European production of the MG1 electric motor which is part of the hybrid electric transmission and, to meet increased demand for hybrids, Walbrzych will launch a twin production line for hybrid electric transmissions in autumn 2021. From 2022, it will operate a second production line for the 1.5-litre TNGA petrol engines, effectively doubling hybrid electric powertrain production capacity for the Yaris models.
"Our hybrid electric sales made up 53% of total volume in 2020 and we will increase hybrid sales along with those of battery electric, plug-in electric and fuel cell vehicles. Together these technologies have enabled us to meet our EU CO2 fleet targets in 2020, and we are confident that we will continue to achieve these targets in future," said TME EVP Marvin Cooke.
Once all new projects are in full output in 2022, the factories in Walbrzych and Jelcz-Laskowice will have six production lines for the main hybrid components, including three lines of hybrid electric transmissions and three lines of combustion engines.
This all followed TMMP establishment of a hybrid drives testing and evaluation department in 2020.
Including the recently completed projects, the investment in both plants will increase to PLN6bn (EUR1.3bin) by the end of 2022 with capacity for 1.65mi components per year and employment of 3,000 people.
Poland is Toyota's only hybrid drive production and development facility outside Asia.