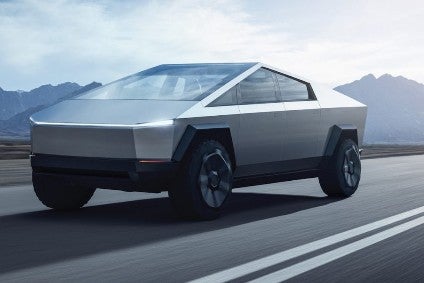 Tesla Cybertruck customers in Australia can apply for a refund of their deposit after the electric pick-up was pulled from the Australian website two months ago, drive.com.au reported.
The report said: "The sudden removal of the online ordering button from the Tesla Australia website is seen as a sign the vehicle is not coming Down Under". It added Cybertruck deposits in (right hand drive) Australia had been refundable from the time the order books opened on Tesla's Australian website from late 2019. less than a month after it was unveiled in the US.
There was initially an expectation the sharply-styled pick-up would be sold in Australia, the report said, adding the Cybertruck's order button was removed from the Tesla Australia website in May 2022.
While Tesla has never confirmed the Cybertruck would be sold in Australia, the online ordering portal was viewed as an indication it would eventually be available in local showrooms, drive.com.au said.
In August 2020, Tesla boss Elon Musk told Automotive News the Cybertruck would not be sold globally, the report noted.
"We're really, fundamentally making this truck as a North American ass-kicker, basically," Musk was quoted by Automotive News as saying, in an exclusive interview with the industry journal's publisher.
"The goal is to kick the most amount of ass possible with this truck. We want it to be something you could use to tow a boat, a horse trailer, pull tree stumps out of the ground."
Confusingly for Australian buyers interested in the Cybertruck, photos and technical information for the vehicle remained on the Tesla Australia website following these comments – and remain on the Tesla site today – even though local customers no longer have the ability to place an order, drive,com.au said.
"This has been interpreted as an indication Australia will not get the original Cybertruck. Tesla Australia does not respond to media requests for clarification," the report added.
In December 2021, Tesla showroom staff told Drive they didn't believe the Cybertruck would be offered in Australia in its current guise.
Smaller version planned?
Drive.com.au noted that, in January 2022, an industry analyst in the US claimed Tesla was developing two types of Cybertruck, including a smaller pickup similar in size to a Toyota HiLux which would be more suitable for Australia.
The report added customers who placed an A$150 deposit were entitled to have that amount refunded given there appeared to be no current plans to introduce the model locally. Deposits for other Tesla models sold in Australian are non-refundable.
Meanwhile, according to a TheDetroitBureau.com report yesterday, Tesla had not offered a public explanation for the change but it was adding to concerns about the potential future for the project which reportedly brought in about 1.2 million reservations worldwide at US$100 each. The Cybertruck programme had been repeatedly delayed since CEO Elon Musk unveiled the pickup during a closely watched event in November 2019.
"Cybertruck would be a big deal for the company if it (finally) comes out," Sam Fiorani, senior analyst with AutoForecast Solutions, told TheDetroitBureau.com "and such a big deal if it were not to come out."
That report said Tesla brought a prototype to an event in Michigan last May with automaker officials acknowledging they had yet to solve a key problem: a design for the wipers needed to clear the truck's massive windscreen.
"There are all kinds of potential issues with that truck," Fiorani said.
TheDetroitBureau.com said Tesla had yet to identify which of its four assembly plants would produce the Cybertruck, though several vendors had told it the automaker had begun laying out plans for sourcing Cybertruck components.
The report added three all electric pickups, the Rivian R1T, the GMC Hummer EV and the Ford F-150 Lightning were already on the US market and would be followed others including a second Ford model, the Chevrolet Silverado EV and GMC Sierra EV, the Ram 1500 EV and additional entries from Toyota, Kia and others. Demand for EV trucks had surprised Ford which last week said it was boosting annual capacity for Lightning sales in North America from 25,000 to 150,000 units.
TheDetroitBureau.com said Tesla hds been struggling to get its two newest plants [Berlin and Texas] up to speed, and had faced production disruptions at its Shanghai factory due to a new COVID outbreak. That has left it struggling to meet incoming orders. Earlier this summer, CEO Musk had suggested Tesla might have to halt taking orders while it attempts to catch up with those already on hand.
The report added Ford early this year halted taking orders for the 2022 version of the popular Maverick pickup while Cadillac stopped taking orders for the initial version of its new Lyriq EV. Both wanted to catch up before reopening their order banks," TheDetroitBureau.com said.