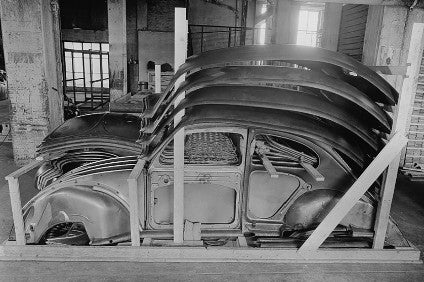 Volkswagen is marking 70 years of CKD exports from Germany.
The process is the export of individual parts straight from source (vehicles are not dismantled as sometimes suggested) for assembly, usually with locally sourced components, in the destination country. CKD is an arcane customs term – completely knocked down.
VW said, initially, the approach was to open up new markets but nowadays CKD also supplies its global production network – and is a key factor in sales.
To date, about 200m vehicles have been exported and around 3m more are added every year. The first vehicle to be assembled from individual parts supplied in a box was the original Beetle.
VW has also used SKD in some cases – semi knocked down kits usually involve shipping welded, painted, glazed, wired and trimmed bodies separate from mechanicals and this was used initially to establish overseas final assembly in Russia and India. Workers can first be trained in final assembly of heavy parts without the need for body welding and paint shops.
The CKD approach may be adopted for a number of reasons, VW said – it may not be viable to build a factory in the country concerned, volume may be too low for local production, the cost of new tooling for a local plant may be too high or customs and import regulations may call for this approach.
All KD pack orders from overseas plants are collected centrally in Wolfsburg. The supply management team ensures vehicle parts are available from the European plants and suppliers. The parts are then collated and packaged at one of eight distribution centres, loaded into containers and shipped by sea, rail or air to overseas countries and Russia, where they are assembled. Years ago KD packing was commonly in wooden cases shipped as hold or even deck freight so body panels received a fine oil coating to protect against rust.
VW employs 660 packers at the centres in Wolfsburg, Salzgitter and Kassel alone – other locations are Duisburg, Emden, Fallersleben, Wilhelmshaven and the Seat plant at Martorell in Spain. The eight centres ship 1.7m cubic metres of goods every year, corresponding to about 25,000 overseas containers. From the receipt of an order, it takes about eight weeks before delivery to the destination country. About 90 different vehicle models final assembled in overseas plants are supplied CKD from Europe.
VW began CKD shipments in 1950 to Ireland. This was followed by South Africa, Argentina, Brazil, Mexico, Australia and New Zealand. For a short period in the 1960s, Australian production of both panels and engines allowed VW Australia to export KD kits to NZ with enough 'British Commonwealth' local content to qualify for a much lower 'preferential' import duty rate than that paid for European kits.
Especially in South America, the assembly of CKD vehicles laid the foundation for the major production companies now operating there such as Volkswagen do Brasil and Volkswagen de Mexico. While some early restricted markets like Australia and New Zealand are now open completely for CBU imports, VW still has 27 assembly locations in 10 countries. The largest CKD assembly plant is in South Africa where all RHD Polos are built.
The Tiguan is another popular CKD export and is assembled from kits in Russia and Mexico. Further plants are located in US, China, Brazil, Argentina, India, Malaysia and Indonesia.
From hand pack to robot
Once, the parts were packed in boxes manually. Nowadays, robotic systems provide support for loading components at the distribution centres and are equipped with a special hand attachment allowing them to grip vehicle parts of all shapes and sizes.
Bots using artificial intelligence also simplify email communications with suppliers by reading emails and reacting independently. If a supplier responding to an enquiry indicates that a batch will be delivered in several consignments, this information is automatically detected by natural language processing (NLP) and directly transmitted to the SAP production management system.
Burkhard Huesken, head of CKD, said: "We used to need only one or two faxes per week for coordination with the overseas plants. Nowadays, we work with our production plants on a real time basis and manage about 9,000 part numbers for worldwide shipment. The tasks of our employees have changed fundamentally. They are no longer simply box packers but are now logistics data experts."