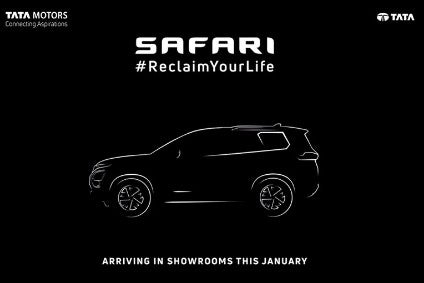 It premiered as the Tata Buzzard at the 2019 Geneva motor show, then Tata Motors told us the name would instead be Gravitas. Now, days before it is officially revealed, the company says the new seven-seat SUV will be called Safari.
Reviving this model name makes much sense, as the former Safari was a big seller in the home market between 1996 and early 2020. Unlike that tall and narrow 4×4, the new one is a monocoque rather than a body-on-frame design and there won't be – at launch anyway – any all-wheel drive variants.
This 4,661 mm long SUV can be thought of as an extended, taller version of the 4,598 mm, five seats only Harrier (model code: Q502). That model has been in production since October 2018. Both vehicles, developed in partnership with JLR engineers, use the architecture of the former Land Rover Freelander/LR2. This was derived from Ford's EUCD platform, evolved by JLR into its D8 architecture. Tata Motors calls the platform 'OMEGA ARC', short for (Optimal Modular Efficient Global Advanced Architecture).
Q501, also known as the H7X project and now adopting the Safari name in production form, is 63 mm longer and 80 mm higher than the Harrier although the seven-seater has an identical wheelbase (2,741 mm).
Production will almost certainly take place at the same Pune plant which builds the Harrier.
The Safari will come standard with Fiat's 1,956 cc Multijet II diesel. Renamed 'Kryotec' by Tata for use in the Harrier, outputs are 103 kW (140 PS) and 350 Nm. The four-cylinder engine is produced in Ranjangaon and also fitted to the Jeep Compass. The same six-speed manual and automatic transmissions available in the Harrier will feature. It isn't yet known if Tata will give the longer, heavier new model disc rear brakes, something that the Harrier lacks.
More official details will be revealed soon.